San Isidro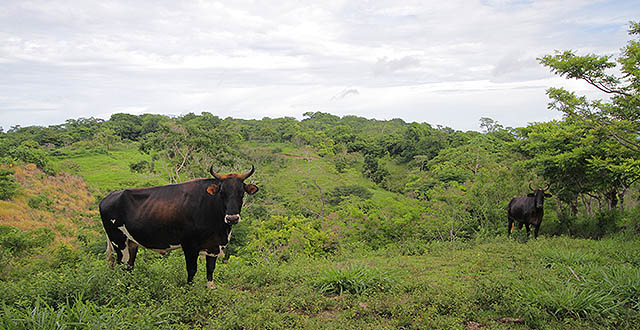 San Isidro is the area between Cobano and Santa Teresa. Most of it is rolling hills, with rivers, large trees, and cattle. The area is cooler and less humid than Santa Teresa, and real estate prices are still relatively cheap, but rising rapidly since the area near the beach has become so expensive. There are many beautiful farms, and a few places that have incredibly quantities of orchids and bromiliads in many of the trees.
For someone who's looking for a quiet place to live, San Isidro is ideal, because it's still only a 5-10 minute drive to the beaches of Santa Teresa and Malpais.
This area has its own school and water system, and is certain to be a popular place to live for foreigners who are willing to be a bit farther from the beach in exchange for more privacy, a cooler climate, and peace & quiet. There are several nice villas for rent in this area already such as Casa Verde, and an eco-village project too.
The main drawback of San Isidro is that it's not a place known for ocean views, and so many foreigners want either that type of spectacular view, or to be able to stroll easily to the beach. However, many who have lived in the area for years begin to see the value in having a lot of land and privacy, and many have immigrated up into the hills of San Isidro, Santiago, or Delicias. Many Ticos who previously lived on the beach also have moved to such areas, and in fact years ago, Costa Ricans preferred the hills over the beach because the climate was better and so was the land for grazing cattle or farming. Of course that changed with the arrival of tourism and surfing.
Are you into cows and farms? San Isidro is a great place to watch the area's cattle grazing like in the old farming days in the U.S. before the meat industry turned the meat production into a nightmare. For more on that, watch this great short film: The Meatrix. But for now, Costa Rica's happy cows are seen peacefully munching the cud on rolling grassy hills throughout the area. You may notice their distinctive shape, with a large hump on their backs. That's because they're a mixed breed of European and Indian "Brahman" cows. The Brahmans are more drought-tolerant, and so they do well in Santa Teresa's dry season from December through April, when hardly a drop of rain will fall. They're also very gentle. The bulls will not charge you if you happen to stray onto the wrong side of the fence. In fact, it's pretty easy to chase them around on foot if they invade your property… they will run from you and seem not to know how much bigger they are than you.
We should also mention that there's a big city in Costa Rica with the same name "San Isidro" which is in the central pacific, inland from Dominical and Manuel Antonio. If you're interested in OUR San Isidro, it could be easy to get them mixed up.
More on the San Isidro Area
San Isidro Real Estate – Properties for sale here
Google Map of the general area

View Surf Spots in Costa Rica in a larger map