Playa Hermosa

Playa Hermosa is a spectacular beach that at the time of this writing often still has almost no one on it. To get to the beach, follow a road with amapola/hibiscus flowers on both sides, near the international school in the Playa Hermosa area. Or, there's another access farther down, but it's so rugged you'll barely make it with a 4WD car. Although it's illegal to drive on the beach, you will sometimes be disturbed by people zooming by on motorcycles and quads. Feel free to flip them off if they bother you. At the far northern end of this amazing beach with a point break that breaks in an unsual way. It's a left-hander, and there is a sort of a channel where you can easily paddle out. The wave breaks twice… just as you're getting started, the wave will fall off, then it will build back up again. It's good practice for beginners. However, there are a bunch of rocks out there near the point where you catch the waves, so watch out for them. Generally it's fairly easy to stay away from them. There are few if any hotels out here now, but most of the land behind the beach has been subdivided and sold off, and the hills behind the beach are rapidly being sold as well, so enjoy this peaceful spot now while you have it to yourself…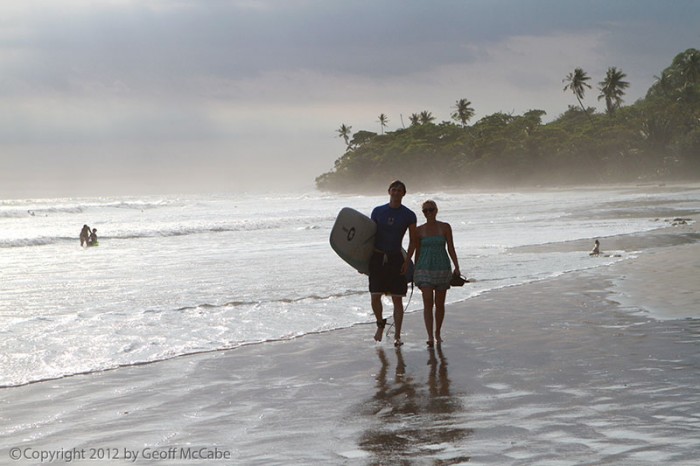 Where does Playa Hermosa start and Santa Teresa end? No one seems to know exactly, but somewhere north of Santa Teresa around a giant rock that juts out into the water, the hubbub of the surf village ends and a peaceful community begins. Playa Hermosa is the most beautiful beach in the southern Nicoya Peninsula, and despite all the tourists in the area, is still to this day nearly empty. It's a long, flat sandy beach, with a great surf break (right point break) at the northern end. There's no development on this beach, except for an occasional house tucked back in the trees. The hills above have little development as well, although much of it has been sold in the last year or two, and more development is expected both above and near the beach.
If you're looking for a beautiful beach without many people, this is a great place for you. It's a 20 minute drive north of the crossroads at Frank's Place. Many of the foreigners who live in the area take their kids daily to the international school which is on the beach in Playa Hermosa. This is the best school in the area.
And just so you know… there are many Playa Hermosas in Costa Rica. This one is the name given to the beach by foreign residents. The official name before was Playa San Martin, although everyone calls it Playa Hermosa now.
Surfing Playa Hermosa
The beach is long, flat, and sandy, making it a very appealing spot for surfers. Generally the waves aren't quite as good here as in Playa Carmen or Santa Teresa, so it used to be that few people surfed here, since there were few hotels. However, now there are several surf camps at Playa Hermosa, and other surf schools bring their beginning surfers here for lessons. But with all these people in the water, it's still usually uncrowded.
Point Break: Playa Hermosa has a right-hand point break on the north side along the rocky point. It's good at mid and high tides, but watch out for rocks as the tide gets lower. There's also a very strong rip current (and channel) here which is dangerous for swimmers. This point breaks in an interesting way. Smaller waves die out as they hit the channel, leaving you sinking on your board. But larger waves will take you through the channel, and the wave will form a second wall after it punches through. A nice left-hand peak can also be found on the other side of the channel. Very few people surf this break because generally the waves are quite a bit better just to the south on the beach break, but some like to try it for something different.
Surf Camps of Playa Hermosa
Shaka – A small, highly rated surf camp within a 1-2 minute walk of Playa Hermosa, Shaka gives lots of individual attention to each of its guests. Yoga is also offered, and they have a small restaurant. Rumor has it that they make great pizza almost every Friday night.

Perfect Sunset – The Perfect Sunset school is operating out of the El Rey Patricio Hotel, which is 400m north of the huge rock "El Penon" dividing Santa Teresa and Playa Hermosa areas. It sits on a hill overlooking a rocky beach, with a giant tidepool in front. The walk to Playa Hermosa is 6 minutes or so, excellent to get you warmed up.

Zopilote – This beachfront surf camp is very "old school", with low-key, rustic accommodations. In some ways it's like a trip back in time to when this area wasn't as popular as it is now. The beach right in front is rocky, but it's a 2-3 minute walk down to the beach break of Playa Hermosa.
Hermosa Town
There really is no such thing as Hermosa as a town center. There's an international school, and a small "super" (grocery store), and a few small hotels and surf camps.
The best restaurant in the area, Koji's sushi place, is in Playa Hermosa, and a perfect day would be to go to Playa Hermosa for sunset surfing, and then hit Koji's for dinner (be sure to make a reservation!)
So if you're looking for a town center, you'll need to head farther souther, 5-10 minutes to Santa Teresa and Playa Carmen, where there's a lot more development.
Playa Hermosa Google Map