Tambor Bay Beach, Costa Rica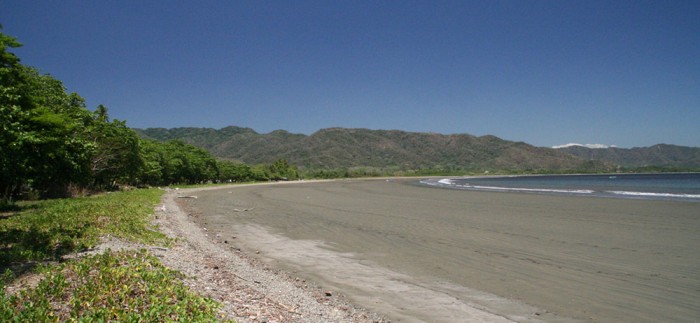 Tambor Bay and Beach
Tambor, shown in the panoramic photo above, is a picture-perfect sandy beach along the inside rim of a nearly circular bay. This is an ideal spot for families with young children, because there are no rip tides and very small waves. In the early decades of the 1900's, Tambor was where the barges would dock to load up with giant logs from the ancient jungles of the peninsula. Teams of men and oxen were paid one colone a day to drag the trees out for shipping to San Jose.

Now, Tambor has become a well-known family vacation spot. It's conveniently located just a few minutes from the area's regional airport. There are many restaurants, two nearby golf courses, and its easy to book snorkeling and sightseeing trips to Tortuga Island.
It's known for it's big resorts and developments, and there are many in the hills surrounding it, and many of them are "failed" or inactive, with their investors waiting and disappointed that the Tambor Bay Marina project hasn't happened yet, and currently no one seems to have any idea if it ever will.
The beach in Tambor is grey sand, and has no waves. Many find it disappointing compared with the white sand in Montezuma or Santa Teresa, but others love its tranquility, which is great for kids. Here you won't find the potentially dangerous conditions that can occur when large waves pound the pacific coast beaches. The protected beaches of Tambor never have rip currents or dangerous waves. But of course, no surfing either, except very rarely once or twice a year when huge waves can break at the mouth of the bay or near to the fishermen's wharf.
Resting against a backdrop of sun kissed golden sand Tambor Beach is located in Ballena, or Whale Bay, on the southern tip of the Nicoya Peninsula. Tambor is known for its biodiversity (much like most regions in Costa Rica) and is also surrounded by the ecological wealth of the Curu Wildlife Refuge.
Tambor's idyllic setting and striking natural appearance make it a perfect destination for wildlife aficionados and vacationers seeking a quiet, unruffled getaway. Sheltered by almond trees, the scenic beach and inviting its turquoise waters are hard to resist. The calm Pacific Ocean offers swimming conditions and making it safe for children and new swimmers. At low tide, the beach is perfect for a stimulating game of soccer or beach volleyball. Though tiny, the Tambor beach is the hub of many activities and attractions that can help guests explore the versatile Nicoya Peninsula. Local tour companies organize snorkeling, scuba diving, Tortuga Island tours, hikes to nature parks located nearby, horse riding to the Santa Teresa Beach (excellent for surfing), atv tours, quad rides, canopy tours, bird watching, wild life safari and much more.
Several hotels and vacation properties (varying from the upscale to the midsized and even budget stays) border the Tambor Beach. There are cabins with basic facilities and a peaceful ambiance for those watching their wallet. Then there are swanky all inclusive beachfront resorts that promise an absolute luxurious experience. These may also include spa services and other wellness pampering. Though there are plenty of accommodation options near the Tambor beach, the area is not known for its nightlife or convenience facilities (no ATM around). For a more action packed nightlife and amenities, guests will have to drive upto to Malpais and Santa Teresa.