Stand Up Paddleboarding (SUP)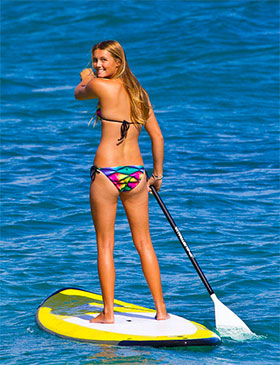 If you're planning a trip to Costa Rica and have been researching beach activities, you may be wondering what Stand Up Paddle Boarding or SUP is. Paddle boarding is a sport similar to surfing, where riders stand on top of a large board, which they then steer using a long paddle. In the last few years paddle boarding has gained popularity among tourists as it's a great way to explore a seaside location and is far easier to pick up than surfing.
Paddle boarding in Costa Rica:
Paddle boarding is a skill which most athletic tourists can pick up within just an hour of practice, assuming nice calm water. Of course if you plan on riding waves, you'll need a few lessons and lots of time in the water.
If you're visiting Costa Rica and are interested in learning to paddleboard two great places to hire boards are Malpais and Santa Teresa, both of which offer stunning white sandy beaches and picture perfect turquoise water. If you're lucky you may even be able to spot exotic fish, sea turtles, or a jumping devil ray.
Costa Rica Surf and Sup – Top ranked in Trip Advisor for activities in the area, this is a great option.
Freedom Riding – They offer packages/retreats etc with SUP'ers.
The best place for SUP? We see them out at Playa los Suecos, but Manzanillo would be great, or Cabuya on the other side of the peninsula.
A brief history of paddle boarding:
The first modern paddle boarders emerged in Hawaii during the 1960s. Surprisingly the pioneers behind the first paddleboards didn't intend to create a new sport and invented paddleboards in order to take photographs of tourists surfing, without having to worry about falling over on a traditional surf board.
SUP Tips for beginners:
1. Choose a calm stretch of water

Although professional paddle boarders are able to surf large waves, beginners are far better off learning to paddleboard on a calm, stretch of water. Just make sure that there aren't any rocks or coral reefs in the area you plan to paddle in! If you're unsure of where to paddle just ask a friendly local!

2. Work on your balance first

To get the hang off paddle boarding you have to master two skills. The first skill of which is to maintain your balance, standing on top of your board. If you're having difficulty standing, start off by kneeling and paddling your board and then work on standing up and keeping your balance. Be sure to stand with your legs apart and your knees bent slightly.

3. Perfect your paddling technique

When paddling make sure to have one hand at the top of your paddle and your other hand held 1/3 of the way down your paddle. When you move your paddle through the water, aim to maintain smooth technique. If you want to turn left, simply paddle on the right side of your board and vice versa.

4. Use your paddle to deal with unexpected waves

Even if you paddle in a relatively calm area, there is always a chance that you may be confronted with a small to medium sized wave. The best way to ride a wave as a beginner is to bend your knee and use your paddle to touch the wave and keep your balance. So if you plan on visiting beautiful Costa Rica and are looking for a new beach activity, consider giving Stand Up Paddle boarding a go! Within an hour you'll be paddling like a pro.