Delicias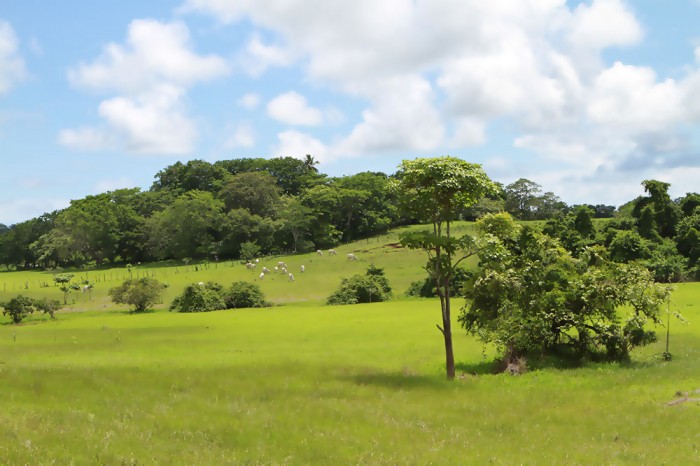 Delicias is an area in the hills just to the south and west of Montezuma. It has become known as one of the best places for foreign residents to move to. It's quiet, with almost no crime. There are many waterfalls, big trees and jungles, and easy access to the beach and Cobano. Delicias also has two shortcut roads to Malpais and Santa Teresa, making it closer to those beaches than Montezuma is. I live in Delicias and it's my favorite place here on the peninsula. The central location is just great, and it's 200 meters above sea level, so it's a little cooler and less humid than the beach towns. The soil is better than the beach areas as well, so better for gardening and growing stuff.
Delicias doesn't really have much of a town center. There are two very small "pulperias" with a few basic groceries, a school, church, and soccer field, but not much else. Along the front of Delicias is a cliff, with a row of spectacular houses overlooking Playa Las Manchas and has become known as the Beverly Hills of the area. Yet, there are still many properties available for around $100,000 with some ocean views, 2-4 acres, big trees, water, electricity, accesss, etc. Delicias Real Estate prices are rising rapidly and its expected to ultimately be an extremely expensive area because it has so much to offer.
Known mainly for many decades of cattle farm, Delicias is one of the prettiest, and greenest parts of the Southern Nicoya Peninsula. Although there are many small lots and houses, there are also quite a few very large farms in the range of 100 Hectares or more, operating as they have since long before tourists arrived in the area, with cowboys on horseback wrangling their herds. There are even parts of Delicias where people still live that have no electricity and no access except by horse!
Delicias now has an eco-village in its center… Rancho Delicioso, which is experimenting with organically growing all types of veggies that haven't been produced in the area, such as kale, exotic forms of spinach, and also basics such as whole-grain rice and various types of beans, squash, and of course an exotic fruit tree orchard. They also have tilapia ponds, goats for making goat cheese, an active volunteer program hosting volunteers from around the world who are interested in learning about organic farming, and also a green building and sustainable construction center, working to re-invent adobe experiment with low cost, non-toxic construction styles.
We are also proud that the top restaurant in Montezuma, according to Trip Advisor, is Tierra y Fuego, located near the center of Delicias, and open four nights per week (Thursday through Sunday). Using many things from their own farm, the Italian couple living there have created a wonderful dining experience that people are going out of their way to go to for special occasions, or just the best pizza on the Peninsula.
To be really clear, Delicias is the epitome of the best lifestyle you can have in Costa Rica, with beautiful vistas, clean air and water, easy access to some of the world's most beautiful beaches, and abundant wildlife of all types.
More about Delicias
Delicias, Costa Rica – Montezumabeach.com article and map
Delicias Real Estate – Tropisphere's properties for sale in Delicias
Delicias Eco Village – Rancho Delicioso, the peninsula's eco village located in Delicias
Photo Gallery – Photos and more details about Delicias
Delicias Map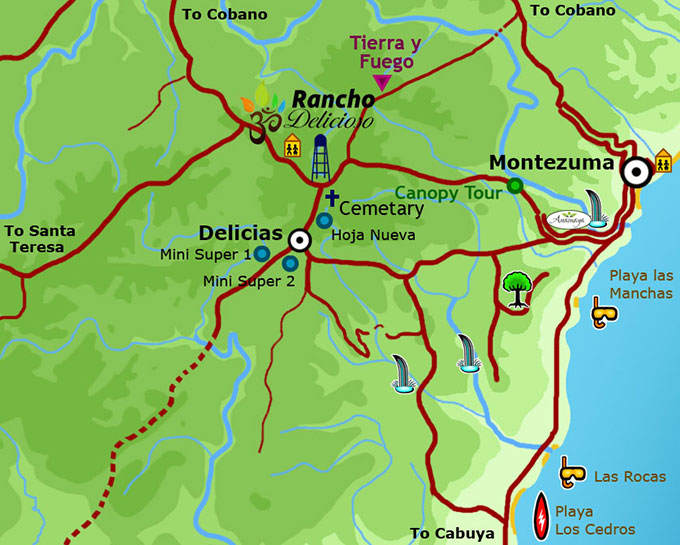 Google Map of Delicias Area