Spas of the Santa Teresa Area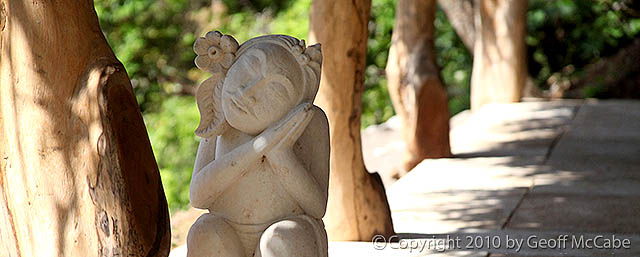 Florblanca Resort's Spa Bamboo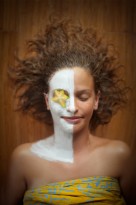 Designed by ace San Jose architect Jean Garnier, nestling over idyllic and positive aura radiating pools, and covered by Santa Teresa's natural flora, Spa Bambu gives you the opportunity to soothe the senses in surreal fairytale like backdrop. After a couple of years of painstaking plans, Florblanca launched the Spa Bambu in 2009. It's essence is to help visitors unwind and assimilate all the natural glory of the place to achieve a sense of harmony and relaxation.
Everything from Bamboo's fragrant reception, to their open sky space, to earthy bamboo surrounded treatment rooms, are carefully designed to facilitate healing, rejuvenation and complete comfort. All their therapists are highly knowledgeable, qualified and experienced in body nourishment and wellness field. Spa Bambu offers a string of wellness treatments, including aesthetics, facials, wraps, rubs and scrubs. Apart from this, they also offer complementing treatment packages and special couple's sessions.
Their giant Jacuzzi can be used before or after your treatment for a complete blissful experience. Guests cherish these moments as they experience heady nature and relaxation under the bamboo blanket of sky. The spa is open daily from 10 am to 8 pm and it is best to make your reservations early at the concierge desk or better still before arrival.
http://www.florblanca.com/spa/

Clinica Holistica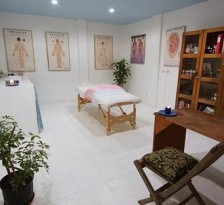 Clinica Holistica is owned and run by Ragnhild Kragseth, Doctor of Traditional Chinese Medicine and Registered Acupuncturist from Norway. Chelsey Hazzard, a Registered Massage Therapist from the USA also works at the clinic.
Treatments – Shelby uses a single or combination of treatments depending on individual requirement.  She will test multiples therapies during your visit unless stated otherwise by the client. For instance, some people are not very open to acupuncture and are only looking for a relaxing massage, while others merely want nutritional and Ayurvedic medicinal advice.
Consultation – Clinica Holistica also offers consultation only services minus the treatment for people who are inquisitive about a service or looking for a solution without actually undergoing therapy. It is ideal for people seeking nutritional advice, Ayurvedic medicine prescriptions, lifestyle consultation or guidance in chalking out an exercise plan.  It is more suitable for people for people with a chronic condition who want to complement their medical treatment with alternate therapies or those who've unsuccessfully tried alternate therapies in the past and are looking more for some relief than an actual remedy. A consultation-only service gives the patient an opportunity to meet the practitioner and see the clinic before making up their mind about the healing therapies.
Acupuncture – Clinica Holistica offers an efficient healing mechanism.  It works by controlling the body's energy flow.  This s energy is often referred to as Qi (chee) and the paths of Qi correspond with the body's internal organs and structures.  Each acupuncture point is known to possess special correlations and actions.
Reiki – Clinica Holistica also offers Reiki services, which is an ancient method of healing that comes from Japan. Reiki is simply transfer of energy from the healer to the patient.  The therapist acts as a source for transmitting this energy which surrounds every living being. People refer to it using various terms, some like to call it a universal energy, while others refer to it as light of emotions. A Reiki session at Clinica Holistica lasts for 90 minutes and is known to be extremely serene, relaxing and enjoyable.
Vibrational Medicine – This is a relatively new branch of alternate medicine offered by Clinica Holistica. ​Vibrational medicine refers to the principle of "like attracts like" It is about matching frequency, while attuning to one another and vibrating at a similar frequency.
http://www.clinicaholistica.net/

Topico Latino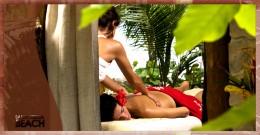 Tropico Latino's Yoga & Spa Natural offers a variety of first-class spa services offered by professional and experienced therapists. Treatments are offered utilizing 100% natural products. In addition to beauty services and yoga, the spa is known for its massages, wraps, exfoliations, acupuncture, facials and reflexology treatment. Located bang opposite the Santa Teresa beach, this spa awards clients the chance to enjoy rejuvenating services in Costa Rica's sumptuous natural palette in the midst of the area's balmy whooshing breeze and hypnotic wave sounds. In addition to regular services, Yoga and Spa Natural also offer special spa packages such as honeymoon and wedding packages.
Yoga Spa Natural Special Packages
The Tropical Body Glow 90 min $150 – The spa's best Selling Nourishing and Rejuvenating Cocoon Experience. This treatment service begins with a homemade sweet coconut scrub, followed by a warm papaya, carrot and honey skin purifying wrap. Followed by a relaxing 30 minute coconut lotion massage. This package includes a full cocktail of vitamins that leaves the skin soft and glowing. The Tropical Body Glow 90 min treatment is suitable for dry and damaged skin.
Balance Healing – Another Yoga Spa and Natural favorite, this full day package begins with their regular yoga class at 9am. After the class you take a break to enjoy a Super Power Smoothie. Then continue with a detoxifying skin therapy session that includes a Clay Body Wrap, a Facial Mask, Reflexology and a 45 minutes relaxing massage. After a delectable and healthy lunch served at their beachfront Shambala Restaurant, guests experience 2 hours of ultimate bliss by the pool or in the hammock section by the beautiful ocean. The day ends with a Reiki Session or a 45 minute reflexology foot massage.
Deep Cool Moisturizing 90 min $120 – This body Temperature Shock begins with a cool cucumber, aloe and lavender wrap. This is followed by a fresh cucumber facial, reflexology and 45 min healing vitamin E massage. This treatment offers one of the deepest skin hydrating results and is especially recommended for sunburns.
Facials
Mini Facial – A mini facial session offers cleansing and exfoliation of the facial skin followed by a rejuvenating mask. They will help you pick from their impressive selection of natural products that are most suitable for your skin types and requirements.
Tropical Facial – This complete tropical facial care includes cleansing, exfoliation, and an organic mask that nourishes and lightens the skin using thermostatic techniques with warm and cold aromatherapy towels. Yoga Spa Natural's estheticians help clients tailor design the right selection of natural products to suit their skin type. They use only fresh local ingredients such as clay, honey, lime, cucumber or papaya and more.
Deep Cleanse Facial – The Deep cleanse facial includes all the care of the Tropical Facial, with the added top up of deep steam pore cleansing and extraction.
http://www.hoteltropicolatino.com/spa.html
Ritmo Tropical Spa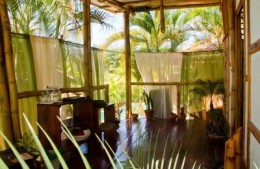 Ritmo Tropical Spa offers a variety of treatments to help their guests unwind, relax, and experience ultimate bliss. Their goal is to offer a series of wellness treatments bringing together beauty and technology to create effective results for each client. Some of the treatments they offer include a deep tissue massage on the back and a full body relaxing massage. The spa offers their women clientele deep facial cleaning including microdermabrasion and radio frequency treatment with top notch beauty products. During the low season (from May to November), the spa works only with a prior appointment.