Santa Teresa Surf Guide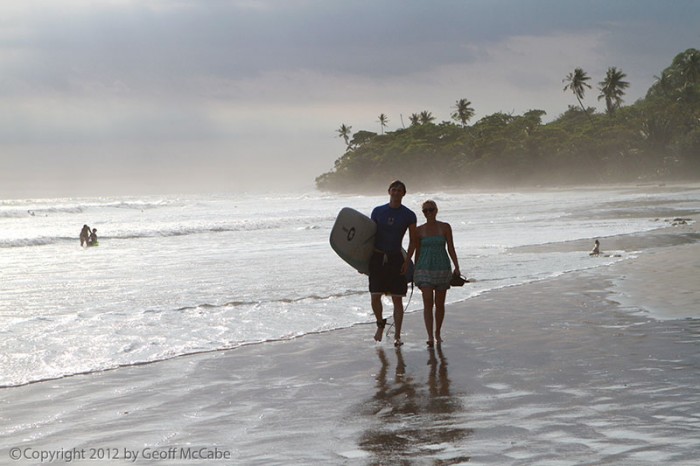 Surf in Santa Teresa and Malpais
Santa Teresa and Malpais have become famous areas for surfing, and many famous surfers, including Kelly Slater, have been seen riding waves here in the past few years. The Malpais side of town has few sandy beaches, so it's more known for various point breaks, including many that work only for particular swell size and direction. Santa Teresa has a lot more sand, so there are miles of good beach breaks, as well as a few great point breaks. This Santa Teresa surf guide will help you decide where to surf, especially if you have a vehicle, since there are a lot more great spots in this part of Costa Rica than just what's in front of your hotel.
Costa Rica Surf Camp and Yoga Center
Awaken Surf Camp and Organic Farm
All about Surfing in Santa Teresa Costa Rica
The beaches of Santa Teresa offer some of the best surfing experiences in Costa Rica. They boast of world class breaks and ideal surf conditions all through the year. Santa Teresa's main attraction is the consistent waves. This remote tropical town is located at the southern tip of Nicoya Peninsula in Costa Rica. It is ideal for a surfing holiday as it is free from the hustle and bustle of big city life. You can enjoy surfing and relaxing in this topical paradise which boasts of white sand beaches, blue lagoons, rainforests teeming with wildlife and plenty of silence and solitude.
You can have a whale of a time in the several beaches near Santa Teresa and Mal Pais. These beaches enjoy great popularity among surfers because of their excellent surfs. Santa Teresa holds many international competitions for surfers. Novices can learn the art of surfing while on vacation here.
Surf Spots in Santa Teresa
The best time for surfing in Santa Teresa is during the low currents because the waves are much faster at this time. The variety of surf breaks and the high swells attract the best surfers in the business. Suck Rock, La Lora, Playa Hermosa and Playa Carmen are popular surfing spots in and around Santa Teresa.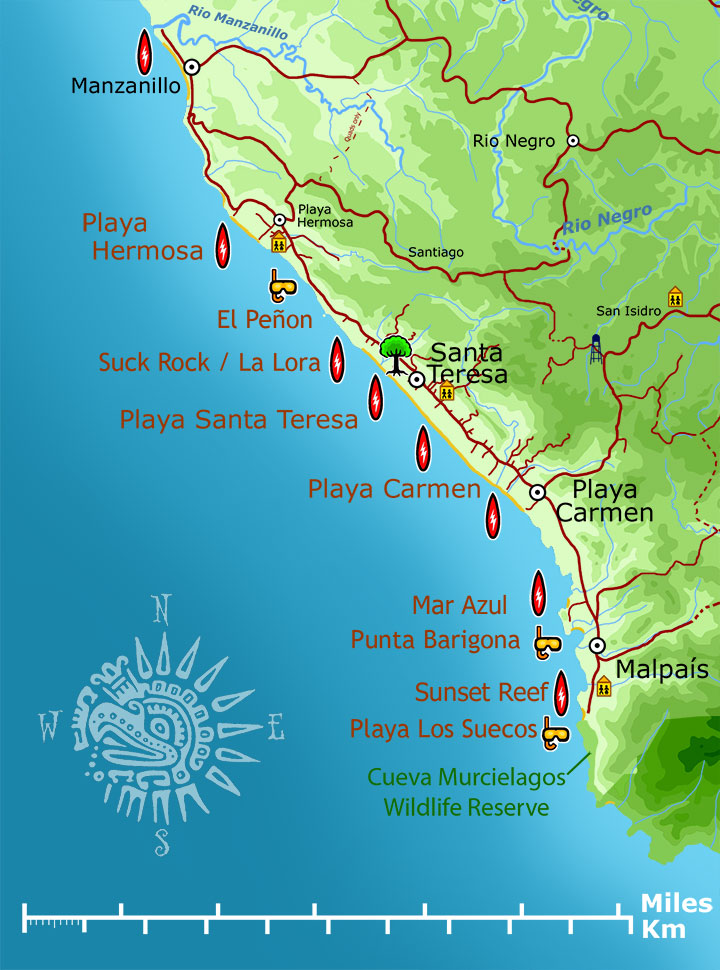 Suck Rock
The waves can get pretty big here. Some people are even rumored to have surfed 20-ft waves in this sought after beach. You will find many photographers hanging out here and taking photos or making videos of surfers who pay for these services.
More here: Suck Rock Point Break
La Lora Surf Spot
Reasons for its popularity are consistent surf and the long and beautiful rock-free beach with white sand. The consistent and excellent waves in La Lora make it an ideal spot to host surf competitions.
Mar Azul, Malpais
A left-hand point break in the heart of Mal Pais, this is a spot for "soul surfers" and you'll never find more than a handful of people surfing it.
More here: Mar Azul Surf Spot
Playa Hermosa
This beautiful beach is never crowded for surfing even on busy days. But parking is limited and can cause a dent on your car. Surfers have two good spots: one is a wide beach break on a flat beach and the other a point break to the north acknowledged to be a great surfing spot. Watch out for the few rocks in the water. This beach is ideal for novices to learn surfing because of the less forceful rip currents.
More here: Playa Hermosa Beach and Surfing
Playa Carmen
A long white sand beach between Mal Pais and Santa Teresa, it is perfect for surfing all through the year. The rip tides cause less forceful waves and hence Playa Carmen is a great place for novice surfers. But it is wise to be cautious because of the many rocky spots in the water. So first find yourself a safe place before you start surfing. A large number of businesses and hotels ensure the area is bustling with activity and there is also a beachfront pizza restaurant and bar.
Santa Teresa is among the Best
Trip Advisor voted it the 10th best beach in the world
Trip Advisor also adjudged it as the best beach in Central and South America
Forbes Magazine named Santa Teresa among the top ten most spectacular beaches in the whole world
Summary
Santa Teresa in Costa Rica offers the best waves and beaches for both novice and expert surfers. Come for a holiday to Santa Teresa to enjoy the sun, sand and sea at some of the top beaches in the whole world.
Santa Teresa Surfing Video, thanks to Mambo Surf
Surfing Articles on MalpaisBeach.com:
Surfing Category – List of our surfing related articles for malpaisbeach.com