Wedding Guide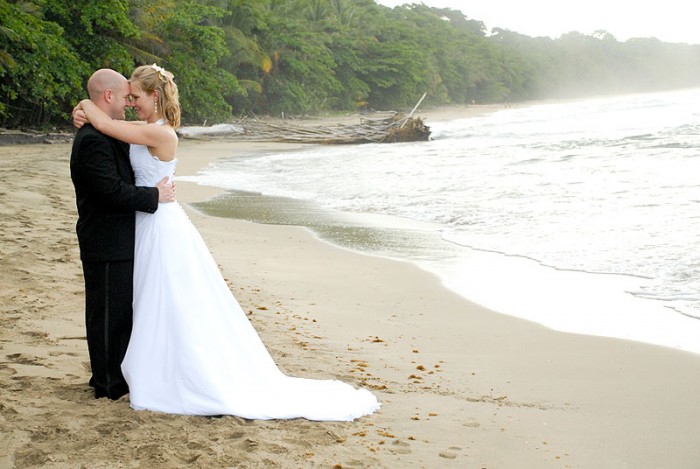 Santa Teresa and Malpais have become favorite destinations to hold weddings because of the idyllic beauty of the beaches and the area in general. Holding your wedding in Costa Rica is a great idea for many reasons. First, you will insure that only your best friends and relatives make it down for the wedding, thus keeping the wedding easier to plan. Second, for your friends and family who are buying a plane ticket to see you anyway, they can turn their visit into a vacation for themselves as well, so it's more likely that the people you want will be able to come to your wedding. Third, you will be able to spend a lot more quality time with your family and friends when they are with you for a week or so. And fourth, it's very easy to launch right into a fantastic and romantic honeymoon after the wedding, since you're already here in paradise! Or, consider a yoga honeymoon for a week at Anamaya, Pranamar or one of the area's other yoga retreat centers.
One of the things I loved most about my wedding was seeing so many of my favorite people, many of who had spent little or no time with each other because they were from different eras in my life, interacting and spending quality time with each other and with me and my fiancee during the wedding. I wished that the wedding could have lasted longer. When you have your wedding here in Costa Rica, I recommend that you invite your family and friends to arrive several days before the actual event, so everyone can spend a lot of time together. Rent a beachfront villa or book out a hotel, and everyone will have the best time in their lives, culminating with your ceremony.
Wedding Planning? Is it difficult to have a wedding in such a remote area, with the vast distance, different culture, Spanish language, and general lack of services? Yes, but you can hire a local wedding planner to help. There are weddings in the area nearly every day during the dry season… often multiple weddings on the same day, so there are plenty of services here including catering, music, flowers, fire-dancers and circus entertainers, experienced and licensed ministers who speak English, photography, beautiful locations, etc.
Contents
• Video
• Catering
• Entertainment
• Flowers
• Honeymoon Locations
• Locations
• Minister/MC
• Music
• Photography
• Wedding Planning
Wonderful Wedding Video Taken in Santa Teresa
I recommend watching this wedding video, because it really captures the feeling of having a wedding in Santa Teresa. The videographer, Jonathan Yonkers, did a great job, and if you like it then you can contact him from the email at the end of his video.
Catering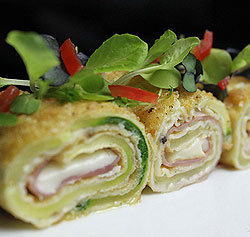 Catering & Private Chefs Section (Click here for much more)
Santa Teresa, Montezuma, and Malpais have incredible restaurants, so you can expect to be able to easily arrange the catering for your wedding. In addition, there are many chefs that do only catering for special events such as weddings, and many of them are excellent. For the most part, the the caterers will provide the food and chef, but your location, be it a hotel or rental villa, should provide the plates, knives and forks, tables, etc. Producing large quantities of amazing food with all the tables, chairs, and other details you need in such a remote place isn't cheap, but will help to create the spectacular and memorable wedding experience that many people want.
There are chefs here who can provide all types of food options if you care for something specific, such as sushi, raw food, vegetarian, vegan, or organic food.
Here's a list of some of the best options for wedding catering in Santa Teresa and Malpais:
Food Lovers Retreats – Celebrity Chef Giuseppe Morisco
Ono Cuisine – Chef Torsten is amazing
Soma Chefs – Chef Jim is very practiced at doing wedding in Santa Terea
The Healing Cuisine – Raw food master chef Joanne Young
There are less expensive options as well… local chefs and cooks who speak only Spanish that can be contacted and arranged for you.
Click here for our Catering & Private Chefs Article.
Entertainment
You'll probably want music at your wedding, and there are a few options here, but what about entertainment? The two most popular shows that are here are fire dancing, and aerial silk dance. There are several people who perform these spectacular circus skills in the area, and you can book them for a relatively affordable price to amuse your guests during the wedding reception.
Wedding Entertainment – Click for more details about fire dancing, aerial silk dancing, music, and others
Flowers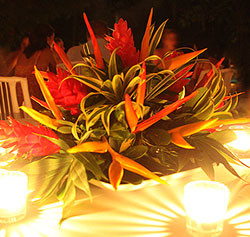 One would think that the jungle would be filled with flowers, but in fact they're rather rare things if you simply walk around under the trees. The hotels here have planted beautiful flowers, but might not be too happy if you cut them all for your wedding decor, but don't worry, there are inexpensive ways to add many beautiful tropical flowers to your wedding day.
Vivero Bella Vista in Cobano – Katia – Phone: 2642-0378 – Spanish Only
Here's a good reason why it would be a good idea to hire a wedding planner. The flower provider above just sells them raw. To arrange them in to beautiful groups, you'll need other people with this experience, and the wedding planner knows some local ladies who do this kind of thing well. With all the tropical flowers supposedly in the tropics, you'd think that this would be the easy part, but finding someone who knows where to get all the right flowers, arrange them in a beautiful way that's appropriate for your wedding, isn't so easy anywhere, and in a remote location such as Santa Teresa, Costa Rica, there are only a few people who know how to do this properly. There are also many private gardens around the area with well-tended flowers year round. There are a few individuals who have made it their business to know where to find the right flowers in the quantities needed to decorate a wedding.
Honeymoon Spots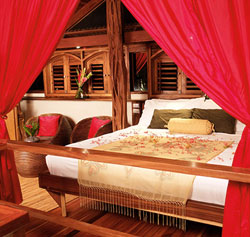 Honeymoons are what Costa Rica, and especially Santa Terera, is all about. If you walk around and talk to couples who are vacationing in the area, and large number of them are on their honeymoon. Some business and rental villas seem to cater almost exclusively to honeymooners, with ultra-cute bungalows designed for two. There are many secluded beach coves that you can find nearly deserted, such as Mar Azul, Playa Tequila, Playa Los Suecos, or Bahia Barigona. There, a couple can lay under a palm tree and sip wine, relaxing inside a postcard from paradise.
There are many romantic places to stay, but a few really stand out as being great for honeymooners, because of the extra effort and details that these owners provide.
For a list and basic description of the best of the best, click here: Best Costa Rica Honeymoons
Location Scouting for Weddings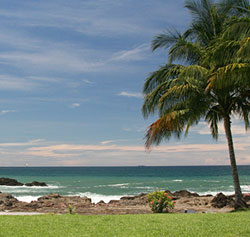 Although the Southern Nicoya Peninsula is relatively small, it still has hundreds of hotels, dozens of amazing beaches, and it's a ton of work trying to figure out how to make a wedding happen here, especially when you're thousands of miles away, don't speak Spanish, and are busy with your jobs, etc. So, I've put together a list (link below) to help you. Friends of mine has been planning a wedding here so I have been making calls and really thinking about the best options. So now I hope this will save you a lot of work and encourage you to plan your special event here.
Locations for a Wedding in Santa Teresa – (Click here)
The article I've written at the link above discusses not only where to have the ceremony, but which hotels (or groups of hotels) are ideal for booking a large group of people together in 1-3 locations near to each other.
Be sure to book this very, very early. As I was calling places for next high season (I'm writing this at the end of high season 2013 and was calling about 2014) a surprising number already were booked with groups, yoga retreats, other weddings, etc. An absolute minimum of one year, and probably more is going to be needed.
Minister/MC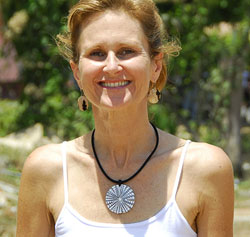 A highly experienced wedding minister, who has her license in the U.S. is Terri Zacanti. She performs many weddings in the area, and I'm sure you'll be happy with her. She was in the past an actress and dancer, and is very good at holding a crowd's attention.
Remember of course that a minister must be licensed in Costa Rica to be legally married in this country. However, most people who are married here sign their official documents after they arrive home, solving that technical issue.
Contact:
Phone: +506 8375-0793
Email: [email protected]
Terri's Website: Sacred Ceremonies
Music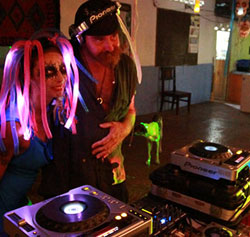 Wedding DJ – Mr Black is a great DJ who knows how to rock a wedding here.  Click the link to the left for more details about Italian DJ Ferdinando.

DJ Peter – Also the owner of the beachfront hotel/cabinas "Ranchos Itauna", peter is a great DJ who will provide music for weddings, private parties and events, etc – Ranchos Itauna Phone# +506 2640-0095

Live Band – Bands come together for a year or two and then dissolve as the members move on to other places or opportunities. One of the owners of Milarepa Hotel in Santa Teresa, Philippe from France, often has a band going and they are really good with classic rock n roll music. You can contact him at Milarepa to see if he can get something together for your event.
Photography and Video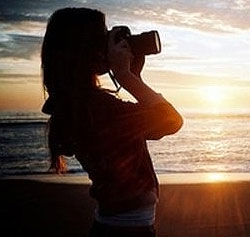 You can't plan a beautiful wedding in one of the most gorgeous places on earth and then not have the best photos to remember it by, right? Luckily there are many photographers who live in the area and can take photographs for your wedding. Expect lower prices than the outrageous amounts that they charge in the U.S.
Wedding Planning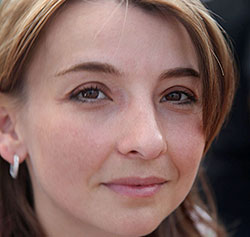 Okay, now we really get down to it… the fact is that planning a wedding is an incredible amount of work. Teams of people work for days on end, over months, to get everything ready. It's all supposed to be perfect. So of course, doing that in Costa Rica is next to impossible for most people who don't live here or speak Spanish. Plus you have no idea who you can trust, who will show up on time (or at all), etc.
More than anything, you really need a locally-based wedding planner who can handle all these details for you. You can end up spending a fortune on this hiring someone in San Jose who will bring amazing people from there, or you can do it all for a fraction of the price by hiring the best of the best local people who don't need transport, accommodations.
Why have a wedding in Santa Teresa?
A wedding is a life event that will create unforgettable memories for both the bride and groom and also for their families and friends. Wedding destinations are becoming a trend for wedding ceremonies because they are more memorable and unique. Aside from that, wedding destinations are also very intimate since only your closest friends and families get the chance to spend that momentous day with you. The most popular kind of wedding destination is the beach wedding–it's romantic, simple, laid-back, and the beach serves as the beautiful and breathtaking backdrop that embraces your wedding day. And among the rising beach wedding destinations, are the pristine beaches of the Southern Nicoya Peninsula of Central America's Costa Rica.
General Information on Santa Teresa, Costa Rica
One of the amazing destinations of the Southern Nicoya Peninsula is Santa Teresa. This small town is considered to be one of the world's top beaches by Forbes and is one of Costa Rica's secluded gems. It used to be a small fishing village with inhabitants living off the produce of the ocean and the land's agriculture.
Decades ago, the village remained untouched by development and in isolation from tourists due to the poor and undeveloped roads. However, during the 1990's, foreign backpackers and surfers discovered the area–some stayed and those that left told stories about the beauty the village holds. Today, it has become a thriving top tourist destination, with budget hostels to luxurious accommodations that suit every budget. There are no tall buildings yet, so the beaches remain pristine and natural.
Santa Teresa is known for its golden sand, constant and excellent surf conditions, a picturesque coastline, and aquamarine warm and clear waters. It is the perfect beach wedding location for beach loving couples.
A Beach Wedding in Santa Teresa
Beach weddings in Santa Teresa is slowly becoming popular. By flying in families and friends, not only will they experience your special day with you, they can also take the opportunity to turn it into a vacation. Everything is already there–the beach, water activities, great food, and the people they love. As for the couple, you don't have to go anywhere else to spend your honeymoon, since you are already there. Once the wedding reception is over, you can immediately begin your romantic first day as a wedded couple.
There are beach front hotels that offer complete wedding packages for couples–from wedding documents, to the ceremony, the reception, and everything else in between. Hotel wedding services are great options since you can get a lot of benefits from them. This can include group discounts if the whole wedding party and guests plan to stay in one hotel and other perks.
If you don't opt to use your hotel's wedding services, it's best that you hire a wedding planner who has excellent connections in the area. There are many restaurants and professional chefs that cater to your every culinary desires so this won't be a problem. Wedding locations abound–you can choose from the beaches of your hotels to secluded areas in the village. Popular choices for entertainment during your wedding party include the popular fire and acrobatic dancers. Many live bands, DJs, and acoustic guitar groups can also be hired to entertain your wedding party.
From amazing wedding ceremony locations on the shores with spectacular sunsets, to fresh seafood and culinary offerings that satisfy your cravings, to romantic secluded areas for the perfect honeymoon, Santa Teresa in Costa Rica provides the perfect destination for a couple's dream beach wedding.