Tortuga Island

A Guide to an Island Paradise on Costa Rica's Pacific Coast: Tortuga Island
Tortuga Island or Isla Tortuga (Spanish for "Turtle Island"), as it's known by Costa Ricans, is an exotic, albeit peaceful and pristine island lying off the southern tip of the Nicoya Peninsula on Costa Rica's Pacific coastline. The Nicoya Peninsula, which includes Puntarenas and Guanacaste Provinces, is touted a Blue Zone, where people's longevity frequently exceeds 100 years old and is home to picturesque white sandy beaches, quiet yet inviting villages such as Malpais and Santa Teresa and unique wildlife refuges and natural reserves. Stretching over 247 acres at sea level altitude, Tortuga Island is a delightful, mystical and scenic paradise with crystalline turquoise waters, relaxing tropical beaches, incredible biodiversity, and swaying coconut palms lining the tranquil beach. It welcomes tourists from over the world looking to enrich and embellish their exotic holidays with an unforgettable experience, Costa Rican style!
Why Choose Tortuga Island as a Holiday Destination and Who Should Choose It
Tortuga Island is one of the most popular tourist attractions of the Nicoya Peninsula and it makes an excellent and inspiring choice for the entire family. Adults and children alike have a unique opportunity to revel in nature's finest attractions intertwined between Costa Rica's crystal clear waters and the breathtaking tropical rainforest, home to an impressive range of wildlife. The name of this island is related to the presence of magnificent volcanic rock formations which resemble the turtles. Lying two miles east of another popular attraction in this area, the mesmerizing Curu Wildlife Refuge. Tortuga Island includes two uninhabited exotic islands (Isla Alcatraz and Isla Tolinga) which make the perfect getaway for any family with or without children looking to enjoy a relaxing and quiet holiday basking in Costa Rica's sun and surrounded by a breathtaking natural decor.
How To Get To Tortuga Island and Other Attractions Along the Way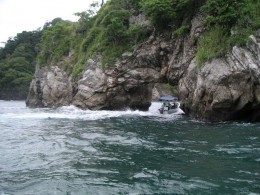 Tours to this unique island depart daily, throughout the year, from nearby locations including Malpais, Curu Wildlife Refuge, Puntarenas, Jaco, San Jose, Tambor and Montezuma and rest assured that this ride across the gulf is worth every bit of your time if you're coming from the mainland, for you will be able to feast your eyes on the Costa Rica s mesmerizing scenery until you reach your exotic destination. On your aquatic adventure en route to Tortuga Island, which most likely will begin from the bay in Montezuma if you're staying in Santa Teresa or Malpais, you will pass smaller scenic isles and beaches, and a shipwreck with its smokestack still jutting out of the water. Very likely, you'll be able to spot majestic marine creatures including friendly bottle-nosed dolphins, imposing whales as well as majestic green sea turtles and tropical manta rays.
What is Included in Full-Day Tours to Tortuga Island
Although tour packages prices usually vary from one tour operator to another, almost all of them include a billingual guide who will explain in detail all the attractions along the way; fresh fruit, beer, juice, sandwiches, pasta, or grilled fish, served as a barbecue lunch incorporating the local cuisine offered on the white sandy beach of the island. Snacks as well as snorkeling and scuba diving amid the spectacular and unique rock formations off Costa Rica's Pacific Coast are very popular too. Tortuga Island is renowned worldwide for these water activities in particular.
What Kind of Beach and Water Activities are Available for Tourists on Tortuga Island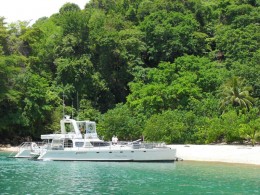 Once you have arrived on the island, engaging into its famous attractions, scuba diving and snorkeling is a must. The perfect weather conditions, the high visibility of the calm, transparent and shallow waters of this island are the perfect attributes for a memorable underwater adventure in the company of professional scuba divers and snorkelers. Furthermore, since all tour packages include these fun activities, it would be a shame to miss out on this fantastic opportunity to see up close and personal colorful tropical fish, green sea turtles and even larger marine creatures teeming the rocky reefs. The rich underwater biodiversity of this island has turned it into the popular attraction that is today.
Scuba divers can feast their visual senses on majestic marine creatures such as yellowtails, white tip reef sharks and even whale sharks, octopi, eels, spotted eagle rays and cow-nosed rays, frog fish and grunt. Tourists who are more interested in snorkeling in the shallow waters of the island can spot in their aquatic habitat parrotfish, puffer fish, sea anemone, damsels, angelfish and starfish. While snorkeling is excellent year-round, scuba diving is better from December through April, because during these dry months the visibility of the water is optimum.
Other free activities on Tortuga Island include swimming, tanning, playing volleyball on the white sandy beaches and hiking the verdant hills, because the island also has few trails for exploring on foot the majestic nature spectacle, which is among Costa Rica's greatest natural treasures. For extra cost, you can also find a canopy tour or banana boat tours for a breathtaking view of this pristine coastline and even choose sea kayaking or horseback riding across the island. Explorers or adrenaline junkies can rent a sea kayak or a jet ski and embark on an adventurous water tour of the island.
Facilities on Tortuga Island
There are basic facilities on this island, which include restrooms, large gift shops in tents and picnic tables, but getting in touch with nature is definitely the purpose of this tranquil location. For a small fee, you can also rent by the hour umbrellas and beach chairs.
Who is the Most Famous Resident of This Island?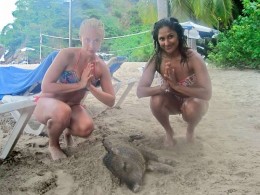 If you are planning on meeting a human reminding one of Tom Hanks s character in "Cast Away", you will be disappointed, because a friendly peccary (wild pig) called Wilamena calls Tortuga Island its home. This peccary is Costa Rica s exotic version of a dog, because it craves attention from tourists and enjoys a great deal being petted, and the star of photos taken by tourists. It was rejected by its family because she had a bad leg, and since she considers humans to be its family now, she takes delight in interacting with them. You should not miss paying Wilamena a visit in her natural habitat (a beach full of tourists.)
This unique remote island experience is mutually rewarding indeed. Besides, following in the footsteps of Johnny Depp's character in "The Pirates of the Carabbean" is definitely possible, given the fact that Tortuga Island was pirates favorite island back in the 17th century. Feel free to indulge in this Costa Rican exotic paradise!
Tortuga Island Photo Gallery
Video of Tortuga Island
Map to Tortuga Island
This map shows where you'll probably start, in Montezuma, in the bottom-left corner, and Tortuga Island in the top-right corner.
Do You Need MORE info?
Scuba Dive Map – Dive sites and map for Tortuga Island
Tortuga Dive Club – Montezuma-based scuba divemasters