Hotels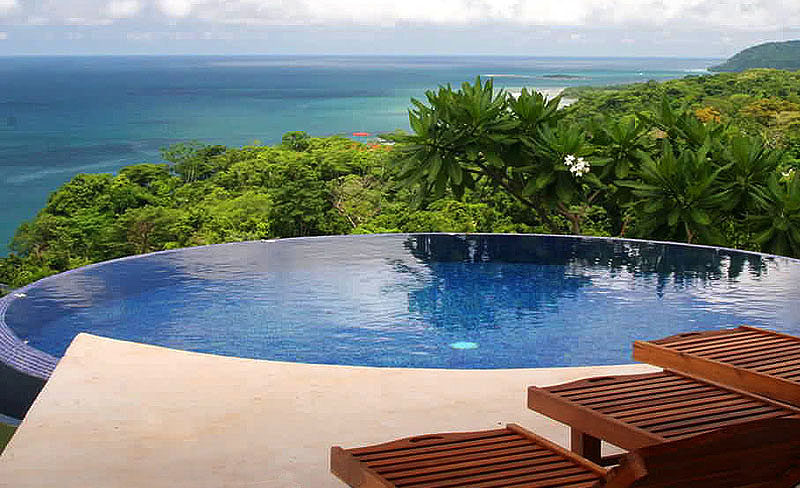 The Santa Teresa area has over 100 hotels, with more opening up every year. The majority are owned by foreigners who have moved to the area over the last 20 years, but some are owned by locals, and there are a few partnerships. Most of the foreign owners live in the area with their families and manage their hotels, and many have become Costa Rican citizens. As of this writing, there are no large corporate hotels or resorts in the area except in Tambor.
All classes of hotels are in the area, from amazing top rated boutique hotels such as the hilltop Casa Chameleon in Malpais, which has only a handful of villas that it rents mainly to honeymooners, to places such as beachfront Florblanca, which can cost $800/nt and up.
Beachfront hotels are the most popular, but are nearly double the price for the same quality of hotel and amenities. It's not always easy to tell which hotels are beachfront, because many show the beach near the hotel on the other side of the road, so if you want to be on the sand, be sure to check carefully about this. Another point to consider is that not every "beachfront" hotel has a beach you can surf or even swim at. Some of the most expensive hotels have dangerous rocks right in front and you're going to need to walk quite a ways down the beach before finding an area safe to take a dip or launch your boogie board. Check my map here to see if the hotel has a yellow beach in front. This map isn't perfect but I think it's the best you can find on the internet right now: Santa Teresa and Malpais Maps.
Directory of Hotels by Area and Price Point
Malpais Hotels

Santa Teresa Hotels

Playa Hermosa Hotels

Montezuma Hotels
Mixed in with the top places are plenty of high quality medium-priced hotels which provide nearly the same service for a lot less money, as well as everything all the way down to dormitory or hostel type accommodations with 8 people per room in cheap shacks. Some people have noticed that the higher the price paid, the less fun the guests seem to be having! Yet, the general population still seems to equate price with desirability. So perhaps, consider the big picture when booking a hotel. You may find that a lower-priced hotel that encourages social interaction will bring you a lot more great memories.
Another great option I recommend is retreats. Whether they're a yoga retreat or a surf camp, consider how much more fun you're going to probably have in a group situation where you're going to make lots of new friends from around the world. Many retreats are offered in the area and are easy to find online by searching Google. Some of the best are at Anamaya, Pranamar, La Escuela del Sol, Montezuma Yoga, etc