Cocos Island Costa Rica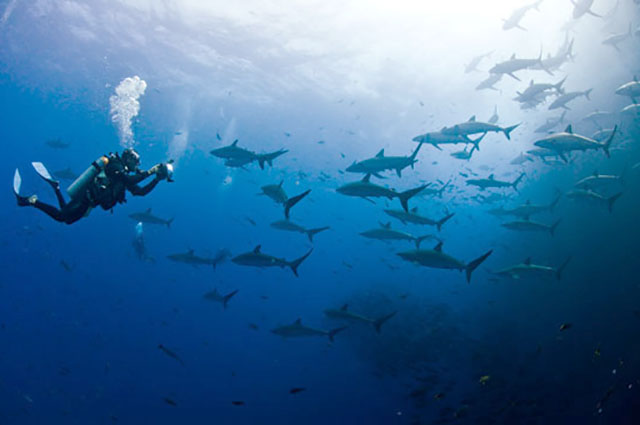 Once upon a time somewhere in the Pacific ocean, Pirates set sail to unchartered waters looking for the best place to hide their looted treasure. When the winds took them to an isolated island west of Central America, Pirates never hesitated to anchor and take refuge. With lots of natural resources, many have easily fell in love with this Pacific island paradise they now call Isla del Coco.
A Paradise for All Back Then
Located 550 kilometers (341 miles) west of Costa Rica, its isolation has never hindered people from all walks of life to come and visit Cocos island. Back then, fishermen and whalers often drop by the island to re-supply and rest. Stories have been told that a single fishing trip to Cocos island can instantly fill the boat's storage with fresh fish and easily meet their fishing quota.
Treasure hunters have their own share of story while living in Cocos island. While having a hard time looking for looted pirate treasures due to the vastness of its landmass, these treasure hunters, which includes a President of a powerful country, has enjoyed the natural bounty of the island where they all ended up in finding nothing.
Scientist and explorers have also set foot on the island. They have been here to study this unique and wild ecosystem where a lot of endemic species that can only be found in Cocos island has been discovered. Among these explorers is the famous French Naval Officer Jacques Yves Cousteau, who have coined this offshore paradise "as the Most Beautiful Island on Earth".
More People Before than Now
It came to a point that the Costa Rican Government saw the need to administer and manage Cocos island. A famous treasure hunter was appointed as its sole Governor in the condition that he will plow the land with agricultural products in exchange for his time searching for treasure. This happened in the year 1897 and lasted for only 20 years. Finding no treasure and living under harsh island condition, the small colony the Governor has set-up has finally collapsed and everyone evacuated the island empty handed.
The need to manage the island was short-lived. They found out that the island requires our absence to live and sustain by itself allowing nature to take its course. Since then, the only human settlement allowed in the island are the two Ranger Stations in Chatham and Wafer Bay. These light structure houses Park Rangers implementing the rules and regulations as the island has now been a National Marine Park.
Still a Paradise, but only for the Limited Few
Cocos island is still an offshore paradise as experienced by Pirates, Treasure Hunters and Explorers back then. However, with the strict implementation of National Park policies, the only way to go and live in Cocos island is through a liveaboard cruise. Expect no Airport, Seaport, Hotels or any huge tourism infrastructure. These liveaboard vessels will only safely anchor at natural bays and ferry its guest using smaller boats.
If you think that there is a regular trip to Cocos Island, then you are right. But don't be too confident in getting an easy booking as there are only a few companies offering such trip and each trip can only allow a maximum of 20 persons.
Living On-board at Sea
While you cannot get rid of imagining how would it be like staying on the island as what the Pirates did, a comfortable stay is not compromised while on-board. Your 10-day journey to Cocos island will start by boarding your vessel in one of the southern ports in mainland Costa Rica. You and your partner will be assigned with your own air-conditioned cabin which will be your room for the entire trip.
Don't worry about bringing foods. At the upper deck of your cabin is the dining hall where delicious foods are being served in every meal. Just in case in the middle of the night and your stomach craves, just go to the fridge where snacks and drinks are always flowing. But this does not mean that you cannot bring in your favorite snack.
While this is a 10-day trip, you may wonder what the guest will be doing in the island. Well, part of it consist of setting foot on the island, visit the Ranger station and go hiking following an upland trek and take a dip at one of the natural pools created by virgin waterfalls. But in most of the times, guest will go out of the confines of the vessel and explore the world beneath Cocos island where they have seen treasure of immense value.
The Treasure has been found Underwater
With over 300 treasure hunting expeditions previously conducted in the island, most of them found nothing. And if they found something, it is only limited to a few gold coins that may worth a couple of thousand dollars.
But little did these treasure hunters know that a great treasure has already been found, not on land, but underwater. It's not a hoard of golden treasure but a massive wealth of marine wildlife. Ask any diver who have already been diving in Cocos island and they will tell you that the value of its marine resources is way much bigger that the current appraised value of the hidden looted treasure.
A Diver's Paradise
If Cocos island has been previously known as a haven for Pirates, it is now a paradise for scuba diving where divers around the world race to get a liveaboard booking and explore over 10 amazing dive sites.
Known for big pelagic fish, each dive in Cocos island is not complete without a close interaction with one of the big boys of the deep. We are talking about sharks of all sorts and kind. Hammerhead sharks are the dominant species that you can interact with in Cocos island due to their huge quantity. They literally litter the waters of Cocos Island. The good thing with a shark interaction in Cocos island is that you will observe them in their natural state without giving them any food or bait as what other sites are doing. In fact, so natural that you can see them being cleaned by smaller fish. Another thing that you will notice is that every species, may it be a fish, dolphin, turtle or other marine wildlife, they come in great numbers here in Cocos island.
So, if you want to be included in this so-called "limited few" list, then we suggest you get a reservation and witness for yourself this immense treasure that no physical wealth can match. For more information, you can read our related article about Coco island Costa Rica.
More info: Scuba Dive Packages to Cocos Island