Beaches of the Southern Nicoya Peninsula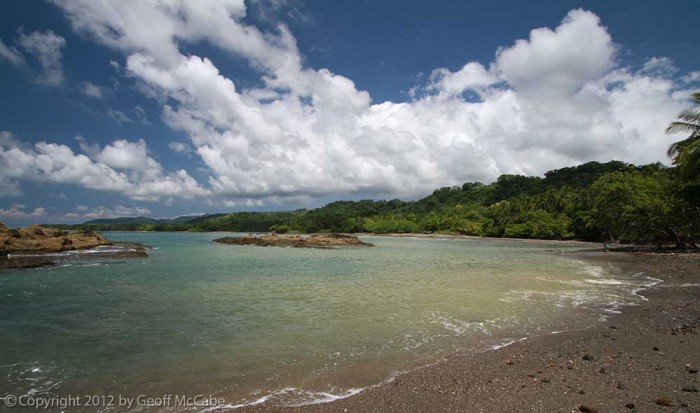 Costa Rica is known for its beautiful beaches, and every coastal area has its own great spots. The beaches in Montezuma, Santa Teresa, Malpaís, Tambor, Manzanillo, and Cabuya offer just about everything you could dream might exist in Costa Rica. Great surfing, swimming, snorkeling and diving, tide pools, fishing, and boating can be found throughout the area. There's even a waterfall that pours off a cliff to splash into the ocean below (Playa Cocolito.) The beaches of Santa Teresa and Mal Pais were voted by Forbes Magazine to be among the world's top ten most spectacular, because of their white sand, rugged beauty, and epic topography, making them postcard-photo ready. Most people who have traveled extensively in Costa Rica will tell you that this part of the country has the best variety of beautiful beaches.
Contents
Click to jump to the section you want:
• Waves and Water
• Water Temp Chart
• Surfing Stuff
• Beaches
• Activities
• Wildlife
• Vehicles
• Map
• Security
• Safety
Waves and Water
The Southern Nicoya Peninsula is on Pacific Ocean and gets very large swells whenever any big storm anywhere from Australia to Alaska stirs up a lot of wave energy. You can expect that on most any given day… perhaps 95% of the time or more, there will be waves big enough to surf here on Santa Teresa's beaches. On the Montezuma side, because it's inside the Gulf of Nicoya, the waves are quite a bit smaller, and when the surf gets too big (1.8 meter+ swells) and starts to close out in Santa Teresa, many surfers head to Montezuma and Cabuya to try there.
You'll be pleased to know that you will never need a wetsuit if you're surfing or swimming at the beaches here. We wear them for scuba diving, but only because the water is cold when you go much deeper. Occasionally, the water gets colder during Dec-March when cold water from the north can push its way down, but it's still nowhere near as cold as the warmest days in California, and this is a rare occurrence. Usually the water temperatures are very nice.
Water Temperature Chart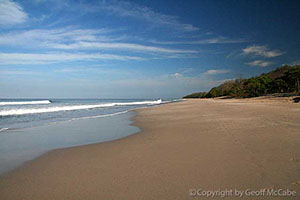 Jan: 28C – 82F
Feb: 28C – 82F
Mar: 28C – 82F
Apr: 29C – 84F
May: 29C – 84F
Jun: 29C – 84F
Jul: 28C – 82F
Aug: 28C – 82F
Sep: 28C – 82F
Oct: 28C – 82F
Nov: 27C – 81F
Dec: 27C – 81F
Surfing Santa Teresa
The map below shows the area's surf spots. Although they look evenly distributed around the peninsula, in fact 90% of surfers are on just a few beaches in Playa Carmen and Santa Teresa. These have "beach breaks" and are white sand, with many hotels nearby. The majority of surfers will go to the beaches in front of their hotels, within walking distance, and these beaches also have the most consistent surf year round. Of course, a few soul surfers and long boarders will explore more remote beaches in Malpais and Cabuya, but the wave in those places are inconsistent, and usually the domain of the local surfers who live near those particular spots. For more about surfing in the area, trying these:
Malpais/ST Surf Guide — Our list of articles and info about local surfing
Malpaissurfing.com — Lots more information about everything to do with the sport here
Montezumasurfing.com — Website about surfing and surf spots on the Montezuma side of the peninsula
Individual Beach Pages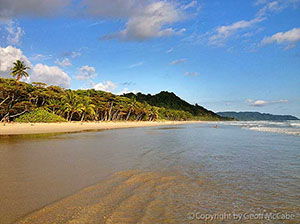 I've written out more detailed articles on most of the beaches shown on the map below. Click these hyperlinks to read more about each.
Santa Teresa Area Beaches

Malpais Area Beaches

Montezuma/Cabuya Area Beaches

Other Nearby Beaches
Beach Activities
Of course, surfing is the biggest draw to the Santa Teresa area, but not everyone is a surfs, and those that do want other options as well. For many people, just sitting on the beach under a palm tree and staring at the waves is enough. Others like to fry their skin in the sun, so they can show off a tan to their friends back home where it's cold. Apparently, the creation of envy is worth the risk of skin cancer.
Beach-combing is popular, and that generally means walking up and down the beach looking for various treasures to take home. It's actually illegal to take any off the beaches here, but of course many (or most) people do. You can find a variety of shells, sand dollars, sea urchins, lots of interesting nuts and sea beans, agates and other beautiful stones, and I know someone who once found a large prehistoric fossilized megaladon shark tooth!
Action sports are popular here, such as:
• Boogie Boarding
• Sport-Fishing
• Horseback Riding
• Kite Surfing
• Snorkeling
• Stand Up Paddleboarding (SUP)
A larger list of beach activities is shown on our page here: Activities
Wildlife on the Beaches
Sea turtles can still be seen on some occasions, but its unknown whether their numbers are increasing or decreasing. Turtle egg poaching is illegal, but still happens, and many conscientious people try to hide the turtle tracks when they see them, to prevent poachers from finding the nests. This is a battle that will continue until either the poachers stop of their own free will, or the turtles are extinct in the area. Luckily, turtles live for decades so we still have time to save them. In Montezuma, there are now two turtle protection programs (Playa Montezuma and Playa Grande), but nothing has been formally organized on the Santa Teresa side.
If you get up early in the morning to walk on some of the more remote beaches, you may see white face monkeys scampering around on the sand, digging for clams and other tasty treats. A great place to see this is on the beach between Playa Hermosa and Manzanillo, where there's no development.
Dangerous beach creatures? The area does have sharks but there's never been a bit as far as I've ever heard. Humans don't look like any prey in this part of the world so the sharks aren't even tasting us. Crocodiles are possible, but very rarely seen in the waves. Tambor and Manzanillo would be the most likely places to see them. Sea snakes live here and are deadly venomous. But, they are not aggressive and incredibly rare. I have never seen one on the beaches here in nine years.
NO Vehicles on the Beach!
Please note: although you may see people driving vehicles or quads on the beach, this practice is illegal in Costa Rica and frowned upon. Please keep your vehicles off the beach even if you see others doing it. Most ATV/quad rental companies will require you not to drive their rentals on the sand also because the salt really destroys the vehicle, but people do it anyway, especially when they see others. Zooming around and doing donuts on the beach is fun but please just don't! You could be running over baby turtles, getting oil onto the beaches, hit someone, and you're certainly disturbing the peace.
About the Map
The map below shows the location of each of the main beaches, although there's a lot of variety and detail. There are many more magical spots in between, but these are the highlights.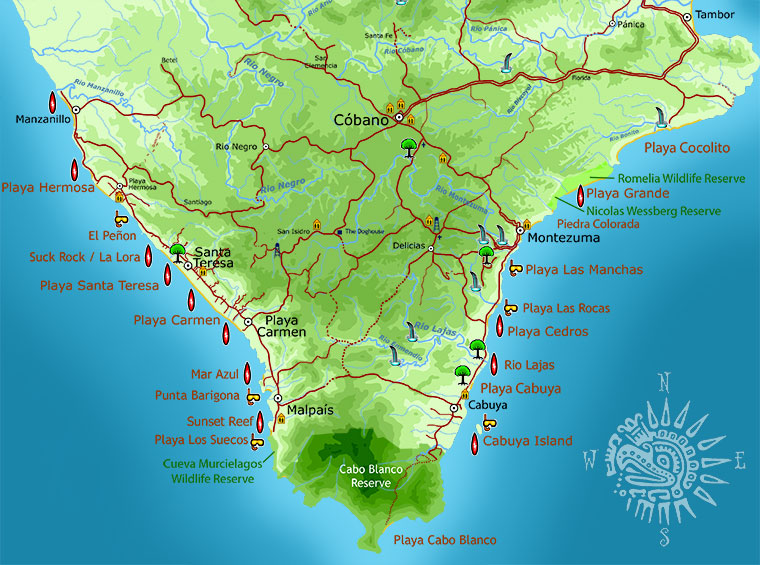 Beach Security
Warning! There are kids who will steal your stuff if left unguarded on the beach or in your car. Keep close watch of your backpacks, cameras, flip flops, etc. We have met people who have had their backpack stolen with everything they own in it and are left with nothing but a bathing suit.
Water Safety
Like many beaches in the world, there are areas in which one must be wary of riptides. Some areas have them at certain tide levels, currents, or surf conditions. If you are caught in one, don't panic! Swim sideways out of the flow of the water. Often a riptide is very narrow and is easy to swim out of. People usually drown when they panic, so focus on keeping your cool and thinking about the right way to swim out of it, not against it. Most rips are too strong for most swimmers to swim against. Sometimes the best way is just to relax and let it take you out a bit, then swim in at a different spot, letting the force of the waves help you in. The rips are stronger when the waves are larger, and if the waves are huge, there are going to be rip tides at some point at nearly every beach.
Be aware of hidden rocks! There are many places with gorgeous sandy beaches, but hidden rocks underneath the waves. Be very careful to take a look and ask someone before swimming in an unfamiliar beach here. A wave can pick you up and slam you down on the rocks underneath. So, pay attention and don't assume it's safe. Several of the beachfront hotels in Santa Teresa have dangerous hidden rocks so be sure to ask.