Best Kids Activities in Santa Teresa
Adults in Santa Teresa often are happy to sit around all day by the beach, in a hammock, relaxing, etc, but what about if you have kids? What can you do with them to explore the wonders of Costa Rica and keep them entertained? Here are several good ideas:
Wonderland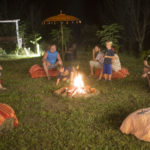 It's a restaurant, a gift shop, an organic farm, and an eco village!  For kids, it has a playground, a mini-zipline, a kids pool with slide, and many other activities and games.
Parents love to bring kids here and let them run around and just play, while they can relax and enjoy the food and shade.
Located at Rancho Delicioso eco-village, fifteen minutes drive from the beach.  It's open from 2-10pm, Thursday through Sunday.
Butterfly Gardens in Montezuma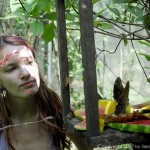 Officially it's a B&B called "Montezuma Gardens", and in Spanish it's called La Mariposario. They have a netted enclosure where you and the kids can see lots of different butterflies, including the spectacular Blue Morpho from the famous kids movie, The Blue Butterfly. They will give you a tour and show the various stages of cocoon to butterfly development.
Canopy Tours / Zip Lines
Most love the "canopy tour" which is a set of zip lines high in the jungle trees. We have one in Malpais and one in Montezuma, and each has its benefits. Kids may be allowed to do some of the lines themselves once they demonstrate that they can handle it. My daughter, at age 7, was allowed to do the entire set of them on her second run, but perhaps that's because the employees there know me pretty well. The Montezuma canopy tour includes a visit to the waterfall.
Canopy Tours Article
Montezuma Canopy Tour
Montezuma Waterfall and Bridges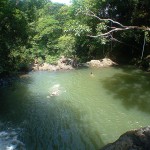 Head over to Montezuma and park at the Sun Trails office, where the Montezuma canopy tour starts. This is located just up the hill from Anamaya Yoga Resort. From there, you can pay $5 per person and walk down a path to the top of Montezuma Falls, where there are two huge, deep pools. Kids can play in the top pool if they're old enough to climb up and down… perhaps age 6. Younger kids can be carried down to the water or swim in the river just above the pools.
Sun Trails
Waterfalls of the Southern Nicoya Peninsula
Piedra Colorado Pool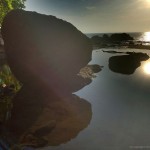 Piedra Colorado is a very popular hidden beach which is a 15 minute walk from Montezuma to the north. The journey is great fun for kids, and you'll arrive at a small white sand cove on the right, and the left has freshwater pools and a small waterfall. It's very scenic and popular with the families who live in the area.
Playa Los Suecos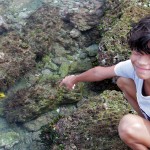 Playa Los Suecos is at the very end of the Malpais road, to the south. It's a few hundred meters past where the fishermen have their boats. There are no large waves, and lots of fish and sea critters to see if you're snorkeling. At low tide you can walk out and find many tidepools too. More info:
Snorkeling Playa Los Suecos
Los Suecos Beach
Playa Manzanillo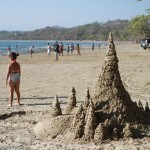 Great for kids and families, Playa Manzanillo is a 15-min drive up the beach road north of Santa Teresa. It has a rocky reef that protects it from ever getting big waves. There aren't too many people here, and it has a couple of Tico restaurants nearby for snacks and drinks. This is the way Santa Teresa was 15 years ago so it's bit of a trip back in time. Manzanillo is also the best place to make sandcastles based on the type of sand they have there.
Wild Sun Wildlife Sanctuary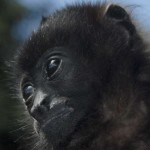 Wild Sun is a wildlife hospital in Cabuya for injured monkeys, squirrels, porcupines, etc. They also have a breeding program for scarlet macaws, the area's giant red parrots that are nearly extinct.  Most animals are healed and released as quickly as possible, not kept around like a petting zoo.  Please make a good donation when you go, and be sure to call first to make sure they're open and ready for visitors.  They also have some cabins and apartments to rent if you'd like to stay for a while.
Rocamar Family Sunday Gathering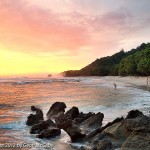 Every Sunday from 2pm until dinnertime or so, a few hundred people, mostly the foreign families who live here, go with their children to this best of beaches. DJs are playing music, parents are chatting about the week's events, and packs of kids are running around playing. Sometimes people are teaching hula-hoop, or aerial silk, and lots of kids are in the ocean, boogie boarding and swimming. It's a lot of fun for families. Rocamar is a restaurant in north Santa teresa, about 300-400 meters north of La Lora Amarillo nightclub, at the beach entrance where you find Blue Surf Sanctuary.
Rio Lajas Rivermouth and Beach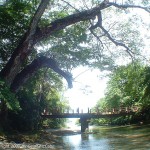 Rio Lajas Rivermouth
A great place for kids, when there hasn't been too much rain, is to head to Cabuya and find the Rio Lajas bridge. Park there by a huge tree and walk under the bridge. Costa Rican families always go there for their kids to play in the many freshwater pools, and it's close to the beach as well. Be careful, it can be slippery!
Tidepools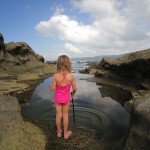 There are two great tidpool excursions in the area. The best one is in Playa Hermosa and its huge (only visible at low tide.) Lots of families go their with kids and learn to swim and snorkel since it's never more than waist deep. Fish and other things can be found swimming around. My daughter learned to snorkel here. Malpais also has great tidepools at Mar Azul. Here, there are dozens of them, with bright colors and all kinds of interesting sizes. Many are nearly perfectly circular and very photogenic. Click below for more details about each: