Yoga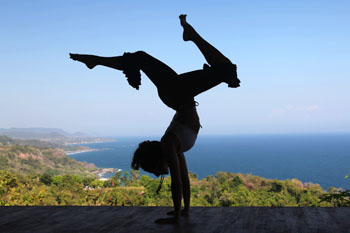 Anamaya Yoga Retreat Center
Yoga in Montezuma
Anamaya definitely has the most spectacular place on the peninsula, or perhaps in Costa Rica, to practice yoga, due to the jaw-dropping views from the yoga deck. This dream-like yoga retreat center has daily classes at 8am in the morning, and around full moons it has night yoga, wherein the moon rises and reflects on the ocean during class. As a full yoga retreat center, Anamaya has many visiting teachers, and offers yoga packages and mini-retreats year round. It operates as a boutique hotel as well, and it has the most spectacular pool in the area, as well as all organic food, organic cotton bedsheets, and eco and health-friendly soap, shampoo, and cleaning supplies. It also has a private path with a five minute walk to the most spectacular waterfall on the peninsula – Montezuma Falls.
Phone: +506 2642-1289
Website: Anamaya Resort – www.anamayaresort.com
Awaken Retreats
Permaculture, Yoga, and Surf
Week-long retreats are held at the Rancho Delicioso eco-village, located just inland from the Santa Teresa area.  Not just an eco-village, it's also an organic farm, and it has a farm-to-table restaurant.
Rancho Delicioso also has many farm animals such as goats, sheep, chickens, and horses.  Their yoga retreats are held on a beautiful shala, surrounded by nature and a variety of edible plants that grow in the tropics, such as bananas, mango, papaya, cacao, and over 100 others.
Participants in the retreats learn a variety of permaculture skills, from organic gardening, to making natural plant medicines, and preparing raw chocolate.
Phone: +506 8844-4726
Website: AwakenRetreats.net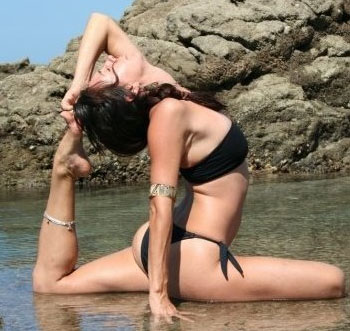 Pranamar
Playa Hermosa Yoga
Nancy teaches Anusara-inspired yoga at Pranamar in Playa Hermosa. She is an absolutely excellent teacher, possibly the most loved and respected in the Malpais/Santa Teresa area. Her classes are very popular, and Pranamar has the largest yoga studio in the area, on a spectacular beachfront location. All of Pranamar's yoga teachers are top-notch.
After yoga, enjoy a healthy fruit juice or snack at Pranamar's restaurant, "Buddha Eyes", next to their spectacular swimming pool, which is designed to make it seem like river-front dining.
Phone: +(506) 2640-0852
Website: www.pranamarvillas.com
Facebook: www.facebook.com/pranamar.villas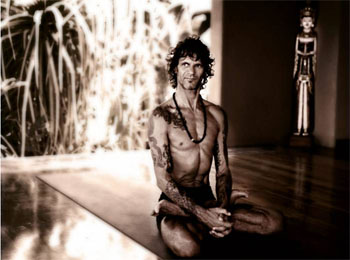 Stefano at Florblanca
North Santa Teresa Yoga
I highly recommend Italian yoga instructor Stefano's class at Florblanca. The space is really beautiful, and Stefano has a great energy. He's probably the most physically fit person on the peninsula, with a tattood and tanned body like Bruce Lee. I imagine that every morning, he probably does one-finger pushups while reading the newspaper in his other hand and drinking his espresso. Stefano is very good at encouraging his students, and he gets very happy and excited when he sees you trying something difficult.
Stefano's yoga classes aren't advanced level, but they are difficult, and for people who like me who want to be challenged, they are outstanding. He has a unique style that includes such innovations as having us do many positions on our fingertips to strengthen our hands and forearms. One time, a storm hit during class, and he kept us going, while we were being soaked by heavy rain and battered by the cold wind. To keep us from getting cold, he made the class extra difficult, with lots of "heat building" positions. So between the difficulty of the poses, the cold wind, and the slippery wet floor, it was a rough class. I crawled out of there with a smile on my face. For real tough guys, you can take his 90-minute pilates class right after his 90 minute yoga class.
Although I can barely understand what he's saying do to his Italian accent, I enjoy Stefano's yoga classes more than any other.
Phone: 2640-0213
Website: www.florblanca.com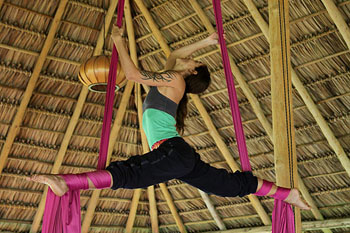 Francesca – Pleiades Yoga
Malpais Yoga
Francesca teaches her yoga classes at Beija Flor in Malpais, and is also available for private classes. Francesca has a dedicated following among her students, and she also teaches aerial silk dance.
She also performs with the silk and is the most skilled living in the area.
Beija Flor's yoga shala is quite large, with a huge palm roof. Only Pranamar's is larger. Set in a flat, grassy garden, it's definitely very reminiscent of Bali.
The pool and food at Beija Flor are great, so we recommend getting a bit to eat and enjoying the water a bit after yoga class.
Phone: 2640-0714
Website: http://www.beijaflorresort.com/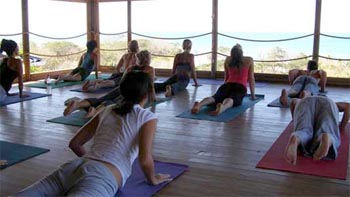 Horizons Yoga
Playa Carmen
Yoga Instructor Yoav's classes are among the most popular in the area, and sometimes filled to capacity. Horizon's Hotel, is just below the Buenos Aires hotel, cleverly and beautifully built into the hillside with spectacular sea views, yet within walking distance of the beach.
Horizons also has a vegetarian restaurant, another sign of Yoav's dedication to his clients' good health. In addition to yoga, Horizons offers Pilates and Chi Kung.
Phone: 2640-0524
Website: www.horizon-yogahotel.com
Montezuma Yoga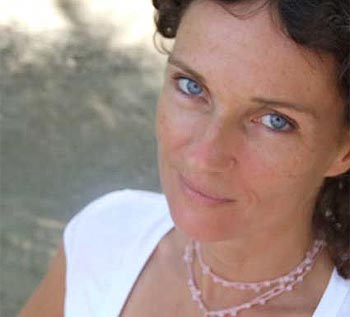 Montezuma Yoga
Head teacher Dagmar Spremberg was one of the first yoga teachers in the area. She teaches Anusara-inspired Vinyasa Flow, which is a great style that everyone seems to enjoy because of the natural flow from pose to pose, and the consistency of movement. Dagmar loves what she does, and it shows. Her students always love her classes. Through Montezuma Yoga, which is located in the pavilion that is part of Hotel Los Mangos in Montezuma, she also brings many amazing yoga teachers from around the world, who add their amazing energy and that of their students to the mix of art and culture in the area. Dagmar also does nutritional counseling, and is a fabulous cook. Classes are 9:30 am. Monday through Friday, and 6pm on Saturdays at Hotel Los Mangos
Phone: 8704-1632
Website: www.montezumayoga.com