Towns Guide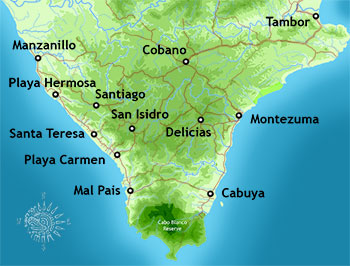 The Southern Nicoya Peninsula has many small towns, and for a newcomer it can be difficult to know the difference between them. Each has its own character, advantages, and disadvantages. Many have great beaches, secret waterfalls, or wonderful retreat centers or hotels.
Compared to most of Costa Rica, the Southern Nicoya Peninsula is relatively flat, with no real mountains and few hills. The highest elevation of any of these towns is not more than around 120-130 meters (300-400 ft). However, the humidity and temperature drop considerably away from the beach. All these towns are growing quickly and consistently as development continues.
Click on the images below to open up articles about each individual town, with lots of details, photos, and links for further reading.
| | |
| --- | --- |
| | Cabuya – The end of the road south of Montezuma on the Southern Nicoya Penisula, this is one of the most remote beach towns in the country of Costa Rica. It's known for several remarkable features. One is the giant banyan tree along the beach road that thousands of tourists stop and take photos with every year. It also has a few good surf spots, although they aren't as consistent as Santa Teresa, so few tourists come to Cabuya for the waves. The entrance to Cabo Blanco National Park is in Cabuya too, which is one of the principal reasons people visit this town, since there are few hotels and restaurants. |
| | Cobano – Smack dab in the center of the peninsula, is the commercial hub of Cobano, with roads leading to Santa Teresa, Montezuma, Manzanillo, Delicias, Tambor, and straight up towards the north towards Nicoya, Nosara, and other Guanacaste beach towns. Cobano is where the local municipality has its office, as well as a bank (BNCR), several schools and churches, the police station, post office, bus station, hospital & clinics, and over 100 other local businesses. Most tourists just pass through on their way to one of the other beach towns. |
| | Delicias – The center of the peninsula, south of Cobano, Delicias is assumed by many to be part of Montezuma, although some parts of it are closer to Santa Teresa. It's a very beautiful area of rolling hills, some with ocean views, and small family farms. |
| | Malpais – Perhaps the most beautiful part of the entire country of Costa Rica, Mal Pais has a series of gorgeous sand and rock coves, with myriad tidepools and surf breaks. The hills are rugged and have many luxury villas. It's not nearly as developed as Playa Carmen next door. |
| | Manzanillo – Manzanillo is off the beaten path, north of the Santa Teresa beaches, and is nationally known for its once-yearly sandcastle competition. |
| | Montezuma – The oldest tourist town in the area, Montezuma is known for its great restaurants, many great beaches, and the towering three-pooled Montezuma Waterfall. |
| | Playa Carmen – Next to Malpais sites Playa Carmen, the commercial center of this series of beach towns. It has two banks, a couple of beachfront restaurants, many hotels and villas, and a long white sand surfing beach. |
| | San Isidro – This is the small town, mostly a series of large farms, between the Santa Teresa beach towns and Cobano. People live here for peace and quiet, while still being close to the area's idyllic beaches and surf spots. |
| | Santa Teresa – Next to and north of Playa Carmen is Santa Teresa, which has its own town center of small restaurants, a football (soccer) field, and great surf spots. The area's best luxury hotels are along the beachfront in the norther section. |
| | Santiago – In the hills above Playa Hermosa, Santiago has a series of small and medium-sized cattle farms. A few have great ocean views, and there's a shortcut road from here to Cobano. |
| | Tambor – The area's airport is in Tambor, around 20-30 minutes to the beach towns. It also has a couple of large resorts and ocean-front developments on its circular bay called "Bahia Ballena." |