ATV Rentals and Tours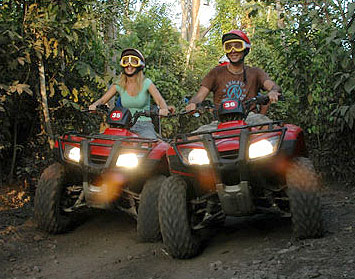 Malpais and Santa Teresa are well known surf towns in Costa Rica. These locations are visited by many tourists throughout the year because of their beautiful, clean and unaltered beaches. The diversity of the terrain is spectacular and allows for many different activities. Tourists can explore the land by car, hiking, on horseback or by quad. There are a number of hotels and resorts that offer ATV rentals and tours in Santa Teresa Costa Rica. This is probably one of the most enjoyable ways to see the sites and natural landscape of the Nicoya Peninsula.
Costa Rica is a well known surfer's paradise that people from all over the world visit in order to hit the waves. While you're taking a break from the beaches, it is possible to hop on an ATV and explore the undeveloped and natural land of Peninsula Nicoya. Holding about 5% of the world's biodiversity, Costa Rica is definitely a place to visit. You can take a ride down the beautiful tropical forests, take a dip under amazing waterfalls and even spot exotic birds and animals. Costa Rica has more to offer travelers than beaches that range from frost-white to chocolate sand.
Couples, families and surfing groups all fly over to San Jose and take a bus or shuttle down to popular resorts which are scattered all over Peninsula Nicoya. Whether you're looking for a romantic getaway for two, a fun family vacation or a new surf spot to hit the waves, Santa Teresa and Malpais has it all. The hotels, resorts and lodges around these surf towns were built without disturbing the natural landscape of the area. You can still enjoy the tropical surroundings without the hustle and bustle of usual tourist traps. ATV rentals and tours around this area are perfect for any group who want to get a taste of Costa Rican culture.
For a nice half day tour, you can start from Santa Teresa and head over to Malpais, which is about 5 km down south. Take a left at the city center and enter lush jungles where you can spot beautiful animals. You can cross a small river which leads to the rolling hills of Cabo Blanco. Further down, you can visit the small, charming fisherman's village of Cabuya. A few kilometers left of this village is the small hippie town of Montezuma where you can see beautiful coastlines and less crowded surf spots. Here, you can hike to a nearby waterfall for a break and enjoy the scenery while you have lunch.
You can get a local guide along an ATV tour around the Nicoyan Peninsula and the natural tropical surroundings through a hotel or resort package. Rentals might cost you about $70/day, depending on the package or place you avail of the service. You can get cheaper packages if you rent the quad for three or more days, which can save you about $20+ per day. The hotel you are staying at can usually arrange for the rental, depending on the demand, but most quad rentals can usually be found in Santa Teresa. ATV rentals and tours in Santa Teresa Costa Rica is one of the best ways to see the land.