Montezuma's Playa Grande Beach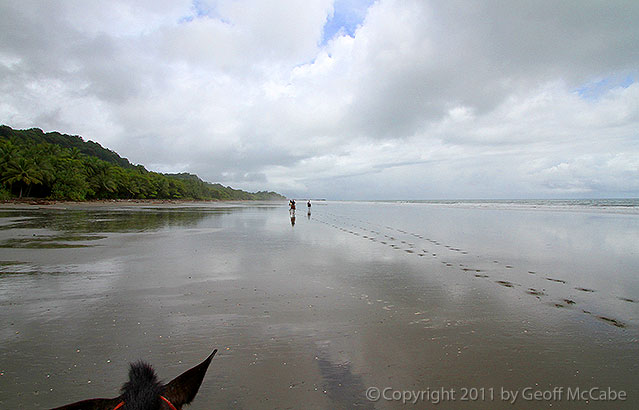 Playa Grande is beautiful beach in Montezuma, Guanacaste, Costa Rica. It is often confused with another famous beach of the same name located near Tamarindo. Montezuma's Playa Grande is a great point for vacationers and locals seeking a quiet and tranquil beach for picnics, recreational activities and aquatic sports. Although, almost none of Montezuma's beaches are crowded, Playa Grande is quite a unique beach with several spectacular features. First of all, it is massive compared to other beaches on the southern Nicoya Peninsula and during low tides, it gets even huger. Moreover, no one can doubt its beauty. Playa Grande boasts a panorama of picture perfect white sand, blue skies and raging waves crashing the shores. Travelers on hikes usually come across the beach which is a blessing to some people who can't tolerate the tropical heat. The sand is smooth and clean and tall, swaying trees provide cool shade. On your way back from a tiring adventure, you can always take a little nap. Other popular places such as Ylang Ylang Resort, Piedra Colorada, Nicolás Wessberg Natural Reserve and Romelia Wildlife Refuge are located in close proximity to the beach.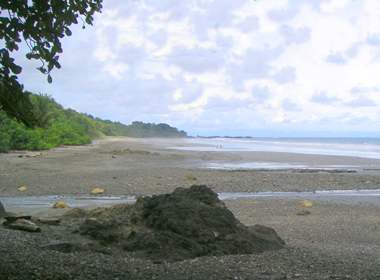 Playa Grande is on the doorstep of Montezuma. It is frequently visited by hikers, surfers and swimmers. There is a rumor that clothing is optional. Surfing can be fun yet challenging in Playa Grande. The waves are sometimes difficult to ride and rip tide currents can be very strong. Only advanced surfers should surf the waves. You will see a handful of seasoned surfers with their surfboards riding along the beach early in the morning hoping to get the best of waves. There are numerous rocky tide pools scattered around the beach filled with tiny marine creatures and plants. If bothered by the heat, you can always take a quick dip in one of the rock pools and freshen up. Montezuma Waterfall is nearby the beach emptying from high above into the sea at the edge of the town. The cascading falls are surrounded by many natural springs. The beach is in a very isolated area and you might even have difficulty locating it. If you are lucky, you may come across it by chance! Amazing for total rejuvenation and relaxation, the tropical beach of Montezuma is one of the best beaches of Costa Rica
The photo above unfortunately doesn't show how beautiful this beach is. A 30-minute walk north up the beach from the town of Montezuma, Playa Grande is a seemingly endless sandy beach.
The only way to get to Montezuma's Playa Grande is to walk, so there are no cars, no quads, no police, and no people. Many travelers looking for a nude beach spend their days here. It's also a great surf spot, with fairly large waves. Die-hard surf addicts who live in Montezuma carry their surfboards thirty minutes each way every day.
On your way, look for local a local artist's rock balancing sculptures at "Piedra Mar" cove, which are often quite remarkable.