Playa Los Cedros Beach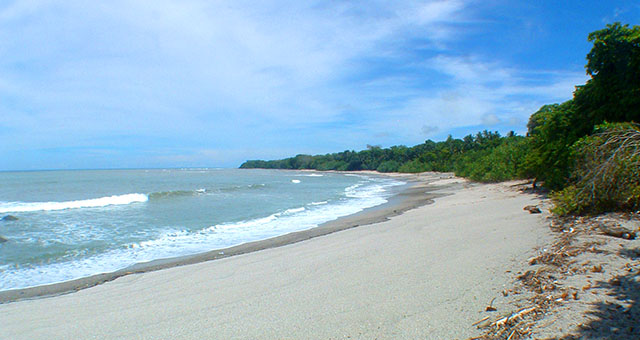 Playa Los Cedros is a ten minute drive south from Montezuma. After crossing a bridge with a small waterfall visible to the right, drive until you see a large higueron (Banyan Tree) on the beach on the left. Park next to this tree. At low tide you'll see a lot of rocks. At high tide, you'll see a perfect, sandy beach stretching 300 yards or so toward Cabuya.
In front of you is a phenomenal right-handed point break. Because of the rocks, the window of opportunity for surfing is only around two hours before and after high tide. Also, this break needs a good south swell to get going. On a good day, it's truly an epic spot, but often it can be flat. Because of the rocks in the water, it's a good idea to take a look at it at low tide so you can see where the rocks are. They are aligned in an "L" shape and fairly easy to avoid. Ask a local where they are if you aren't sure.
Playa Los Cedros is located a little further south than Playa Las Manchas along the route to Cabuya.  Playa Los Cedros is another long and sandy beach that changes its look according to the tide conditions. It is a superb point break surf spot and hosts the annual surf competition in July.
Playa Los Cedros is a rocky stretch of the Pacific featuring some of the most sparkling sunsets in the Nicoya Peninsula. Large shoals of fish make Los Cedros a favorite hunting spot for seabirds, especially big pelicans and frigate birds. When low tide meets the sunset, pink and orange reflective pools make way from the rocks. With the help of a southern swell, Playa Los Cedros offers surfers near perfect surfing conditions. While not as regular as the nearby Santa Teresa surf break, surfers can grab the break from either sides of the high tide, but our advised against the regions dangerous jagged rocks.
Playa Los Cedros is said to be one of the most striking beaches in and around the Montezuma region. It is located on the southern part of Montezuma, between Montezuma and the southern side of the Nicoya Peninsula, in the Guanacaste province. Playa Los Cedros is a fascinating rocky beach that has a ton of activities on offer. You can simply relax here or enjoy family day picnics, explore attractions around the area on a horseback ride or go  sport fishing or surf on the near perfect waves of the region.
There are several surfing camps that arrange surf expeditions to several surf spots including Playa Los Cedros. Playa Los Cedros is a traveler friendly beach with a laidback and unruffled atmosphere. Besides surfing, tourists can enjoy several other activities including sport fishing, snorkeling, deep sea diving, hiking, day trips to national parks, waterfall trekking, sailing, wildlife tours, bird watching, canopy tours and more. The town also has a wide range of bars, clubs, hotels and restaurants. Even on weekends, the break at Playa Los Cedros isn't packed. On high tide days, this beach becomes one of the ideal surf breaks. If you want it all at a single destination, this could well be the answer to your fun day out. Playa Los Cedros has something for everyone including surfing, snorkeling, hiking or simply relaxing on the uncrowded beach with a light beach read.
Playa Los Cedros Map

View Surf Spots in Costa Rica in a larger map