Tango Mar Beach near Tambor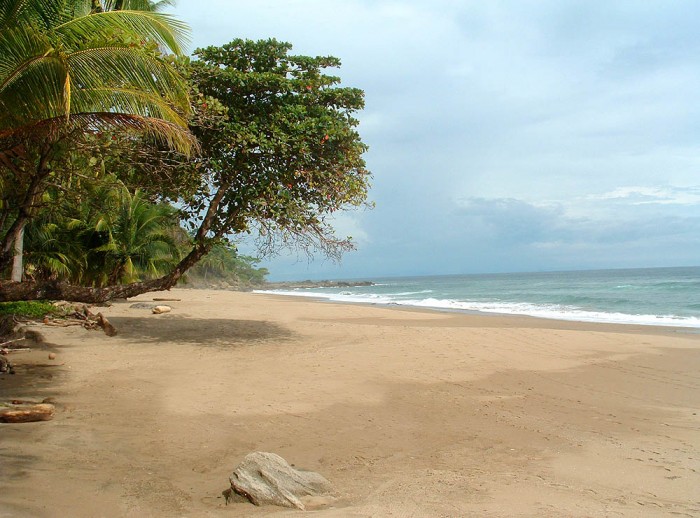 Tango Mar Beach is located on the road between Tambor and Cobano. Roadsigns clearly lead the way. You will find a gate with a guard, which is on a public road. The guards will take your license plate number, but can't prevent you from entering or going to the beach. Follow the road past the hotel, down to the beach and you'll find a public parking area.
This is a beautiful white sand beach, safe for swimming, and I've been told that people even surf here on occasion when the swell is good. The resort is excelent and if you're looking for a high end place to stay in the area, visit their web site at www.tangomar.com
If you're dreaming of as romantic retreat on an isolated beach that has all the trimmings of a luxurious holiday including a well appointed spa, swanky accommodations, a world class gourmet restaurant, a yoga studio and golf course, Tango Mar your mana from heaven. They go out of the way to ensure that the discerning traveler's beachfront vacation is nothing short of spectacular. A stay here is a perfect combination of untamed nature with modern luxury. You get the best of Costa Rica's natural resources in the vicinity, yet enjoy all the comforts of modern living. Tango Mar is a bouquet of beach fun, wildlife beauty, adventure packed activities, beautiful tropical flora and much more.
Nestled on an unspoiled spot in the Nicoya Peninsula region, the property is also a great option for destination weddings and honeymoons. They have a fully equipped event center is known for its intimate, romantic and tropically breath-taking beauty that is much sought after as a wedding venue. Families holidaying at Tango Mar will find the beachfront rental villas specially suited to their needs for seclusion, fun and comfort. Two to five room houses and villas are available. Tango Mar's new oceanfront event and convention centre is perfect for corporate programs and business retreats, featuring gourmet meals with native and international flavors.
Rooms
Tropical Suites – Guests can holiday in luxury at these twelve hilltop, Tropical Suites. These unusual and inviting rooms are encircled by exuberant tropical gardens and are a few steps away from the beach overlooking the Pacific. Comfortably appointed, each suite is elegantly adorned with hand carved four post canopy king size bed. All rooms feature air conditioning and ceiling fans, private bath with jaccuzi, hair dryer, mini bar, coffee maker, safe deposit box, telephone and satellite TV. All suites have an elliptical, shell shaped cluster and share a sun deck.
Beachfront Rooms – These rooms offer sweeping views of the Pacific Ocean from its own private balcony. It features 2 queen size beds, tropical style furniture, air conditioning and ceiling fans, fully equipped mini-bar, coffee maker, private bath with hot water and large shower, safe deposit box, satellite TV and telephone. These oversized hotel rooms are on the beach. They are in fact so close to the ocean that in high tide the surf touches the base of the building and the gentle sounds of the surf lull guests into a deep sleep.
Tiki Suites – Tango Mar Beach's five, deluxe ocean view Polynesian style wood and bamboo cabanas sit on stilts just 60 ft. from the ocean, just below the tropical suits and to the end of the hotel. They are bordered by tropical gardens and palm trees. All suites are well furnished with elegant carved wood king size beds, sitting areas, air conditioning, ceiling fans, mini bar, coffee maker, safe deposit boxes, telephones, satellite TV, private jacuzzi, hair dryer and a beautiful stained glass dome window.
Villas
Presidential Villa – This luxurious grand villa features a contemporary and unique Mediterranean design and all of the four bedroom suites open into a striking private swimming pool complete with waterfall from where guests can enjoy the breathtaking ocean view. The Villa is located right on their nine hole executive golf course and is only steps away from their helicopter landing facility. The nearby Tango Mar Beach is a few minutes' walk away from the villa. Apart from a large living room with television, stereo, this fully equipped air-conditioned villa features a couple of master suites and two regular suites The villa can comfortably sleep eight to twelve people. The two large master suites offer hand carved canopy beds and Jacuzzi.
The private Presidential Villa offers a complete private parking area, maid service and is perfect for a high level market clientele such as corporate executives, sport figures, etc. who need complete privacy.
Beachfront Royal Villa – This Villa at the beach offers an idyllic and laid back setting in a luxurious ambience. The three levels of this villa have imposing bedrooms, a swimming pool and a whirlpool bath. The third level has a separate fully equipped kitchen, living area, bedroom and a spacious terrace with an incredible view of your almost private beach. Each of the five bedrooms feature a king bed, private bathroom with shower, air conditioning, coffee maker, mini-bar, hair driers and satellite television. Other amenities include a daily maid service.