Blue Jay Eco-Lodge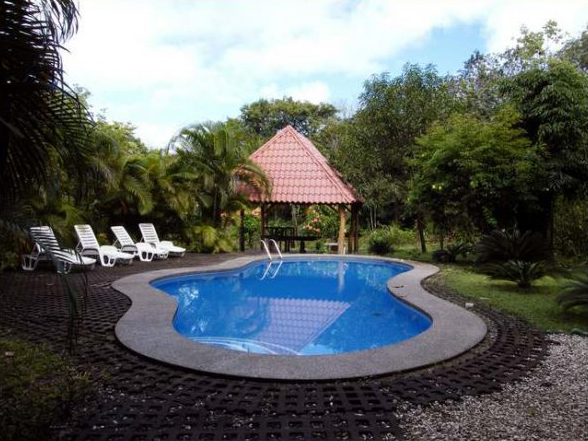 Blue Jay Eco Lodge is a luxury hotel based in Mal Pais, Costa Rica. Situated only 200 meters away from the glittering, white sand beach, Blue Jay Lodge offers splendid accommodations in a shape of private bungalows with stunning panoramas of the azure ocean and verdurous nature. At Blue Jay Eco Lodge, you can have a grand retreat charged with thrilling activities, deluxe facilities and sprinkled with cheerful moments against a backdrop of tropical sundowns and eye catching landscapes. Blue Jay Lodge is considered as one of top hotels of Mal Pais. The hotel has incorporated elegance and exquisiteness into it structure yet maintains protection of the environment which highly pleases eco conscious vacationers. The hotel provides its guests with an impeccable respite in a midst of salty oceanic breeze and blooming flora of rain forests. Spend your retreat in absolute contentment with your loved ones at Blue Jay Eco Lodge in Mal Pais. 
Staff, Accommodations and Facilities
Blue Jay Lodge is widely known for its simplicity, convenience and hospitality. The hotel has an air of unpretentious charm and offer accommodations in very affordable prices. The owners and the staff are quite cordial and attentive. They welcome each guests with such warmness that they feel at home at once! Their courtesy is one of the main reasons of the hotel's popularity. Blue Jay Lodge features 10 bungalows spread over a land of 13 acres. Few of the bungalows are facing the ocean while the rest of them are hidden among tall tropical trees and flowers. Each bungalow is constructed with rustic wood and has thatched roofs, wooden floors, huge windows and spacious verandas. Moreover, there is a private terrace in every bungalow in which the hotel has tied up a hammock where vacationers can relax, nap, read, day dream or star gaze. The bungalows can sleep up to 4 people at a time. They are assorted with two single beds and a queen size bed. The bedrooms have attached bathrooms with hot water supply, showers and complimentary toiletries. There are ceiling fans, a safe box and a free wireless internet service to allow you to keep in touch with your social circle. Outdoor features include an immaculately polished garden, a swimming pool and a shaded pool side deck where you can hang out to have a refreshing drink. 
Meals
Blue Jay Lodge wants to keep its guests super healthy and energetic. Every morning, you will be provided with a hearty home made breakfast that can keep you going all day long! For lunch and dinner, you have a wide selection of delectable meals. The menu reads both national and international cuisines. Relish your taste buds with unique and scrumptious dishes!
Blue Jay Eco Lodge is standing minutes away from the beach and jungles. Vacationers can easily access and enjoy numerous recreational activities such as surfing, scuba diving, snorkeling, and wildlife watching tours, mountain biking, sport fishing, horseback riding and so much more! At Blue Jay Lodge, have a fantastic time in an idyllic set up. 
Contact
Location: Mal Pais, Costa Rica.
Amenities: Bar/Lounge, Beach, Free Breakfast, Free High-Speed Internet, Free Parking, Kitchenette, Pets Allowed, Swimming Pool, Wheelchair access.
Accommodation: Ten Bungalows.
PHone: (506) 2640-0089
Website: Bluejaylodgecostarica.com