Boogie Boarding
Body Boarding in Costa Rica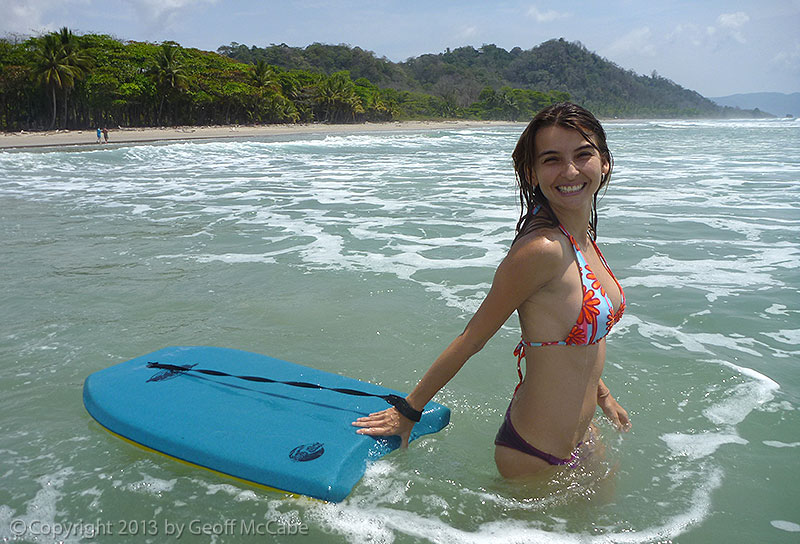 Boogie boarding, otherwise referred to as body boarding since "Boogie Boards" are manufacturer's brand like "kleenex", is a marine sport that involves a short, soft, foam board that a rider uses to keep themselves buoyant as they ride across breaking waves. Boogie boarding in Costa Rica is a very popular activity, since the country is surrounded by lush and beautiful beaches. It can be a fairly dangerous sport, depending on the nature (and size) of the waves and the surf being used for riding. At beaches with short wave breaks, boogie boarding can sometimes cause neck and back injuries, but relatively speaking it is a very safe ocean sport. Riders can utilize their boogie boards for the purpose of steering themselves across waves, and experienced riders can steer themselves with remarkable precision. Boogie boarding is a great starting point for beginning marine athletes, and can open the door to other marine sports such as surfing. For the benefit of travelers, tourists, and boogie boarding enthusiasts everywhere, some of the best boogie boarding beaches in Costa Rica will be named and briefly described.
Boogie Boarding in Malpais and Santa Teresa
Santa Teresa is a destination that is frequently associated with surfing and small boutique resorts, and is home to some great beaches for riding. Boogie boarding in Santa Teresa is a great activity to try out while staying here. Except for when the waves get huge, boogie boarders of all skill levels can enjoy themselves.
Malpais is a beach town to the south of Santa Teresa that has mostly rocky beaches. For kids, one spots is at Bahia Barigona, which can work at high tide. The other spots are bigger point breaks for surfers such as Mar Azul and Sunset Reef. Pretty much anywhere you can surf you can boogie board also, but it's rare to see a body board out on these waves. Most go to Santa Teresa to stay clear of the surfers.
Where to rent a body board
Most of the surf shops in the area rent these boards by the day. You can buy them in some of the shops, but generally they sell really crappy quality ones. The name brand boards make a big difference because they're less flexible and float better. The more buoyant the board, the faster you'll go and easier you can control and steer the ride, so it's much better to rent a good one rather than buying a piece of junk made in China.
Costa Rica Boogie Boarding
Costa Rica has a large number of boogie boarding friendly beaches. With so many commercialized, private, and secluded beach areas in Costa Rica, there is certain to be a beach area that will satisfy everyone involved. Some of the boogie boarding beaches in Costa Rica are better suited to more experienced riders, due to the waves there being somewhat larger than what some beginning riders may be used to. There are plenty of beaches in Costa Rica that can easily accommodate lower skill level riders, since they have somewhat smaller waves that are more manageable for riders with low amounts of boogie boarding experience. For the most part, Costa Rica is an island nation that is very friendly to tourists, in large part due to the fact that tourism is such a big part of the Costa Rican economy. For this reason, visitors to Costa Rica who wish to try boogie boarding should not be worried about being hassled or deterred from boogie boarding by locals. As long as you are respectful and watch out for other riders in the water, boogie boarding in Costa Rica can be a highly rewarding activity.