Casa Atrapasueños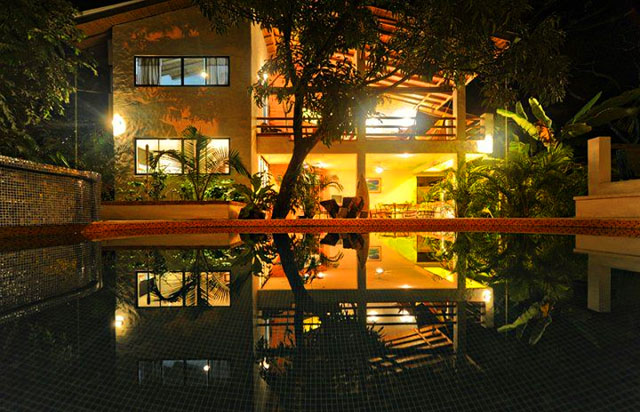 Atrapasueños is an eco vacation retreat featuring 6 gorgeous bedrooms and 2 living areas. This newly constructed house can be rented in entirety or per room. This 2 storied vacation house is perfect for large gatherings like wedding or a family get-together. There are 3 air conditioned bedrooms with their own bathrooms. Linen sheets and towels are offered to the guests, while there is a relaxing hammock for guests on the balcony. Spend time on the terrace with a view of the pool or the garden where the pool has an outdoor shower. Enjoy barbequing with friends or fellow travelers on the old-world style ranch outside. The kitchen is fully equipped with all amenities necessary to help guests cook up a mean sundown meal. Daily cleaning services are offered. Atrapasueños is strategically located at the center of Malpais' beaches and shops. It is a great option for those seeking a signature Costa Rican experience with all the natural splendour and action packed activities without spending a fortune. You are a two minute drive away from most town hotspots yet enjoy the isolation and privacy of an untouched holiday stay. Amenities -check, price-check, ambiance-check, service-check, accessibility- check – there's little that you are not going to like about this place.
The southern Nicoya Peninsula is considered one of Costa Rica's most private and non-mainstream gems. Great weather complemented by a sultry climate all through the year, remarkable wild life, tropical rainforests, jungles, nature reserves, some of the best surfs in the world and an unruffled attitude makes this area a perfect place for rest and relaxation and fun in the sun as well as adventure seeking tourists. The area is famous for the two small beach towns located right next to each other on the Pacific Coast, best known for beautiful sunsets, natural splendor and abundant wildlife. Above all this area is famous for its perfetc conditions for the practice of surfing and yoga.
The property is bordered by a beautiful, luscious tropical garden offering visitors a feeling of complete privacy and relaxation, set in the heart of town with convenient access to grocery stores, dining, entertainment and transportation. Bars, clubs, restaurants, surf shops, spas and supermarkets are within walking distance. Guests can take off on a peaceful walk on a tropical pathway of a forest and end up in surfer's heaven, the Playa Carmen beach.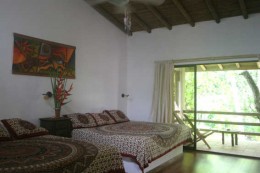 Atrapasueños – Dreamcatcher Boutique Hotel is proud to be one of the main sponsors of the Environmental Commission in the beach communities of Playa Carmen, Santa Teresa and Malpais. Their primary goal is to continue to maintain the "Blue Flag" ecological Recognition Award received in the past years by endorsing and conducting ecological practices for the conservation of nature. Recycling, reuse, proper use of water and energy resources are part of the policy of coexistence at the Dreamcatcher-boutique hotel.
Owing to the diverse community of Santa Teresa, guests are spoilt for choice between 90 different restaurants from Argentinean Grill, to authetic wood brick oven Italian pizzas, exotic sushi, raw food options or lip-smacking Costa Rican sodas. For the true Food Lovers, weekly all-inclusive culinary retreats featuring famous chefs from all over the world are held frequently in the hotel. It's easy to be kept busy while on vacation in Santa Teresa. Buying fresh, local ingredients at the organic market held every weekend on the beach while listening to live music and drowning in the charm of the hypnotic waves is a must do here. Nightly entertainment includes events at the art galleries, full moon parties, bon fires on the beach, movie nights and plenty of live-music at many restaurants and bars.
Whether you are a couple looking for a secluded romantic gateway, lazy days lying on a hammock and top notch dining experience or a family looking for days filled with activities and budget dining or a surfing enthusiast group looking for the perfect waves- it's all here in Santa Teresa in Atrapasueños vicinity.
Features and Amenities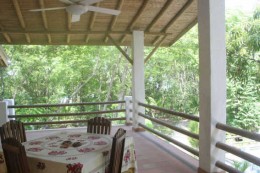 Atrapasueños – Dreamcatcher Boutique Hotel offers the best of both worlds- amenities of a large, comfortable, luxury hotel with an attention to detail, warmth and hospitality that can only be provided by a family run business. Some of the amenities offered by the hotel include large sun terrace equipped with comfortable lounge chairs and tables, stylish blue mosaic pool with a Jacuzzi, outdoor shower, fully equipped kitchen overlooking an outdoor dining patio and the pool, outdoor kitchen in the tropical garden with a grill and dining area, private spa rooms, Yoga platform, secured, gated property, free private parking and Wi-Fi and Internet service free. Services provided by the property include daily housekeeping, breakfast, regional and international airport pick up, excursion tours booking and planning, in room or our private spa room massage, special arrangements for honeymoons and romantic getaway, wedding planning, professional photography, restaurant reservations, yoga classes, surf lessons and board rental and private chef service and cooking classes upon request.
Bedroom 1 (sleeps up to 4 guests) – Housed on the ground floor, this sprawling room offers one king size bed and one double bed, adequate space for surfboards and luggage , A/C , cable TV, safe, oversized and bright bathroom with hot water, private terrace that leads onto the garden with a hammock and chairs to relax or take a nap.

Bedroom 2 (sleeps up to 3 guests) – Located on the ground floor, this room offers one double size bed and one single bed, A/C, cable TV, safe, spacious and vibrant bathroom with hot water, private terrace that opens onto the garden with a hammock and chairs to relax or take a nap or enjoy the lush, tropical vegetation encircling the property.

Bedroom 3 (sleeps up to 2) – This private room offers a King size bed or two single beds, a table and two chairs, TV, a / c, private bath with hot water and safe including outdoor gardens that can be observed through the glass door. It is located on the ground floor. Depending on availability, the entire ground level of the property can be rented as one, three bedroom unit for groups up to nine to ten guests including the fully equipped kitchen, outdoor terrace with dining tables and lounging nooks and private entrance.

Bedroom 4 (sleeps up to 5 guests) – Located on the second level, this room features tall, beautiful ceilings creating an open and airy feel. The accommodation offer two king beds and a sofa bed, a spacious bathroom with skylight., A/C, safe, mini-bar and a terrace with a hammock and chairs perfect for relaxation after a day of beach, surf and the pool.

Bedroom 5 (sleeps up to 3 guests) – This beautiful room on the second floor includes a double bed and single bed, a/c. cable tv, fan, safe. Natural light enters via skylights making the bathroom light and airy, overlooking the tropical gardens a balcony with chairs and hammock.

Apartment 2 Bedroom Unit (can sleep up to 7 people) – The second floor apartment is a self contained unit with a master bedroom, and a king size bed and a single bed on the fully equipped kitchen that opens to and sitting area the sitting area with a comfortable sofa bed, chairs, and a large TV, spacious, beautifully tiled bathroom with tons of natural light, and a beautiful grand balcony overlooking the gardens and pool. The unit offers a large king size bed and a loft with a double bed, widescreen TV, A/C and safe. The kitchen is stocked with a coffee maker, blender, stove with oven, microwave, and all kitchen necessities. The balcony provides a private serene atmosphere with a BBQ, hammocks, dining tables and chairs. Depending on availability, the entire 2nd floor (rooms 4, 5 and the apartment) can be rented as one, private unit with separate entrance and kitchen accommodating up to 15 guests.
Packages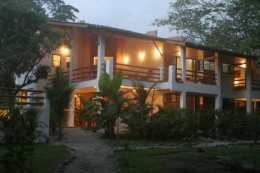 Food Lover's Retreat – This is for all those whose passion it is to travel, meet new people and eat. Picture yourself flying to a sunny destination, being chauffeur driven to a boutique hotel and welcomed with a refreshing cocktail and a delectable local delicacy. After a good night's sleep, you wake to the sound of the howler monkeys in the trees and the ocean swooshing at your door step. Fresh fruit literally falling from the trees along with a hearty Costa Rica style breakfast will be set up for the day. The world renowned Costa Rican Coffee will kick start the connoisseur traveler's cooking class.
Guests will get to learn from the creme de la creme of culinary artists, and when you've savored a king sized meal, there is a jungle out there to explore and lots of walking to be done if you want to. So no worrying about the extra holiday calories. You can hike the waterfalls, surf the Pacific, zipline through the trees or simply kick back in a hammock and enjoy a stunning sunset and the property will take care of it all.
One of the great things about staying with Atrapasueños on their all inclusive retreat is that you get to choose your mentor for the week. They have teamed up with their favorite celebrity chefs so that you can learn the tricks of the trade from the best in the trade. All their retreats feature finalists from the Masterchef Series on Fox, hosted by Gordon Ramsey. Each chef specializes in a particular culinary discipline. So whether you are a seafood snob, a meat master, an Italian food buff or a raw food worshipper, they have a retreat to suit your palate.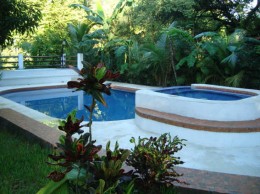 What's Included – Six nights, seven days accommodations in a private room, private 2 bedroom apartment or shared room in our Dreamcatcher villa situated in a lush, tropical garden in the center of Santa Teresa and just steps from the beach, grocery stores and restaurants. Private shuttle service from and to San Juan Airport in San Jose, daily breakfast and dinner, three cooking demonstrations by the guest chef, three hands-on cooking lessons using fresh, local ingredients, on-site concierge to take care of all of your needs, food lovers cooking apron, CD with pictures and videos taken by a professional photographer during the retreat.
Honeymoon Package –  Their Honeymoon Package includes 5 nights lodging at Atrapasueños –Dreamcatcher boutique hotel, welcome cocktail, breakfast every morning, basket of fruits, flowers and a bottle of wine, 3 dinners in three of the best Restaurants in town, Tortuga Island tour and a relaxing massage.
5 Days Surf Package – Their Surf Package is the best way to fast track your surf improvement. Guests receive 5 x 90minute in the water surf lessons. Beginners will learn the elementary skills and tools that, will not only allow them to surf safely and confidently, but will also be the foundation blocks that the trainers build upon as they progress. Intermediate and advanced surfers will benefit from specific skill drills and HD video analysis to identify weak areas in their surfing. They then tailor their coaching to develop effective strategies to fix any problems and enhance their surfing performance and specific skill drills.
You also get 3 x 45minute Theory Lessons. These sessions boost the knowledge you are gaining during the in-water lessons by teaching you about such topics as: Meteorology (Wave Formation, How they break, Forecasting etc), Surfboard Design, Etiquette, Video Analysis of your Surfing and many more for you to choose from. One of the great things about surfing in Santa Teresa is the variety of different surf breaks that are present in the area. During the course of the 5 Day Surf Package visitors will explore different surf breaks and see some of the region's most gorgeous beaches and coastlines. Atrapasueños wants you to get the best waves possible, so they will check the surf forecast and go to the best spot depending on the visitor's ability and preference. They also have access to a wide range of boards of varying dimensions, constructions and fin set-ups for all surfer levels. Hence  they will make sure that you are on the best board regardless of your ability.
The Coach, Martin, is an Internationally Qualified Beach Lifeguard and ISA Surf Coach. Always enthusiastic about improving his own surfing and coaching abilities, he is constantly educating himself through further study and research. He is your definitive 'surf geek'. An expert in the field of technical analysis, a qualified competition judge and surfboard shaper. His passion for helping others maximize their surfing enjoyment through technique, confidence and education is what sets him apart from your average surf coach.
Adventura Tropical Package – This is for all the adrenaline soaring adventure seeking buffs. The Adventura Tropical Package includes 5 nights' lodging at Atrapasueños-Dreamcatcher Boutique Hotel, 1 Tortuga Island tour, 1 hiking adventure to Cabo Blanco Nature Reserve, 1 tour zip line Canopy Tour, 2 surf lessons, 1 horseback riding tour, 1 hour massage per person, 1 complimentary cocktail, 1 complimentary 3-course dinner, breakfast every morning, free wireless internet.
Attractions and Activities Nearby
Some of the most popular activities and attractions in the Southern Nicoya Peninsula region include:
Cabo Blanco Tour – With its unique combination of climate and geographical location, Cabo Blanco ranks among the most beautiful nature reserves in Costa Rica. During this hike, guests will witness how a land once devoted to cattle and agriculture can regenerate into its original forest. Choose from their short hike of almost 2 hours or the long option of 5.5 hours. Those who are willing to do the long trail, get ready for some physical challenge and some rewarding views.

Curu Hike – Curu Hike is a privately owned land, boasting a rich and diverse wildlife in five different habitats ranging from marine zones and mangrove swamps, to tropical dry and moist forest, as well as farmland. This zone encompasses the 200‐meter wide beach area, together with the estuaries and rivers. Visitors can spot a huge variety of indigenous wildlife. For example the reintroduced Scarlet Macaw and Spider monkey, among many other animals. This is what makes this tour an amazing experience. Guests have the chance to select different levels of difficulty among various trails offered.

Atrapasueños has created 2 different tours, in order to include different landscapes: Option one, takes you to the mountains of Mal País in a private land, that connects its forest with Cabo Blanco National Park, with the benefit of being a couple of hundred meters above sea level, which will allow guests to see species of birds that are not on the coast. On this hike visitors will be delighted with the stimulating views. Option two, takes guests to the low lands, close to important rivers and open areas that will facilitate the search for water birds, raptors and more. Avid birdwatchers will be amazed with the amount of identified species.

Tortuga Island Tour – Visitors will be amazed with the amount of colorful fishes and sealife they encounter. Experience a delicious lunch on the white sand beach. This tour is great to enjoy with the whole family. Offering to depart from Mal País or Montezuma. Guests will pass by the stunning Island of Cabo Blanco, a submerged volcano, waterfalls on sight and plenty of wildlife on the ride. An experienced guide will be providing all the historical, natural and social information of this amazing area.

Photography – Photographs will be shot in amazing sceneries that represent the essence of the Peninsula of Nicoya, all detailed by an anthropologist and avid photographer guide. You can pick from three different locations: The end of land: this option offers pristine scenery where the forest merges with the ocean in a secluded place. You will get great landscape photographs of perspectives and backgrounds but also good chances to take macros and great combinations of colors. Fresh water life: On this choice you will be able to witness how the wild life wakes up and start looking for food in one of the most important places, the fresh water. Here you will have a lot of chances to balance the zoom and the composition of the photograph trying to tell the story of what is happening without resorting to words. The old Costa Rica: the old Costa Rica will be the preference of photographers that want to capture humans or human presence in one of the most beautiful little towns in the area and discover how people still live a great life where it's still kept unaffected by globalization. A high opportunity to capture how people view themselves. A surprise might spring up when the camera captures what the photographer sees as relevant.

Horse Back Riding – Experience this amazing Sunset Ride or morning tour on a private 5,000-acre coastal ranch where they have the best trained horses of the area. This ranch is a family owned and operated property, protecting one of Costa Rica's most important watersheds including key turtle nesting and the Caletas–Arío National Wildlife Refuge. This tour will take you through stunning scenery of mountains, rivers, wild life, ocean and of the luminous sunset riding on a deserted beach. Enjoy every view from your saddle and take a nice break if you wish at a local pub where you can enjoy a nice drink along with interesting conversations with locals. The good quality and training of the horses make this tour perfect for first timers and experienced riders alike. A signature Costa Rican experience.

Montezuma Falls Quest – On this half-day tour guests will experience swinging from one tree to another on one of the most exciting zip lines in the country. Get a thrill as you are on the treetops and complement the landscape from an unusual perspective. Continue the adventure while riding your ATV through the mountains and riding along white sand beaches. Get to Montezuma to take a short hike to the amazing waterfalls where you can take a nice swim on the natural pools and afterwards savor a Costa Rican lunch in one of the best local restaurants in down town. Walk around town and get some souvenirs from local artisans.

Coyote, Kayak and ATV Adventure – This journey will take guests through some of the most beautiful rivers of Costa Rica. This Half-day tour has it all. Take the ATV and ride towards the small beach town of Coyote, where you will have Kayaks waiting for you to go and discover the wildlife that the Coyote River offers. Relax as you embrace the view from your well-disserved lunch.

Surf Lessons – Whether you have never surfed before and always dreamed of learning or if you just want to improve your existing skills, they have the coaching that will enable you to reach your goals. Lessons take place in the morning and afternoon, depending on the tide and swell conditions. Their instructors will take you to the best possible spot on the beach for you to learn how to surf, and make sure that you do not get into any dangerous situations, safety is first. They will build your confidence by giving you the knowledge you need to feel safe and secure in the ocean, teaching you the basics of surfing so you understand what you need to do when you get in the water. Ocean awareness, water safety, wave riding skills, techniques for paddling, standing, falling, dodging and selecting waves along with surfer's etiquette, stretching and much more.

After they have learned the techniques on land, you move into the ocean for an hour of guided surf instruction. During this time the instructor will push and coach students into waves, tell students what they are doing right, or wrong so they are surfing on their own by the end of the lesson.

Yoga, Pilates and Massages – With beautiful surroundings and a tranquil atmosphere, the studio offers different kinds of massages and incorporates exercise, balance and wellbeing with daily yoga and Pilates classes. The instructors are available for scheduled daily sessions, as well as private classes for those who seek to incorporate a healthful practice into their daily lives while in Santa Teresa, Costa Rica. The treatments have been created with 100% Natural products.
Contact Atrapasuenos
Website: http://www.atrapasuenos.net/
Telephone: (506) 2640 0080 or (506) 2640 0944
Email: [email protected]
Facebook Fanpage : https://www.facebook.com/ATRAPASUENOSCR
Atrapasuenos Official Video