Casa Azul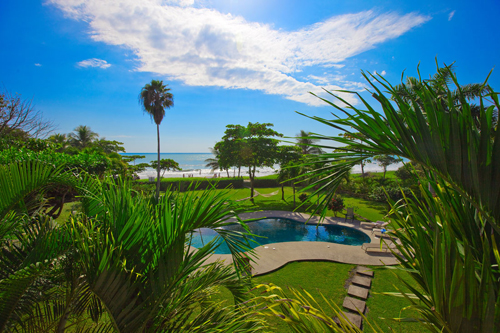 Housed in a prime location at the entrance of the cosmopolitan Santa Teresa town, Casa Azul is run by a town connoisseur and with seven years in the business. The hotel is a not just a great vacation stay option for its honest to goodness prices but also for the accessibility it offers to services and activities that few other accommodation options in the area can match. Arriving at the crossing from Carmen Beach, turn to the right and you land up at one of the first inspired blue hotels placed in the heart of Santa Teresa. The property comprises a construction of a couple of buildings which feature a total of 16 beds distributed according to the customer's needs. Hotel Casa Azul is a tiny, intimate Playa Carmen-Santa Teresa beachfront hotel on a large estate of two and half acres. Playa Carmen is popular as one of the most consistent beach breaks in Costa Rica. It is a much sought after destination with all level of surfers, from beginner to advanced. It is an ideal option for those seeking a budget accommodation property without compromising on the location, ambiance, amenities and service. This is a quaint, unpretentious place that grown on you much like the old-world style Santa Teresa that has now burgeoned into a cosmopolitan holiday spot. The property offers access to most town attractions, while also being in close range to most adventure activities and beach sports.
A mere 5 minutes walk from the property will take guests to a bevy of restaurants offering multicultural cuisines, bars, banks, spa studios, yoga studios, surf board rents and much more. In one of the structures, all three rooms have a private bath attached. Then there are two suites located on the second floor with plush veranda offering striking views of Santa Teresa. The balcony also features direct ocean and beach views. Enjoy watching the sunset while sipping a coffee against Costa Rica's alluring tangerine sky.
The second unit's a private and separated small cozy abode that can comfortably house 4 adults or 2 adults and up to 3 children.  There is a pretty swimming pool next to the house where families can happily splash away the tropical heat, while lazily enjoying Costa Rica's balmy breeze. In addition to the in-house recreation options, the Caza Azul staff can arrange for information, recommendations and bookings for all sports and recreational activities such as deep sea fishing, quad riding, bird watching, canopy tour, hiking, horseback riding, mountain biking, night safari tour, scuba diving, sea kayaking, snorkeling, sport fishing, turtle nestling tour, whale/dolphin watching ocean tours, surfing, yoga, wellness and health and windsurfing.
Their entrance is 100 yards from the town crossroads, Malpais/Santa Teresa. Guests are  actually between a thirty second and a five minute walk to over a dozen restaurants, seven board shops, three bars, two grocery and liquor stores, two banks, tour operators, vehicle rentals, a taxi stand, and a ten minute walk to a couple of yoga studios/spas. You will be hard pressed to find a more centrally located beachfront hotel on Playa Carmen. And here is the real deal- they charge the same rates as eight non-beachfront hotels of similar quality. Hotel Casa Azul, is known to be one of the best value offering vacation properties in the area.
Hotel Rooms
The first or ground floor has three hotel rooms, a common kitchen and a spacious central hallway. There are a couple of ocean view rooms and a tiny back room. Each OV room can sleep up to three people. These rooms are ocean and pool facing. A sliding glass door leads to the guest's private patio. The patio overlooks Santa Teresa's perfect waves, ocean, pool and garden. Each patio features a hammock and table and comfortable seating chairs. Inside each OV room there are a couple of beds, a double and a single. Other amenities include central AC, a ceiling fan, screens, and a private bathroom with hot water shower. There is also an area with an open closet with shelving and hangers, a lock up box and a makeup area with hand sink.
The compact rear room, their more economical option for those watching their budget, has a private detached hot water bathroom. The locking doors for the room and its private bathroom are adjacently located in the central hallway. The rear room has one double bed, a cedar wood dresser, central AC, a ceiling fan, and a large window with screen.
The three rooms on the first floor share a common kitchen. The kitchen is appointed with a full size refrigerator, coffee maker, toaster, dishes, glasses, silverware, a counter and sink. A well furbished kitchen for your breakfast, lunch, snacks and cold drinks. There is no facility however for cooking hot meals. Outside the back door, just off the kitchen, there is a barbecue grill available for guests' use. The first guest up each morning usually makes a pot of complimentary coffee and all guests share it. There is usually a good supply of condiments in the refrigerator. All other items are buy your own, use your own.
Beach House Rental – Guests have the option of renting the entire big house, a five bedroom/four bathroom private beach house. Several clients who discover Hotel Casa Azul on their travels to Mal Pais/Santa Teresa, often return to rent all of Casa Azul. Hotel Casa Azul was originally designed to offer the option of functioning as a sprawling 5Bdr/4Bath private beach house. In the vent that guests book the entire house, their on- site staff occupies the Casita or small house. The option to rent all of Casa Azul and the casita is also available, which will then offer guests beds for up to 16 people.

Private Casita – A distinct small open house of approximately 600 square feet, circa 2007,  the casita nestles about 30 yards for the big house on the same property. It is a private, self sufficient unit. Families with young children especially enjoy the casita due to its seclusion from the bigger house. The casita sleeps a maximum of four adults or two adults with up to three kids. 'There is a queen sized canopy bed, two single beds, and a sofa/futon all in the same room. Amenities include a large AC unit, two ceiling fans, a kitchen, lock up box, bathroom with hot water, and a screened ventilation tower. Five windows and a sliding glass door, all with screens, provide abundunt natural light and ventilation. The sliding glass door opens to a private patio furnished with tables and chairs, hammock, and a surf board lockup. The patio offers a view of the extensive gardens and a narrow vista of the pool, ocean and waves.

Costa Rican Beach Suite – Casa Azul's sprawling 2000 sq ft, contemporary, plush two bedroom suite overlooks the pool and ocean. All windows and sliding glass doors are equipped with screens. Each bedroom has a queen sized bed, its own central AC unit, ceiling fan and natural ventilation. One bedroom faces out to the ocean. It has a private balcony accessed through a sliding glass door. Guests can sleep at night in the canopy bed with the glass slider open, screen door shut, ceiling fan on and enjoy the sounds of the surf and star-gazing on Costa Rica's clear balmy skies. When it gets more sultry, guests can also close the slider and sleep in the comfort of the AC. The rear bedroom has a sliding window overlooking the rear garden and a ceiling fan. It has double doors which can be left open for increased ventilation. This room receives morning sun but is also protected from the harsh afternoon rays. If you prefer to sleep in a cool room, you can close up the room and use the AC.

The extensive bathroom has been done up in ceramic tiles throughout and a glass block covered hot water shower. The dining room/kitchen area has an elevated ceiling which peaks at a central ventilation tower. The kitchen has three sliding windows which overlook the pool and ocean. A cedar wood island provides additional workspace and separates the kitchen from the dining area. An American oak dining table with comfortable chairs from Nicaragua furnish the dining room. The living room faces the ocean and offers a spectacular view through a glass wall and the sliding glass door. The glass slider leads to a comfortable balcony, equipped with a hammock and several comfortable chairs. This is one of the favorite spots for several Casa Azul guests. It is a front row seat to study the region's waves, watch the ocean, admire Costa Rica's sunset lit tangerine sky, and enjoy the company of your family and friends at the poolside. The living room area is appointed with a ceiling fan, a two-piece sofa and a glass coffee table.
A rather welcoming stairway leads to the roof terrace. The suite has exclusive access to a  large roof terrace, another strategic spot to appreciate the waves, enjoy a morning coffee or a refreshing sunset cocktail. You can take in striking views and gorgeous photographs from this private roof top setting, while also watching the sun as it drops into the Pacific Ocean and later enjoying the night sky and stars. Guests can do everything from playing music to counting falling stars to simply relaxing. The roof deck is furnished with a table, umbrella and chairs. Extra chairs and lounges are available on request.
Amenities
The Suites are equipped with queen sized beds, beautiful dining room of Nicaragua, AC unit, ceiling fan and natural ventilation, two-piece sofa, an elegant glass coffee table, private balcony accessed through to sliding glass door( with hammocks) and several chairs to enjoy the calming view. Hot water is available in the shower which is aesthetically decorated with artistic ceramic no less.
Each hotel room can sleep up to 3 people who can make themselves feel at home with a comfortable kitchen, a private patio fixed to enjoy meals (while viewing the majestic waves of Santa Teresa) and hammocks to enjoy the pristine natural splendor of the region. For a special event grill barbeque is available.
They offer three rooms on the first floor, a second floor two bedroom plush suite, and a casita or small house. Many of their guests rent the entire two storey building which functions very comfortably as a five bedroom, four bathroom top quality beachfront home. The option to rent all of Casa Azul and the casita is also available, in this scenario there are beds for 16 people.
Some of their more popular amenities include A/C, ceiling fans, screens, hot water, private bathrooms, lockup boxes, kitchens, private patios and hammocks. Hotel Casa Azul offers a private, romantic setting with rarely more than eight to twelve guests at a time. From all their rooms (except the small rear room), the suite, the patios, the hammocks, the pool and the casita, you can view and hear the hypnotic ocean waves. Casa Azul offers private beach access, an enticing 50 foot swimming pool and sprawling gardens thriving with indigenous wildlife.
Activities and Attractions Nearby
While surfing and the beach dominate the activities in the Santa Teresa area, there are many more fun and exciting things to do nearby. For instance, there are canopy tours, the nature reserve, fishing, yoga/spas, delectable international cuisine, horse tours, and nightlife. Casa Azul can arrange trips for you or you can go directly through the tour operators which are all located within 100 yards of their entrance. The hotel claims their  recommendations are not based on commissions and they only recommend those surf instructors, tour guides or restaurants that they use when their family or friends are in town, not because Casa Azul is offered some kind of a kick back, but because that is who they believe will do the best job for you. Rather than accepting kickbacks, Casa Azul claims they ask the instructors and guides to offer their clients better service and price.
Approximately two-thirds of the guests at Hotel Casa Azul come here only to surf. The waves of Playa Carmen, bang in front of the property, are known to be some of the most regular in Costa Rica. The beach breaks of Playa Carmen work with or without swell, lefts and rights. The point breaks of Mar Azul and Sunset Reef are within a 10 minute ride down south. Further south, about a 30 minute ride from Casa Azul, you will find excellent point breaks near Cabuya. The most popular breaks are Los Cedros and Rio Lajas, these breaks require some swell. Playa Santa Teresa is a 10 minute drive north, it also has consistent beach breaks and has the tendency to hold swell better than Playa Carmen. Further north, about 30 minutes from Casa Azul is Playa Hermosa, with both beach breaks and a point break. The hotel can arrange a customized surf lesson program, with boards and professional instructors meeting and teaching guests right at Casa Azul, in the midst of all the surfing action.
Contact Info
Website: www.hotelcasaazul.com/
Telephone: (506) 2640 0379