Casa de la Luna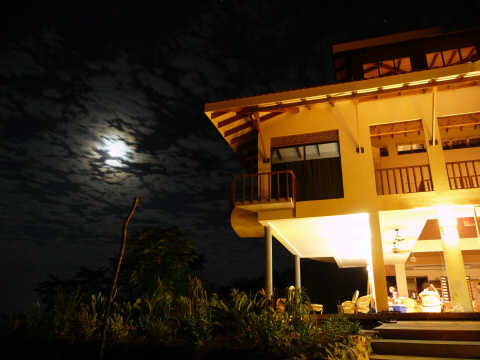 Casa de la Luna, also known as the House of the Moon, is a vacation rental house standing atop the scenic hills of Santa Teresa, Costa Rica. Casa de la Luna overlooks Santa Teresa's most renowned cluster of white sand beaches and the crystal clear shores of Pacific Ocean. The house is set up against a sublime backdrop of tropical rain forests abiding some of the most fascinating wildlife and blooming flora. The resident can easily sleep up to 10 to 12 people at a same time. Whether you are a family seeking a place to spend quality time together, a group of friends desiring to have some adventures, a couple aspiring for a private and deluxe time or a solo person looking for a secluded area, Casa de la Luna is ultimately a grand choice that fulfills your every need and expectations.
The House of the Moon – Features and Amenities
Casa de la Luna is a two-story, eco-friendly house with amazing views of the ocean and jungles. The house is built in boutique-like fashion with elegance and comfort in mind without having to sacrifice environment. Its eco conscious properties largely appeals to people. The house is facing the ocean and encompassed by numerous trees. Vacationers will often have delightful encounter with howler monkey, squirrels, quaint tropical birds and iguanas. Whether you are inside the house or outside, you will have a visual pleasure of looking at mountains, beaches, verdurous scenery and ocean. Casa de la Luna has two floor and six fully furnished bedrooms. The upper floor is a separate unit featuring four bedrooms, en suite bathrooms, walk-in closets and large balconies with stunning spectacles. On the ground floor, there are two bedrooms, two bathrooms and a spacious deck. The center of Casa de la Luna has a large living room that also incorporates kitchen and dining area. Guests can cook a wide selection of meals in the kitchen whenever they fancy. What's more, you can even hire a chef to make scrumptious cuisines for you and your loved ones! Casa de la Luna has several more perks to offer. All the rooms are fully air conditioned so the house stays nicely cool. There is a free wireless internet service, laundry service and free breakfast daily! The outdoor features include a large infinity edge swimming pool where vacationers can hang out and relax and a capacious lounge area. Savor the visions of glorious sunsets and sunrises from the swimming pool, drink exquisite cocktails, sunbathe to obtain a perfect suntan and have numerous adventures during your stay at Casa de la Luna.
Have a Perfect Vacation at Casa de la Luna
Casa de la Luna offers vacationers a place for a perfect retreat. Live in privacy and utmost tranquility and yet have an easy access to all the amenities such as restaurants, bars, spas, beauty treatments, sport companies and other facilities. As the house is nearby the beach, visitors can enjoy various activities like surfing, snorkeling, scuba diving, boating, sailing, hiking, trailing, and bird-watching and wildlife viewing. Get yourself rejuvenated at Casa de la Luna on your vacation to Santa Teresa.
Location: Santa Teresa, Costa Rica.
Features: Ocean Views, Beach Views, Forest Views, Infinity Edge Pool.
Accommodations:  6 Bedrooms, 6 Bathrooms (Up to 12 people)