Casa Encantada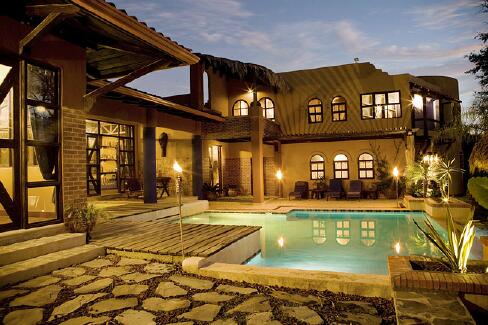 Casa Encantada is a notch above the rest and has raised the standards for beachfront luxury living in Mal Pais with its 700 square meter (more than 7000 square feet) luxury beachfront villa. Guests can enjoy a pleasurable tropical holiday in this secluded and exotic home exquisitely furnished to suit guests with a finer taste. Case Encantada is an architectural gem that stands on the pristine white sand of the clear beach of Malpais. The property has three large suites each with an en suite bathroom.
Casa Encantada is gated and fenced, with the exception of the waterfront, for absolute guest privacy. There is a completely fenced and tropically landscaped zone near the herb garden for the visitor's children and/or dog, complete with a warm water shower and a beach front view.
Casa Encantada is a fine grade oceanfront rental villa house spread across more than 7000 acres of pristine beach. The house stands on untouched crystal clear sand of the silver beach and overlooks the gorgeous landscape of Santa Teresa's sultry waters. Guests can stand on the porch or on a balcony to enjoy uninterrupted views of the area's natural splendors or enjoy a lazy nap on one of hammocks in the verandah.
Two of the Casa's suites have a queen-size bed and a Jacuzzi while the third has a couple of queen- size beds. All three suites are comfortably cooled by air conditioners. Apart from beds there are several sofas for children to sleep on. Casa Encantada is roomy enough to accommodate up to eight people. Casa Encantada's classy interiors with its custom built furniture, antique pieces and wonderful collection of local art give it a classy and well-appointed countenance.
Casa Encantada has a big outdoor swimming pool with a fountain/waterfall flowing down from a hot tub or Jacuzzi.  Complementing Casa Encantada's lovely interior and exterior is its beautifully landscaped surroundings with fully blossoming plants, indigenous flowers and lush ferns. For those who simply want a good place to laze around and view the magnificent sunsets of Malpais, there is an inconspicuous outside pool at the nearby beach which is the size of a jacuzzi.
Sun-lit and palatial, Casa Encantada is a sprawling 7,000 square newly constructed Mal Pais' finest private villa. Three guest suites, each with a private ensuite bathroom of inspiring Costa Rican design. Ornately furnished with custom built furniture, primitive antiques and impressive local art, the space here is as comfortable and inspiring as it's aesthetic and contemporary. Casa Encantada's private grounds are professionally landscaped tropical style, including a life size swimming pool, fountain and waterfall flowing down from a hot tub Jacuzzi, in a surreal holiday setting on an isolated and clear sandy beach.  There is a large and comfortable sitting area with a large, flat-screen television and entertainment center.
Casa Encantada also features a gourmet kitchen, classic, vibrant and equipped with top grade appliances and seating for all. The property offers super secluded and spacious grounds that are flourishing with fragrant indigenous plants, plush outdoor furniture pool side and striking ocean vistas.
Its attractive location coupled by affordable prices and personalized service make Casa Encantada ideal for wedding ceremonies and other celebrations such as dinners, parities and large family reunions.
Features and Amenities
There are three expansive suites, each featuring a queen bed and en suite bathroom. Two suites have Jacuzzis, and the third suite has a couple of plush queen beds. All bedrooms have air-conditioning. There are several huge sofas where children could sleep. The house will spaciously accommodate up to eight persons. There is a widescreen TV and stereo, and A/C in every room. Highly recommended for a family with some kids, as they can go surf, go explore, or watch TV. Wi-Fi is available to keep travelers connected throughout.
The dining room features a table for ten and has gigantic windows that offer sweeping views of the cerulean ocean. The sprawling grounds of the villa have a variety of native ferns, flowers and rare plants. These tropical scent emitting are meticulously maintained and lend a touch of natural aesthetics to the property. The swimming pool is another popular and classy feature. Guests can enjoy a refreshing dip in the enormous waters and cool off under the heady tropical sun. The pool has an overflowing waterfall fountain and above it is a relaxing hot tub. There is a tide pool near the beach that warms up alluringly in the glow of Santa Teresa's sun.
Casa Encantada offers the following amenities – architectural masterpiece 7000 Sq.Ft – 3 bedroom 3.5 bathroom beachfront villa sleeps 6 – 8 On the beach large private swimming pool luxurious fully appointed kitchen custom built fine furnishings throughout cable TV/DVD bedroom features linens and bedding master bedroom w/ queen bed, ensuite bathroom huge master bathroom w/twin vanities, jetted whirlpool tub and separate shower 2nd guestroom w/queen Bed, private TV and En suite Jacuzzi Bath 3rd guestroom w/2 queen beds, private TV and en suite bath large living areas w/fine furnishings, TV/DVD and stereo system air conditioning tall ceilings floor to ceiling windows, all around private washer & dryer private pool with waterfall flowing from upper hot tub, wood deck, terrace, BBQ grill, outdoor furnishings, shaded pool hut, surrounded with private gardens of mature plants, indigenous flowers and ferns, direct waterfront access to quiet, secluded beaches,  private garage parking, housekeeper minutes from restaurants, night life and amusements yet set apart from the hubbub of town, handicapped accessible.
Attractions and Activities Nearby
This house is in the vicinity of a famous local restaurant, and a short walk to the center of town. There are incredibly attractive tide pools right out in front of the property, and a surfing beach 10 minutes walk along the tide pools to the north.
Casa Encantada is close to all the best attractions and activities locations in town- beaches, fishing and surfing spots and convenience stores.