Casa Noche del Mono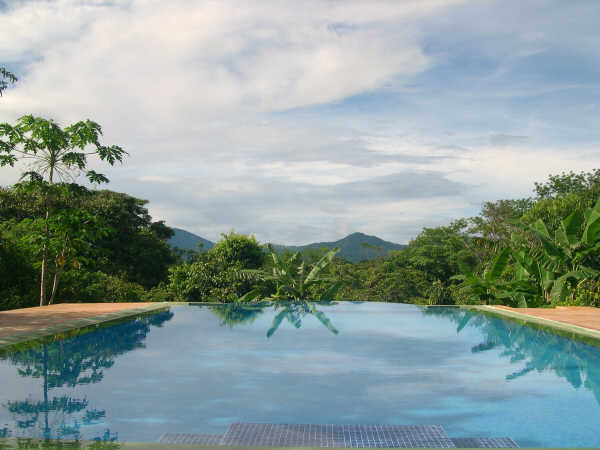 Casa Noche del Mono is a vacation rental house located in Playa Hermosa, Costa Rica. Playa Hermosa is small beach town nearby Jaco on the Southern Nicoya Peninsula, Guanacaste Province. Regarded as one of the best destinations for pure fun and pleasurable recreations, Playa Hermosa lures thousands of visitors every year. Bask in the tropical sun and play in the shimmering sand, Hermosa is a gateway to a heavenly land. Casa Noche del Mono is nestled in a private nature reserve atop the green hills above the Pacific Ocean. Encircled by luscious jungles on a hilly area, the house has an unparalleled location. Whether it is whimsical wildlife you desire to see or wish to take a dose of fresh oceanic breeze, Casa Noche del Mono will not disappoint you. Oozing with homely comfort and exotic charm, vacationers will find the beautiful home a superb place to spend a holiday. Be it a couple seeking an intimate respite, a family looking for a cozy place or friends desirous for a luxurious get together, Casa Noche del Mono is comfortable, charming and convenient. 
The House and a Casita
Casa Noche del Mono consists of a large house and a recently built casita. The houses are designed with features derived from Spanish style homes common to many Central American houses. Indoors, the house displays a unique and exquisite collection of European artworks and antique pieces. Even though the house is truly fashioned in a very sophisticated way, it still retains its comfort and simplicity. The staff has made sure that decorations and works that line the house never make guests feel alienated. The exclusive designs blend in with tropical casualness finely which end up giving Casa Noche del Mono a comfortable elegance.
Rooms and Their Features
As mentioned before, Casa Noche del Mono is situated on a hill that has a high point. From the house, you have a stunning view of the majestic parade of Cerro Frio Mountains! Moreover, the house is completely encompasses by rich greenery and tropical flora that attracts plenty of brilliantly colored birds. The outdoor features of Casa Noche del Mono include a well polished garden, large pond with a fountain in the middle and spacious decks appointed with hammocks and other assortments for naps and hang outs. The main house has three bedrooms; a master suite and two smaller guest rooms. The master suite has four terraces that afford jungle vistas. There is also a private bathroom with hot water supply and a living area furnished with armoire, wicker furniture. The guest rooms are smaller in size but have their own private terrace and bathrooms. The central living area of the house is air conditioned and has numerous amenities such as writing desk, sofas, a sound stereo system, a television, a DVD player and a small library. Furthermore, guests will be please to find a fully stocked kitchen where they have a liberty to prepare their own meals! It features a refrigerator, a microwave oven, two conventional ovens, an ice-maker, dishwasher and a small breakfast area. The dining area has a bar that joins the kitchen and a dining table of ten. Casa Noche del Mono's Casita is also standing on the hill. It has a private garden, an infinity edge pool, views to the mountains and beach and a stone pathway that will lead to the jungle. 
Amenities
 
Casa Noch del Mono offers several amenities such as a telephone set, free wireless internet, broadband system, full housekeeping service, laundry service and catering. The house is child-friendly house and small pets are conditioned. Cats and dogs are mostly allowed. The main town is only a short drive away and Playa Hermosa is also in close proximity. 
 
Location: Playa Hermosa, Costa Rica.
Features:  Mountain Views, Jungles Views, a Pond.
Accommodations:  3 Bedrooms, 3 Bathrooms, Casita (a small house)