Casa Pelicano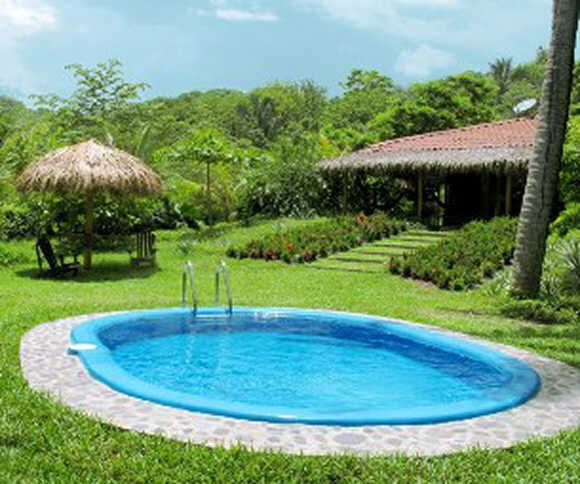 The Mariposa Vacation Homes property consists of three vacation homes – the Casa Pelicano, built in late 2004, Casas Yin Yang and Iguana, built in 2006. The entire project sprawls across 60 meters of beachfront plot, measuring nearly 225 meters in length, from the beach to area's main road. Located in Santa Teresa's exclusive north end, 1.3 km from the town center, this residential neighborhood houses some of the largest, most private lots, swanky beachfront residences and Flor Blanca, a world renowned boutique hotel, featured in several top-notch travel publications.
Casa Pelicano is a sprawling 2400 sq. ft., 3 bedroom vacation house for rent which was built in early 2006. The house's master bedroom has a queen size bed, a closet, and a private bath. The second room on the other hand has a bunk bed, and a closet space and its own bath too. The third room which is the New Honeymoon Suite features a private bathroom with a marble floor and other well appointed fittings. The living room is a great good spot to read a good holiday book or watch TV while relaxing on plush, over sized sofas. The most attractive spot in the entire villa is the terrace which is very secluded area surrounded by a beautiful tropical garden. The casa's kitchen is well equipped with a refrigerator, an ice maker, a 4 burner gas stove and other kitchen appliances that can make cooking or even baking possible during a vacation. The house also has an enclosed parking area. Casa Pelicano has air conditioners and ceiling fans in all rooms and in the kitchen/living room area.  The house is furnished with handmade Costa Rica wicker furniture. This Costa Rica house for rent is a section of a private gated community of four houses on an oceanfront lot of 1.6 hectares (4 acres) in a peaceful residential neighborhood. It's secluded and safe and can house up to 8 non-smoking guests.
Casa Pelicano offers guests the opportunity to enjoy the best of Santa Teresa without costing them the moon. It is a simple yet relaxing and elegant abode Casa that makes guests feel at home the luxury of a vacation villa. Casa Pelicano is an ocean-front property with spectacular views to the beaches and tropical rainforests. Subtle shores of Playa Flamingo, striking landscapes of the Pacific Ocean, the pristine natural beauty of sunsets, lush greenery and hypnotic sounds of indigenous creatures from the forests can transform the guests' basic summer break into a memorable retreat of a lifetime.
This property offers a nice value for families, groups of adventure freak friends and even couples looking for comfortable amenities in the midst of much needed privacy which becomes more challenging in a mainstream hotel. This private, gated, ½ acre lot is part of a 3 home 2.5 acre, with 60m of private oceanfront featuring the best surf break in the region. They have a fulltime caretaker, all convenient amenities and are located on the beach in a peaceful residential locality, in the exclusive Northend, one mile north of the hippy Santa Teresa surf town. This 2400 sq ft. home was built in 2006 to comply with US standards and was revamped in 2009.
Features and Amenities
Casa Pelicano is endowed with typical handmade Costa Rican wicker furniture. The master bedroom "Honeymoon Suite" offers a King size bed, a full and a double slider out to the terrace overlooking the pool and its own private bathroom. This 650 square foot new addition is appointed with high quality finishing, stone floors, exquisite marble countertops, Helvex fixtures and an overhead rain water shower. The second master bedroom has a King size bed, a private bathroom and closet with a safe. The third bedroom is a "Kids room" with a bunk bed, ample closet space and a bathroom next door. This layout of this home makes it ideal for families with kids and large groups of friends on a budget, looking to enjoy the conveniences of a vacation stay without burning a deep hole in their pocket.
The kitchen is well equipped with an 18` cubic foot refrigerator, 4 top gas stove and oven, microwave, toaster oven, blender, coffeemaker, stainless steel cookware, dishwasher, icemaker, garbage disposal unit, barbeque and all the necessary cookware for cooking. The spacious living room is a pleasant relaxation venue complete with oversized wicker sofas, king size sofa bed, and double sliders that lead into the patio.
Casa Pelicano's amenities include air conditioning, ceiling fans, and screens throughout the house, new mattresses, pillows, sheets & towels, linens provided (2 bath towels & 1 beach towel and mats per person), covered parking, 2 King size Beds, 1 full size bed, bunk bed (2 singles), 1 king sofa bed, crib & high chair upon request. Entertainment facilities offered to the guest include cable / satellite 29″ color TV and a private pool. Kitchen amenities include cooking utensils – toaster oven, blender, coffee maker, garbage disposal, pots and pans, plates and glasses, silverware, set of knives, cutting boards, mixing bowls, serving plates, wine glasses, vegetable peeler, colander, can opener and more along with refrigerator, dishwasher, microwave and ice maker. There is an outdoor terrace with hammock chairs and tables overlooking the pool and the garden along with a palm roofed gazebo with chaise lounges next to the pool. The holiday home also features an onsite surf school for surfing enthusiasts.
The swimming pool is encircled by a well manicured grass lawn with a palm thatch palapa. Casa Pelicano features an outdoor shower for cleaning off the sand and an outdoor BBQ for grilling up your fresh catch of the day. The beach is a short waIk through the property's "Mariposario" (Butterfly Gardens) to a public walking path.
The beach is a short waIk from the home. Casa Pelcano is set back 30-40 yards behind Casa Iguana on their 4 acre beachfront lot, so guests are 100 yards from the beach without crossing any other properties or road. The short walk is through a confined zone, a flourishing tropical garden to the public access path. Mature tropical hardwood trees, palms and gardens come in the way of the beach view.
Other amenities include on site caretaker, 1/2 acre lot, private, secure, gated, walking distance to the beach, clean, close to restaurants and supermarkets, in a idyllic residential neighborhood, new mattresses, pillows, sheets and towels. Housekeeping service (approx 3 times/week), safe, ADT alarm, solar hot water, recycle sustainable waste and water system.
Attractions Nearby
A 2 minute will take guests to the beach where they will have a whale of a time (and sometimes even spot the creatures that inspired this expression) witnessing the waves, surfs, marine life and sands of Santa Teresa. Other activities in the area include diving, snorkeling, ATV rental tours, fishing, canopy rides, horse-back riding, surf fishing, yoga, spa and surf lessons. If all these action-packed activities don't appeal to you, simply take a stroll down the coast and enjoy the gems of Costa Rica's
Website: http://mariposavacationhomes.com/homes/casa-pelicano/
Telephone: 866 295 6727
Facebook Fan Page: https://www.facebook.com/mariposavacationhomes