Casa Yin Yang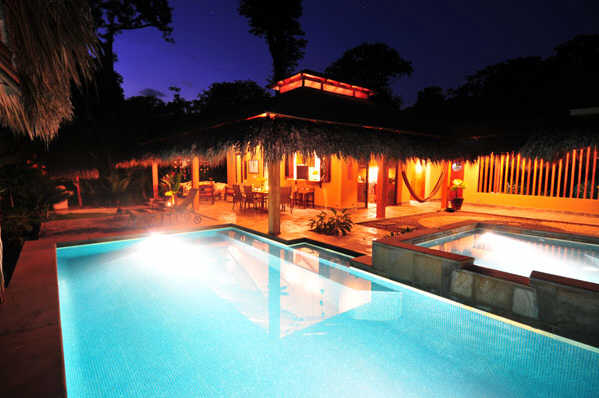 Casa Yin Yang House is a beach-front property of Mariposa Vacation Homes located in Santa Teresa. The tropical beach haven is nestled on the extreme Pacific coast of Nicoya Peninsula, Costa Rica. Santa Teresa is considered to have the best cluster of pristine, white-sandy beaches with ideal surf waves. A vibrant and elaborate backdrop of tropical jungles with indigenous fruit trees complete the picture. Built to the level of perfection, Casa Yin Yang House makes for a classy, serene, affordable and picturesque getaway for summertime Costa Rican travel. The best part about this property is that from any spot within the premises you can catch a direct view of the waves. The beach is of course located only seconds away from your house.
Casa Yin Yang was built in2007, originally created for residential purposes. This 2 acre private paradise has now grown tropically flourishing gardens and has over 60 yards of exclusive beachfront. Guests can enjoy the most breathtaking views of the surf break from any corner of this lavish abode. The design of this tropical house is relaxed yet stylish made from quality natural wood and stones. The interiors are roomy with doors up to 8ft tall and ceiling about 15ft high. The roof is dormer double which gives the house the advantage of having excellent ocean breeze flow and great ventilation throughout the day and night.
All three bedrooms have their own air-conditioning. Housekeeping and gardening maintenance are offered to guests. The staff here is warm, friendly and courteous and will go out of the way to accommodate guests' needs. They can arrange surfing lessons as well as tours and spa treatments. You can even order/request for fresh seafood, served and prepared by a local chef.
Casa Yin Yang epitomizes a relaxed, unfazed tropical holiday with all of the comforts at an affordable price. Its uncomplicated beach house design beautifully complements its breathtaking natural surroundings, while offering upscale natural stone and teak finishing throughout the property. The home is 4,500 square feet property equipped with a private pool and jacuzzi overlooking an immaculate white sand beach which is known to be one of the top beaches in the world. With sunny tropical waters and one of the most predictable surf breaks and radiant sunsets, guests are bound to holiday in style.
Features and Amenities
This 4,500 sq ft vacation home has three bedrooms and 2.5 bathrooms. Two rooms have a king size bed and one bedroom has two single beds. It has a swimming pool, Jacuzzi, outdoor shower, and washer/dryer. It can comfortably sleep seven people.
This simple yet elegant home has an open and enticing public area, including a large Brazilian stone balcony with an Indonesian teak dining set for 8 plus diners. The is also spacious and comprises a social area featuring an Indonesian style rattan living room set and comfortable seating, in the backdrop of the sea, for the ultimate guest relaxation. Right next door to the terrace is the non-chlorine swimming pool and Jacuzzi with classy imported glass tile and Columbian stone finishing. A signature palm roof teak rancho with Indo day bed, and an open sun deck consummate the pool area experience for visitors. The social area allows guests to experience awe inspiring views of the ocean, waves, giant plumeria trees and elaborate tropical gardens. Casa Yin and Yang has more than seven varieties of colorful plumerias from Costa Rica, Hawaii and Brazil on the property along with several coconuts, bananas, guavas, lemons, papaya, water apples, noni and more.
There is a thriving wildlife collection in the region and you may spot iguanas, centosaurs, monkeys, anteaters, armadillos, sea turtles and when you're lucky even whales right from the deck. There is also a pair of 3′ tall tiger herons resting on the property, white tailed hawks, frigate birds, pelicans, paroquetts and more are frequently spotted in the villa compound. The kitchen is located in the heart of the property, open to the terrace, and comes with stainless steel GE Profile appliances. The main sink overlooks the ocean, and the second sink is built into the kitchen island. This gourmet zone is complete with Columbian stone counter tops, Cuisinart stainless steel cookware, a Sonoma outdoor gas grill area and almost everything you need to prepare any epicurean or regular meal. The living room has a 37′ flat screen plasma TV w/Sky satellite TV and DVD along with several comfortable seating areas to lazily lounge in the magnificence of Costa Rica's striking natural vistas. The spacious and well ventilated laundry area offers a full size GE washer and dryer, several lines to hang wet clothes (what with all the action packed swimming and surfing), and a large wash basin style double sink.
The bedroom area is segregated from the social area by a Zen-style cobbled stone garden, which includes a huge 'Yin Yang' symbol. The master bedroom has a large California King bed, wonderful views of the ocean and gardens, and is only steps away from the Jacuzzi and pool area. The oversized master bathroom has 'his and hers' hand carved natural stone sinks with customs cedar cabinetry, and a spacious indoor/outdoor shower zone which includes a stone tiled bench, double overhead Helvex Rain Showers, direct access to the Jacuzzi and pool areas and majestic sunset views. The second and third bedrooms have generous closet space and share a gorgeous and roomy travertine marble bathroom which has a pleasant cross ventilation from all four windows. The separate sink, shower and toilet regions offer space and harmony to the ingenious design, accented with a hand carved limestone Buddha from Java. The hand carved above counter natural stone sink and stainless steel Helvex fixtures complete the incredibly spacious bathrooms. Each bedroom has a separate 18,000 btu LG Art Cool A/C unit with remote control, Columbia stone floors and is screened for the guest's comfort and privacy. Casa Yin Yang is also 'kid friendly'. They offer pack and play style cribs and highchairs. Unusual pieces of art from Indonesia, Java, India, Brazil, Mexico and Costa Rica complete the Casa Yin Yang theme.
Casa Yin Yang offers the flexibility of offering stay options for larger groups, a separate tropical guest house (housed in the same compound). This home is also comfortably appointed with A/C in all the rooms, ceiling fans and is fully screened to keep away the harsh tropical sun. There is hot water, a fully equipped kitchen, comfortable living room, palm roofed gazebo (rancho) with hammocks, a rear terrace with outdoor shower, safe, alarm and more. Guests are also steps away from both Casa Yin Yang and the adjoining beach. The living room has a 37′ flat screen plasma TV w/Sky Satellite TV and DVD, and a cushy microfiber 'L' shaped sofa. There is Costa Rican high-speed Wi-Fi throughout the house. Their friendly staff will be happy to help you find anything you need, including surf lessons, tours, a massage or the fresh catch of the day and even a local chef to prepare to s smattering of delectable local dishes.
Casa Yin Yang is a full-time private residence available for rent on a limited basis, with or without the guest house. The property is located on the hypnotic stretch of Santa Teresa beach located right in front of the best surf spots on the exclusive north end. This tropical home is designed to merge harmoniously with its natural tropical surroundings. The estate has 60 meters of private beachfront and is part of a 3-home, 3 acre, gated complex, with 2 full acres of privacy. Each home has lush tropical gardens with large tropical hardwoods. Each home is private enough to ensure that it cannot be seen through the expansive and lush greenery of the adjoining tropical gardens. The villa will accommodate large groups in one or even two private homes within the exclusive community. Each home has its own unique features, private swimming pool and manicured tropical gardens, lending privacy yet keeping the group within easy accessibility. Guests are offered luxury hotel style concierge services. This exquisite and unique property will offer travelers an opportunity to relax and enjoy the best that Malpais/Santa Teresa have to offer. They have a breathtaking ocean front yoga shala to stretch, receive a massage, or simply relax in the hammocks and enjoy the beautiful tropical sunsets.
Attractions Nearby
A new super market has come across the street from the villa's entrance gates, making it very convenient for guests to get water and daily food supplies. Only a short walk down the pleasant path will take guests directly on the beach which is known for some of the best surfs in Costa Rica. The property sits bang in the middle of Santa Teresa beach where it's very predictably peaceful and private compared to some other more boisterous holiday spots here. The town has a lot to offer in terms of adventure, activities and culture in addition to shopping destinations, bars, clubs and restaurants. There is a lot to select from which caters to the tastes of all travelers-you can lazily lounge on the beach, or surf on its consistent waves or go bar hopping at sundown. Most attractions here can be accessed by renting bicycles, hailing a cab or even good old walking. With respect to activities, you can find several tourist companies which will help you enjoy a fun vacation – there is snorkeling, horse riding, quad tours, fishing, hiking, bird watching, night safari tours, surfing, yoga and more.
Website: http://mariposavacationhomes.com/homes/casa-yin-yang/
Telephone: 866 295 6727
Facebook Fan Page: https://www.facebook.com/mariposavacationhomes