Disfrutalo Ranchos y Villas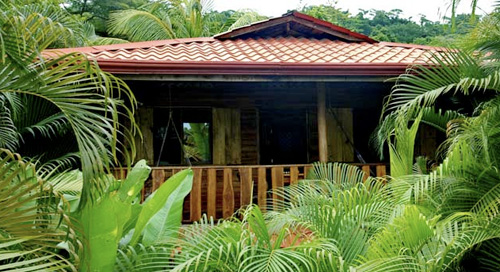 Disfrutalo is a brand new residential complex located in the heart of Costa Rica's tropical rainforests. T offers guests everything that is needed to enjoy a pleasant sun and sand vacation, including 3 bungalows and 5 elegant villas crafted from teak wood, a relaxing pool, a cafeteria, an AVT rental point and bike rental. The property is centrally located in Santa Teresa, in the Nicoya peninsula, thus making it easily accessible to several restaurants, bars local markets, surf rental points, internet cafes and surf instruction schools. This isn't an over-priced, run of the mill tourist rental villa but a more laid-back, secluded place that is designed keeping in mind the value seeking traveler. Disfrutalo is ideal for couples on a budget honeymoon, friends looking for adventure and easy accessibility to surf breaks at a reasonable price or large families looking to enjoy a family reunion amidst Costa Rica's natural splendor.
Disfrutalo is a mere 80 meters from the beach, a tropical forest footpath winding up to striking natural tide pools and the ocean. Go 300 metres further down and you will find a long stretch of ideal surfing beach breaks. Built with indigenous teak wood, these villas consist of a couple of beautiful bedrooms with a matrimonial bed in each one, provided with mosquito-net and with a remote controlled fan. Each villa features an outside patio complete with hammocks, dining table, a main living room, bathroom with hot shower, and an elegantly appointed and fully equipped kitchen. All villas are air conditioned. Their Rancho is an open space, completely built with local teak wood and a handmade palm leaf roof.
Amenities
Disfrutalo's bungalow is suitable for a couple looking for complete isolation, lending a more romantic feel to their stay. Downstairs there is a sitting area, a fully equipped kitchen, bathroom with hot shower and upstairs guests can find their beautiful bedroom completed with a remote controlled fan and mosquito-net. Every bungalow or villa has its own garden, outdoor shower and a large outdoor patio, a perfect place to have meals and conversations in the midst of nature or simply relax on the hammocks. Towels, linens,TV, safe, and a full kitchen set are all provided for the guests' comfort. All facilities have a private bathroom. Disfrutalo offers parking for the guests' vehicles. Amenities offered by the property include:
King Bed
Mosquito-net
Private Outdoor Shower
Hot Shower
Towels and Linens,
Remote Controlled Fan
Air Conditioned
Cable TV
Fully Equipped Kitchen
Every one with Outside Patio, with Hammocks, Dining Table
Living Room
Safe Box
WIFI
Parking Lot
Attractions and Activities
Disfrutalo's neighborhood features several restaurants, bars, super markets and convenient stores in addition to activities such as horse riding, canopy tours, surfing, snorkeling, quad biking, canopy tour, night safari, bird watching, nature reserve tours, island day trips and more. The serene and beautiful beach community of Santa Teresa also allows guests to enjoy volleyball and beach soccer. Guests can take an ultra light plane ride. These are just a few of the region's diverse activities, whether guests want to surf or just relax on a pristine beach this is one of the Pacific's greatest spots. At 400 meters from the crag, where a path merges with the ocean, right on the shore you can find this tiny and homey hotel, where you will be able to enjoy a rejuvenating swim and incredible snorkels experiences that offer the signature Costa Rican experience.
Contact DisfrutaloM
Telephone – (+506) 2640 0572
Website – Disfrutalo