El Tajalin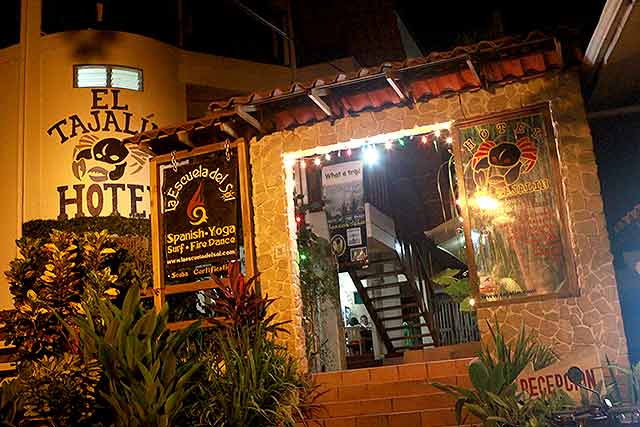 Recommended by several guide books of Costa Rica, El Tajalin is a nice hotel surrounded by trees and the greenery local forest, located in the center of Montezuma Town where you'll find safe, clean, spacious rooms with beautiful wooden floor that gets closer contact with nature. All these claims are backed by vacation experts. Also the hotel provides information available for touring the area where you can know the Absolute Natural Reserve Cabo Blanco, Montezuma Waterfalls, white sandy beaches, rivers, abundant life, horseback riding along the beach, watch the vegetation of the area or just tips to enjoy the town of Montezuma.
In the rooms you can find:
• Standard and Superior Rooms
• Private Bathroom
• Hot Water
• Air Conditioning
• Refrigerator
• Wifi
The amenities that the hotel offers are:
• Parking Lot
• Satellite TV
• Free Coffee
• Airport Taxi
Hotel El Tajalín is nestled in the heart of Montezuma a few meters from the beach in the southern side of the Peninsula of Nicoya. This region is choc o bloc with a variety of touristy attractions such as waterfalls, tide pools and golden husked sand beaches in addition to activities such as day hikes to the Cabo Blanco Natural Reserve. The Hotel offers comfortable and well appointed rooms with independent bathrooms, hot water and air conditioning. Some also have a refrigerator.
El Tajalin is a no-frills hotel that is preferred by budget conscious travelers who are looking for a clean and comfortable accommodation option, which is easily accessible from most town attractions and activities. They also offer some packages like a weeklong yoga package. Though breakfast is not offered here unlike some other properties is in the vicinity, there are a lot of options for guests to savor a breakfast of their choice in the myriad eateries within the neighborhood. The best part about this place is, it is located in a very peaceful and idyllic spot to allow guests to enjoy the natural calm of the region and is yet accessible to all the town attractions and conveniences.  The location is secure, relaxing and laid-back. Since El Tajalin is located up a driveway, adjacent to a park (that beautifully shelters it from the hustle bustle of the outside world), this isn't a typical boisterous touristy accommodation. It caters more to families and or couples looking for some peaceful moments away from the more bohemian Costa Rican spots.
Guests can relax on the hammock with a light read or enjoy the cool breeze in their large open air rooms. They also have common kitchens where guests can whip up delicious vacation meals (open u to 10 pm only). The staff here is warm, friendly and helpful. And since the property is mostly uncrowded and relatively less touristy, they can give you more personalized attention and better service. Though not very high on luxurious amenities, El Tajalin hospitable staff ensures that guests enjoy a clean, comfortable and secure stay. The hotel scores on the following parameters: locations (all attractions and adventure activities in the vicinity), rooms (comfortable, earthy and featuring basic amenities), service (attentive and personalized service owing to lesser number of guests staying here) and value for money (good packages and offers available throughout the year).
Contact El Tajalin
Website: El Tajalin Hotel – La Escuela del Sol
Phone: (+506) 2642-0061