Esencia Hotel & Villas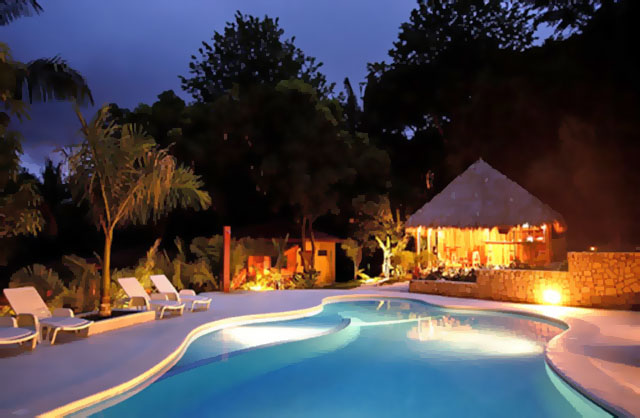 Nestled in Santa Teresa, a short walk from the pretty "La Lora" sun kissed sand beaches; Esencia offers abundant light, space and comfort with a Mediterranean style ambiance. It has a beautiful swimming pool, wireless high speed internet, and lush tropical gardens.
The tranquil and relaxed setting here is replete with hand-crafted candles that create the perfect feel good atmosphere. Then there are scented incense and essential oils along with teak furniture that lends the place a touch of old-world class. If the perfumed air doesn't inspire you, the sweeping views of the adjoining ocean and jungles offered from their terrace sure will. All elements at Esensia blend harmoniously to offer guests a completely natural yet comfortable and modern stay. This is a nice vacation stay option if you are looking for an exotic ambiance and comfortable amenities without the noise and impersonal services of the more touristy properties.
Accommodation and Amenities
The hotel offers ten stunning independent and private villas plus eight plush pool view rooms. The architecture of the units contains elements of Mediterranean style complemented by lots of lights, spaciousness and comfort.
All villas and rooms have their own terrace with garden view, bathroom, hot water and safety box. Other refined elements include the teak chairs, the furniture and wooden decks. They differentiate through theme colors, handcrafted aromatic candles, incense and essences, stimulating the senses. Each villa is fully equipped with a living-dining room, kitchen, one or two bedrooms and corresponding implements. The hotel includes a striking unusually shaped pool created out of blue ceramic tiles. It is surrounded by lush trees and a perfect sunbathing terrace should you want to sport a stunning bronze tan. Aesthetic tropical gardens surround Esencia Hotel with thriving plants and low indirect lighting, creating an exotic and unique atmosphere.
Attractions and Activities
The stretch where Esencia is located is a tourists' paradise that offers plenty of fun and relaxing activities. Visit the nearby Cabo Blanco National Park, great for wildlife spotting and snorkeling. Take a tour to the naturally breathtaking Isla Tortuga, offering remarkable scuba diving and hiking opportunities with stunning vantage point views. This is just of the many activities to be done in this area; others include ATV tours, sport fishing, horseback riding along the beach and renting a bike for some exploration of the area at your own pace. Santa Teresa and Malpais feature some of the best surfing spots on the Pacific Coast of Costa Rica.
For those looking to relax a bit more there are yoga classes and the hotel can arrange massages and spa services on request. Spa services include holistic massage 60/90 min, deep tissue massage 60/90 min, massage included in surf camp packages 60 min, acuouncture 60/90 min, reflexology 60 min, Thai massage 60/90 min, rebalancing 60/90 min, couples massage (holistic / deep tissue) 60/90 min, hot stone treatment, Bali 60/90 min, Shiatsu / acupressure 60 / 90 min, manicure and pedicure.
Guests can take the following tours Isla Tortuga tour (full day, by boat, lunch included), horseback riding (beach, mountain / waterfall), sport fishing (private boat or group), scuba diving (private boat or group), ATV rental (4, 8, 24 hours), canopy tour (Malpais, Montezuma), surf lessons (1,5 hours, board included), transfer services (private/shared), bicycle rental ($6 half day, $10 full day) and Cabo Blanco ( buy ticket in Cabuya).
Esencia Hotel Contact Info
Phone: 2640-0420
Website: Esenciahotel.com
Facebook Fanpage: https://www.facebook.com/pages/Esencia-Hotel-Villas/130240354798