Horse Tours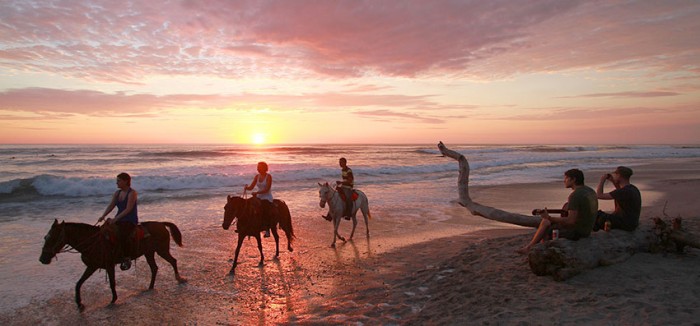 Horseback Riding in St Teresa & Malpais
Malpais and its neighboring town, Santa Teresa, is popular among surfers for its beautiful beaches. It has been hailed by Forbes Magazine as one of the top ten most beautiful locations in the world. Many celebrities have been spotted enjoying the pristine beaches of Peninsula Nicoya. Aside from being a surfers paradise, there are other fun and exciting things to do in these Costa Rican towns. Horseback riding in Santa Teresa and Malpais are popular among tourists who want to explore the natural landscape of Peninsula Nicoya. Many hotels in the area offer this activity as part of their day tour packages.
The beaches at Malpais and Santa Teresa have very beautiful and unspoiled beaches that allow for horseback riding and similar activities. This is perfect for family vacations or romantic getaways. Imagine riding across a white-sand beach with your sweetheart during sunset and visiting one of many amazing waterfalls in the area. There are also day tour packages that include trail rides and a visit to over 5000 acres of cattle ranch. This is a great way to see the Peninsula and see Costa Rica's authentic cowboy tradition. Families with animal-loving kids would find this type of activity very enjoyable.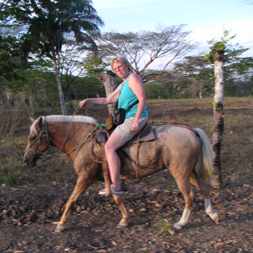 If you're visiting Costa Rica, touring a park or two should definitely be on your list. Peninsula Nicoya is scattered with natural reserves where you can spot animals like monkeys, birds, snakes and bats. Horseback riding in Santa Teresa and Malpais can allow tourists to view beautiful hillsides, ride across the shoreline of amazing beaches and visit the jungles which are full of exotic birds and animals. This is all available through guided tours. Many hotels and resorts in the area offer packages with friendly tour guides and gentle horses. This is perfect for groups or pairs who want to get the full Costa Rican experience.
Once you get a taste of true Costa Rican culture, you will understand why conservation is very important. Hiring a local tour guide is not necessary, but a translator will help you appreciate the area much better. A lot of hotels in the area are built on remote and underdeveloped areas. The small structures move and flow with the landscape which gives a serene and organic feeling. You have the choice of trekking through the land by foot, motorcycle or 4×4, but there is nothing like exploring the peninsula by horse. There are various guided trails throughout Peninsula Nicoya that are frequented by travelers who are looking for a different type of adventure.
The tour packages for horseback riding depend on the hotel or resort offering the activity. Many programs depend on the ability of the riding and vary in duration and price. You can get a short ride for under $50/person for about two hours. This is best enjoyed early in the morning or during a sunset ride across the beach. Resorts offering this activity usually try to choose a horse that best suits your riding ability. Children and beginners do not have to worry since the friendly Costa Rican tour guides understand the temperament of each of their horses.
Daily rides are best for groups who want to see some of the sites. This is available at most resorts in Peninsula Nicoya. A popular place for horseback riding is the Star Mountain Jungle Lodge in Malpais. This is a place where tourists can choose from day-long horseback riding tours or week long programs. The week-long tour includes other activities in between stops. This is perfect for families or couples who enjoy a good adventure. Air BnB as well as Hotel Tropico Latino are located in Santa Teresa and are great places which also offer horseback riding packages which can range between $30 – $150. These hotels are affordable and provide excellent service for adventurous travelers.