Hotel Buenisimo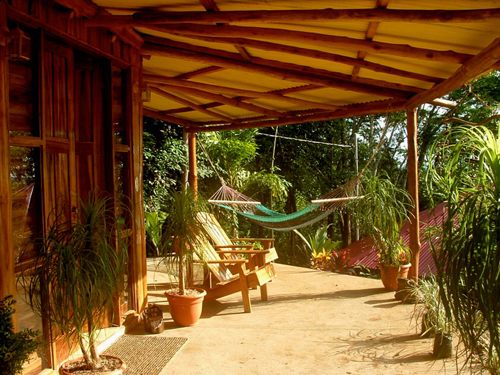 Buenisimo Hotel is quietly nestled in the old world style yet cosmopolitan town of Santa Teresa, a cozy place that makes you feel at home while also offering you he vibrancy of a vacation destination. This hotel is run by surfers, who adopted have adopted to live the philosophy of Pura Vida, a style that is marked by the friendly and laid back "tico" people.
 The beaches of Santa Teresa and Malpais are known for their consistent perfect waves, catering to surfers of all levels, as well strecthes of sun kissed sand and beautiful azure waters.
The Casitas and Garden view rooms are all clean, secluded and easily accessible to all the hotspots guests usually like to frequent. You can wake up to a breakfast treat that can be enjoyed in the midst of Santa Teresa's lush forests in the backdrop of howler monkey cries and chirping parrots. There is a nice reception area where you can socialize with other tourists. The Reception Area is located at the entrance to the property, and offers guests a complimentary breakfast each morning from 8 am to 11 am. They now also have 'Wi-Fi' available at the reception center for guests as well. Check out Buenisimo's lending library and lounge area. Garden View Rooms nestled in the verdant gardens at the entrance to the property and offer an easy walk to the beach and restaurants.
The hotel property consists of a couple of cottages and several rooms that offering sweeping garden views. Likewise at the entrance there's the reception with a library and lounge area. At a distance of a few meters from the hotel guests can discover several restaurants, bars, shops, adventure tour operators and more.
Accommodation and Amenites
Garden View Rooms – Buenisimo's Garden View rooms are private rooms set in the lush gardens at the entrance to the property. The rooms are easily accessible without transportation with a comfortable walk to the beach, restaurants and stores. Their Garden View rooms offer A/C, 2 twin beds, private bath with hot water shower, safe, outside sitting area and hammocks. Garden View Rooms can house up to 2 guests. Ideal for couples, the room offers the right amount of seclusion and easy access within the hotel. The rooms are all clean and well-appointed and are a good deal for people looking for a comfortable stay on a budget.
White Water Ocean View Casitas – Their 2 story casitas offer guests a loft with 2 twin beds and half bath. There is a grand room downstairs with queen bed, futon, kitchen, bath with hot water shower, safe, ceiling and floor fans, private covered terrace, surfboard storage and a hammock. The house can accommodate up to 1-5 guests at a time. Casitas are a nice option for families or a group of friends.
Contact Buenisimo Hotel
Website: http://www.hotelbuenisimo.com/
Email: [email protected]
Telephone: +(506) 8993 0251
Facebook Fanpage: https://www.facebook.com/pages/Hotel-Buenisimo/284308879432