Driving Directions from Liberia to Malpais/Santa Teresa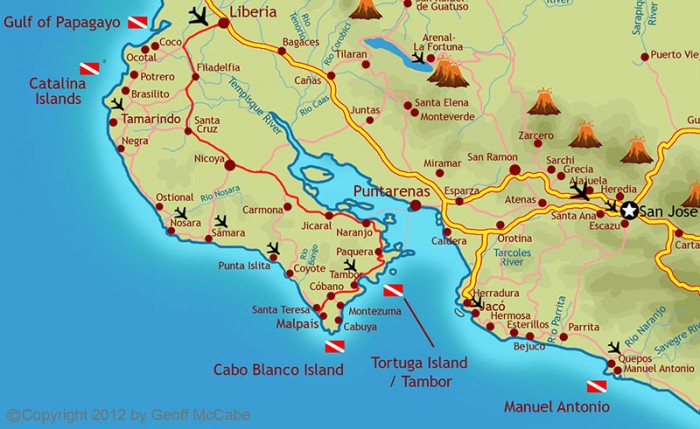 What's the best way to drive from Liberia to the Malpais / Santa Terea area?
To drive here from Liberia, you'll be heading down the east side of the Nicoya peninsula. In dry season (Dec-April) you MAY be able to make it down the west coast, but in other months the rivers will have too much water to be able to drive through them.
Between Liberia and here, you'll pass through the following towns, in order:
Liberia
Filadelfia
Santa Cruz
Nicoya
Jicaral
Playa Naranjo
Paquera
Tambor
Cobano
Malpais
When you reach Cobano, drive straight through town, and the road will turn to gravel. Drive about a mile or two, and you'll take a left turn (there's a sign so it's easy). From there you'll drive another 20 minutes to get to "El Cruce" (The Crossroads) where you'll find a small shopping area and Frank's Place. If you turn left along the beach road, everything that direction is considered to be Malpais. If you turn right, you'll be in Playa Carmen and a bit further north is Santa Teresa. Playa Hermosa and then Manzanillo are further north still.
It will take around 3 1/2 hours. You should rent at least a small 4×4 vehicle such as a Bego.
Road Quality
Over the past few years, Costa Rica has been improving this road steadily. Now, there's only one part which isn't paved, between Naranjo and Paquera. It can get pretty terrible and a 4WD is needed at times, but most of the time they're doing an excellent job of maintaining it. I just drove it in September and was surprised by how good it was… it was the best I had ever seen it.
Rental Cars
If you're going to make this drive, then it's best to have a 4×4, but you can probably make it in a sedan. But, there will be some risk since there's two spots that get steep and very rough from time to time. A good rental car agency to use in Liberia is Budget, since they have an office in Santa Teresa and another in Tambor, so you can get your car fixed or replaced more easily here if you're using an agency with a local branch. Toyota has two rental offices in the same towns also.
What you'll see along the way
Expect a very beautiful drive! At the beginning you'll pass through many gorgeous cattle farms, with large trees, etc. You'll also see goats and sheep. As you arrive farther south, if you're paying attention you'll almost certainly see monkeys in some of the trees along the road, since you'll be driving through many areas of dense jungle.
The road between Naranjo and Paquera is particularly beautiful, and you'll find several spots where you can see the Gulf of Nicoya and its many islands. This area of the gulf is nearly deserted and you're likely to hardly see any boats at all. It hasn't been developed much for tourism, since more people prefer the sandy surfing beaches of the pacific coast of the country, in towns like Montezuma, Malpais and Santa Teresa.