Indigo Yoga Resort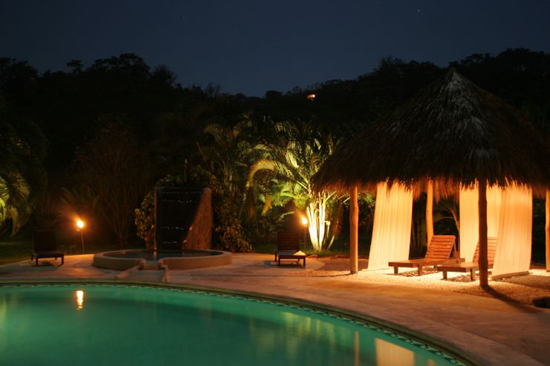 Indigo Yoga Resort, Mal-Pais, Costa Rica
Indigo Yoga Resort, has very swiftly become known for its good value and great location. Located only steps from the beach and a 15 minute walk away from the popular Mal Pais center. The hotel houses 11 rooms and 1 villa with many boasting a rather enchanting 'open-sky' shower. Formerly Beija Flor Resort, Indigo is the latest addition to the Santa Teresa / Montezuma yoga scene.
The Rooms
Lined with cozy lighting and neutral, earthly colors, the rooms at the Indigo emits a uniquely chic charm.
Each room is equipped with air conditioning and a safe box.
The Deluxe rooms and Master suites harbor the attractively named 'open-sky' showers allowing you to star gaze while taking an evening shower.
Standard Rooms rooms are available from $70 per night and contain one double bed. These rooms are ideal for lone travelers and couples on a budget.
The Deluxe Rooms are available from $80 per night and can house up to 3 people with 1 double bed and 1 single bed. Great rooms for small families.
The Master Suite is available from $110 per night and accommodates up to 5 people with 1 king sized bed, 1 double bed and 1 single bed.
Recommended for Families or even a group of friends.
The Deluxe Garden rooms are available from $95 per night and can hold up to 3 people with 1 double bed and 1 single bed. The deluxe rooms are very spacious and feature front and back patios with hammocks and chairs.
The Master Villa is available from $160 per night and accommodates up to 3 people in 2 separate bedrooms, 1 containing a double bed and the other containing a single bed. The Master Villa is ideal for those who value privacy or those who have a passion for cooking, as the villa features its own fully equipped kitchen.
Activities:
Surfing – Staying at the Indigo Resort puts you in perfect connectivity to Costa Rica's desirable surf locations, Santa Teresa and Mal-Pais and the hotel offers to organize classes and board rentals for those who have not yet mastered the art.
Yoga – For those seeking a more tranquil and therapeutic spell, Indigo Resort offers a number of yoga classes, for practitioners of any experience level.
The classes are based upon forms of Iyengar, Ashtanga and Vinyasa Flow.
Aerial Silk Dance Classes – Teacher Francesca offers aerial silk dance/acrobatics classes on Tuesdays and Thursdays at 9am. Try this amazingly fun class… a combination of yoga, dance, and trapeze.
Spa – Indigo presents a very complete spa service available to those who desire it. The services include:
-Healing Therapies
-Massage Therapies
-Spa Therapies
-Esthetics
Other – Horseback riding is also available upon request.
Restaurant – The pleasant open air restaurant serves a daily changing menu of French-Asian cuisine made from fresh fish and the produce of local farmers.
Contact Indigo Yoga Resort
Website: www.indigoyogaresort.com
Phone: (+506) 2640-1007
Video of Indigo: