Kite Surfing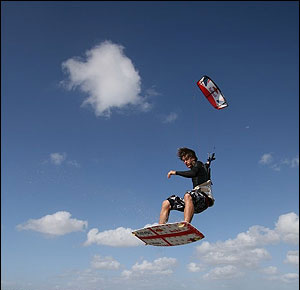 Hot Spots for Kite Surfing in Malpais and Saint Teresa
Once upon a time it was hard to reach the twin-villages of Saint Teresa and Malpais in Costa Rica. Yet many did get there in the '70s, riding the wave of 'love' and 'peace' to a remote corner of the sunny, laid-back island that had abolished its military. Many of those that came decided to stay on. They couldn't keep away from the perfect all-year surf-conditions of Nicoya, and it's not hard to see why when you experience the gold-gray sands and the world-class breaks for yourself.
And from January to April, higher winds cross onshore thermal winds makes this the high season for kite surfing in Malpais Costa Rica. While the region is definitely a surfing hotspot, if you have your kiteboard and gear, you can definitely put in a few great days of kitesurfing in a week. It's not easy to find kite surfing resources, barring a few tour guides and resorts which offer kite-surfing, so it's best to make your way to the most popular beaches with kite-surfers, such as Playa Carmen and Playa Hermosa, take the help of kiters, and try to bring your own gear.
Where to Kite Surf
Pachamama Franz: Kitesurfing Instructor
More info online: KiteCostaRica.com
Video of Kite Surfing in Malpais, Costa Rica
The Villages
The villages lie at the southern-most tip of the spout-shaped arm of the Costa Rican mainland known as Nicoya. Follow the dusty road from Cobano down to Playa Carmen, where it ends at 'El Cruce', the junction. South of this lie bizarre rock-formations, sparse resorts and old jungle forests which segue into the Cabo Blanco Nature Reserve. To the north of 'El Cruce' is the village of Saint Teresa. While the two villages and their beaches are usually clubbed together when surfing references are made, for the purposes of this article we'll start out at El Cruce, move north for the beaches of Saint Teresa and then move south for the Malpais beaches.
Kite Surfing in Saint Teresa
Saint Teresa is the more developed of the two villages. It has all the shops (the few there are), the quality eateries (truly cross-cultural eateries set up by chefs from around the world), a few Internet cafes and surf schools. It was once a fishing village with locals living on logging and ranching. Now there are over thirty hotels to suit all budgets and some excellent beaches for surfing.
Playa Saint Teresa
Playa Saint Teresa is the central beach of the village. It is better for the more experienced surfers, with numerous beach breaks, high swells and point breaks. The surf here is faster and better in low tide. It's also one of the best beaches in Saint Teresa for kite surfing (both for beginners and veterans), with a few surf and kite camps such as the Adrenalina Kite and Surf Camp, and owners of Pachamama, offering lessons and tours.
Playa Hermosa
Hermosa is Saint Teresa's most friendly beach, just north of Saint Teresa. This beach is long and sandy. The left and right beach breaks are very easygoing. This is also a very popular beach for kite surfers in the dry season between January and April.
Kite-Surfing in Malpais
In Malpais, there are no offices, no shops or wild nightlife. Instead, there is a stunning rocky coastline with some world-class surf-spots for beginners and experienced surfers.
Playa El Carmen
Between Saint Teresa and Malpais lies the beach called Playa El Carmen. This is probably the most popular surfing beach for beginners in the area, with good sand bars with some good lefts and a few longer rights. Long-boarders love the Playa Carmen break. But it's not hard to find short-boarders either, pulling off aerials and tail slides. The beach breaks and rip tides here are far softer than the powerful ones along the other beaches on this Pacific Coast. And when the wind is up, Playa Carmen is great for kite surfing.
Good luck with your kite-boarding holiday!