La Luxuria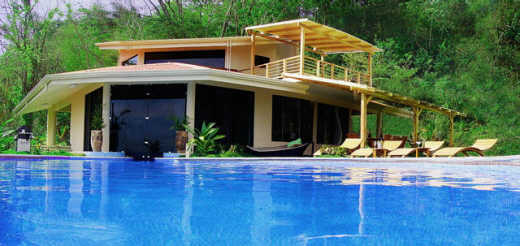 Nestled on a quiet hilltop on the heady surf town of Santa Teresa, far away from all choas of a metropolitan lifestyle, this vacation home is a quaint natural paradise. This three suite bedroom villa has one of the best ocean views in area. This 'complete facilities' offering home is ideal for large families and big groups of adventurers. The master suite is on the penthouse adorned with large decks where guests can witness the magnificence of Costa Rica's famed wildlife in the form of howler monkeys and red lored parrots. From this strategically elevated spot, you'll be forgiven for feeling you're actually on top of the world. Prepare sumptuous meals with first class kitchen amenities or just walk for a less than a kilometre to discover the town's spectacular beaches, restaurants and bars. La Luxuria is a newly constructed two story luxury villa ideal for the visiting group of 6-8 visitors who prefer a little privacy without burning a steep hole in their pocket. The residence offers several creature comforts and all the conveniences that are expected from a first grade holiday residence.
La Luxuria is housed in the middle of a rainforest so you will still enjoy your privacy with a highly guard house and a remote controlled entrance gate. Luxurious yet affordable, La Luxuria is ideal for those wanting to be in the close vicnity of Santa Teresa attractions yet enjoy the peace of living admist Costa Rica's natural wilderness. If you're lucky you can even spot a whale swim by in the adjoining azure waters while you enjoy your breakfast.
Features and Amenities
La Luxuria has three tastefully furnished air conditioned bedrooms that are available for guests to enjoy a well deserved Costa Rican sojourn; the Master Bedroom comes complete with a private bath equipped with a double shower, double sinks and a Jacuzzi with overhead glass skylight for a little monkey prying curiously (well maybe more than one sometimes). The Guest Bedroom also has a private toilet and shower with ocean views and has its own private outdoor terrace for afternoon siestas. The Upstairs Penthouse Bedroom has a similar pair of front and back balcony terraces and offers a breathtaking panoramic view of the grand Costa Rican coast. All the bedrooms feature ocean views. The master suite features private ensuite, delightful with double shower, double vanities, a Jacuzzi tub and glass ceiling.
The holiday villa features a fully equipped, brand new European kitchen. The kitchen is at the guests' disposal with top quality stainless steel appliances and first class fixtures. If you feel the need for a little pampering, ask them about having a private chef take care of your culinary needs for a day or two. La Luxuria will be more than happy to work something out for you. A grocery store is located a few minutes away along with some marvellous restaurants serving a variety of delectable international cuisine. At La Luxuria, you can enjoy a romantic meal or a feast with buddies either in the dining room with a backdrop of the ocean or out by the pool on the terrace.
In the main living area, you'll find a lounge with an indoor jacuzzi/pool for you to enjoy a few drinks and share some engaging conversations with friends/fellow travellers. If you're up to it, swim under the glass and you'll find yourself outside in the first of two outdoor connecting pools. Not just your run of the mill pool, the newly constructed second pool is a 35 foot circumference adventure with an infinity edge facing the ocean and mood lighting. And there's more. The pool also features an extravagant underwater sound system. Don't forget to do a little jig in the water when no one's watching while you're down there.
La Luxuria has also set you up with a fully equipped outdoor deck and terrace to help visitors enjoy pleasant afternoons and catch some rays. Both the guest bedroom and the upper penthouse bedroom have private terraces so there is no dearth of private locations if you need a little privacy in a group setting.
Following are the amenities guests can enjoy at this private yet reasonably priced holiday home – spacious 3 bedroom 3 bath holiday villa rental sleeps 6-7 central air-conditioning, ceiling fans & individual air-in two guestrooms master bedroom, pool and ocean view and ensuite bath large master bathroom, twin basins, two headed shower, separate jetted jacuzzi tub and glass ceiling with monkey views, large infinity pool with in pool bar, underwater sound system, computerized mood lighting, swim-in Jacuzzi poolside home theater with projector, WII, outdoor projector screen (dry season), flat screen TV/DVD and stereo system, poolside terrace with lounges and Vermont castings BBQ with side grills, 4 decks including 2 private bedroom decks and 2 common decks with electronic massage chair and massage table (private masseuse available upon request), beautiful tropical gardens with spectacular views of the Pacific and Santa Teresa Surf Break , January whale watching rooftop lounge upper guest bedroom.
Attractions Nearby
La Luxuria's guests will find a short board beach break just at the bottom of the hill and all kinds of beach breaks in the near vicinity. Longboarders, funboarders, shortboarders, beginners and globetrotting pros will all find something exciting here with miles upon miles of secluded beaches. For the most part the waves are not too deep and peaky and are mostly consistent all around.
The primary surf beach, Playa El Carmen, is on the border between Malpais and Santa Teresa. It has a decent set of sand bars that offer nice lefts and relatively longer rights. The break of Playa Carmen is much sought after by long-boarders but you can always find some hot short-boarders pulling tail slides, aerials and 360s. Rip tides and beach breaks at Playa Carmen are less power packed than in other surf spots on the Pacific side of Costa Rica, which makes it ideal for surf beginners. Playa Hermosa is a long sandy beach with relaxed beach breaks, both lefts and rights, well suited for surf beginners and advanced learners. It is also a popular spot for kite surfers. Manzanillo reef is offshore at the north end of the beach. It features fickle waves which need a lot of swell to work.
If you venture out further, you'll find reef breaks and offshore gems that will baffle even seasoned ocean freaks. Use your gift of the gab with the affable locals and they may even take you out to some secret spots. There are several surf shops around with rentals under ten bucks a day. For beginners, the beach break right in front of the beach pizza place is a great spot to begin. On the other hand if you're an expert surfer, watch the weather and you might find yourself in the middle of some of the best hard-knuckled surf spots the region is famous for.
For guests who don't surf at all, consider spending a few hours on the sand watching the locals and visiting hotshots spin some aerial 360s. There is also a lot of celebrity spotting to be done here considering Santa Teresa happens to a vacation hotspot for many including Brangelina, Mel Gibson and several others. The town is a stunning sight framed by a surreal beach that ensures there will never be a dull moment here. Heading to the South of Santa Teresa, towards Cabo Blanco Nature Preserve, there are a few unusual yet larger wave reef breaks. Guests can also keep their eyes open for local celebrities of another kind- the monkeys, dinosaur like lizards, armadillos and more, who will cross your path every now and then. Malpais is indeed your California style beach vacation town minus the mainstream  touristy chaos.
Website: www.laluxuria.com
Email: [email protected]     
Telephone: 514-846-0322 x22
Local Telephone: 011-506-8-849-3176
Facebook Fan Page: https://www.facebook.com/LaLuxuria