Snorkeling Los Suecos Beach, Malpais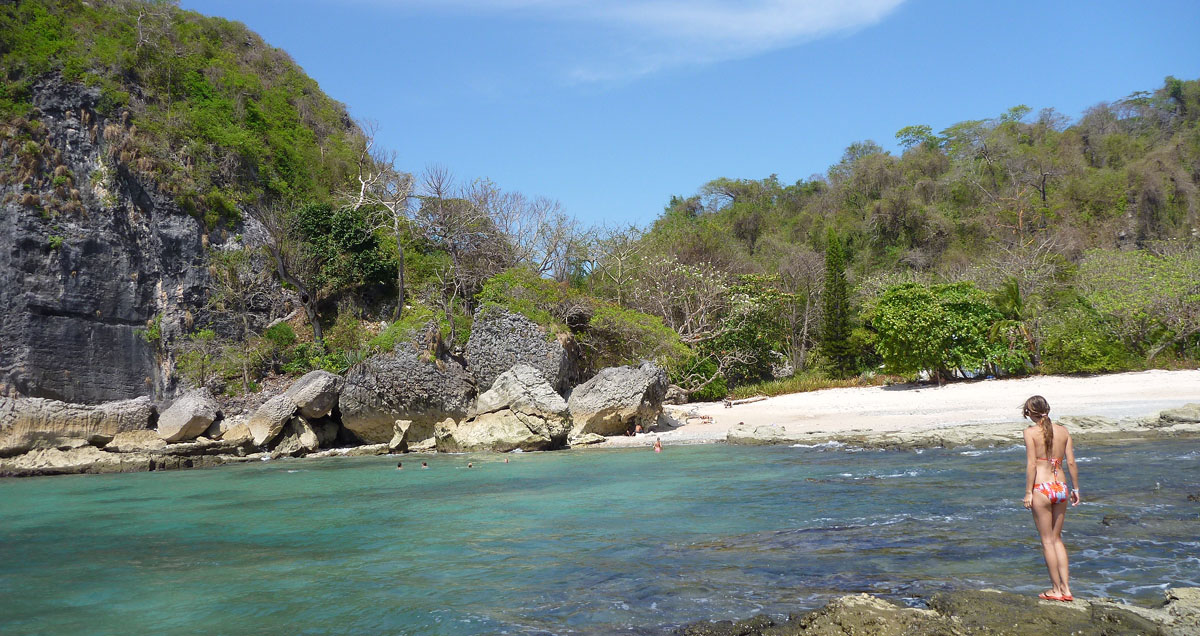 Los Suecos means, "The Swedes" because of the Swedish family that lived down by this beach years ago, and because it was the favorite beach of Swedish immigrant Nils Olof Wessberg and his wife Karen Morgenson, who founded Costa Rica's national park system. Los Suecos, also know as "the secret beach" is one of the truly hidden gems of the Malpais / Santa Teresa area, and isn't visited by many tourists, probably because you need a car to get here, and there's no surfing at this beach.
People who have lived in the area for years come to this beach because of it's beautiful white sand, and snorkeling. It's extremely photogenic beauty, the best snorkeling on the southern Nicoya peninsula, and it has amazing tidepools at low tide. It's also located next to the epic Sunset Reef surf spot.
Location of Los Suecos
To find it, drive past the Fisherman's beach at the very southern end of Malpais and just keep going off to the left. You'll know you've found it when you see a gate. This is Cabo Blanco National Park, but this entrance to the park isn't open to the public.
Park near the gate and find a trail winding down to the small beach. It's a very safe place to swim. A rock reef protects the beach so no large waves make it inside.
On a good day, the water can be very clear here. I've seen octopus, several species of eels, a turtle, a gigantic ray, lobsters, giant hermit crabs, and lots of fish species. The proximity to the national park, where there's (theoretically) no fishing means that there's more sea life here… at least until the spearfisherman kill them.
See that giant rock there? If you'd like to climb it, there's a tour company to take you up it. Click here: rock climbing.
The Best Snorkeling
Why is this place so great for snorkeling? I'll explain:
Cabo Blanco Park: This is right next to Cabo Blanco park, which has a protected marine reserve. So, fish and other sea creatures can breed safely within the park's boundaries and swim or scuttle over to this spot. So, you will see a lot of fish and other sea life here.

Protective Reef: There's a protective rock reef barrier that blocks the waves from coming in, especially at lower tides. With less wave action, the sand and sediments aren't stirred up as much, creating more transparent water than most areas.

White Sand Bottom: Lots of sea life and rocky reefs means lots of white sand. The white "sand" is actually bits of shells that are ground into bits by the waves. A white sandy bottom creates more light, making it easier to see everything down below. Plus it's just super pretty, and from above, the water has a more turquoise look as it better reflects the sky on a sunny day.
Spearfishing
This would be a good spot for spearfishing, but because it's also popular with families who want to see these animals alive, it's not cool to spearfish here. But, don't worry, there's an even better spot, with even more potential seafood.
Just keep walking south to the end of the beach, and then head out into the water there. You'll be right next to the marine reserve, so there's even more fish, lobster, and other marine creatures in this region.
Sea Life for Snorkeling
Conch – These giant snails are now practically extinct in the area due to people eating them. But you can still find them here from time to time.

Eels – I've seen three types of eels. Small moray eels are around, but even more common are the harmless spotted eels that don't seem to have any teeth. They're so friendly that they let you touch them. The video below shows a small moray. These guys can bite so don't touch them.

Fish Schools – The north edge of the snorkeling area has many small caves and overhangs, and is a favorite spot for large schools of fish to hang out.

Hermit Crabs – I've found bright red hermit crabs hiding out in old conch shells 6-8 inches long and about double as large as my fist! These guys live under the water and aren't the same animal as the smaller hermit crabs you may see on the beach. See the video below for a gander at a medium sized one.

Lobster – You can find them at extremely low tides, far out at the tip of the rocks where people seldom are able to venture.

Octopus – Along the left side is a boulder field that's a perfect hiding and hunting ground for Costa Rica's beautiful color-changing octopi.

Puffer Fish – These blue, yellow, or spotted brown box-shaped puffer fish can be found in the tidepools at low tides.

Rays – Huge stingrays up to 2 meters wide are seen sometimes on the sandy bottom in the middle of the cove. (See video below for footage of one.)

Sea Turtles – Sea turtles hang out near the wave action, hunting for fish. They're sometimes seen inside the cove, but a better spot is around the corner out to the right side where the waves are breaking against the rocks.

Starfish – Along the left side at the Octopus Garden, prickly, wriggly starfish are hiding under the rocks. You can pick them up and feel them walk in your hands. Don't worry, they don't bite or sting.
A picture is worth a thousand words, so I'll leave you with a set of photos and videos taken from various trips to Playa Los Suecos:
Video of Snorkeling at Playa Los Suecos
Video of the Beach and Punta Murcielago