Malpais Tidepools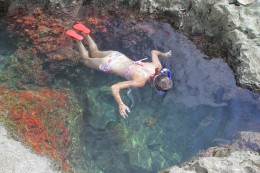 January 10, 2011
The Malpais area has now become known mainly for its amazing surfing in Santa Teresa and gorgeous beaches, but there's much more than white sand here. The convoluted coastal topography has beaches of different colors of sand… some of rock and some of white shell. Many are lined with palm trees, mangroves, or almond trees. There are points with epic giant boulder piles, or huge jungle-covered cliffs towering above the waves.

At low tide, an incredible world of tidepools becomes exposed in many areas, and the most amazing ones are in Malpais and north Santa Teresa.
So now you know what to do at low tide when your favorite surf spot is closing out. It's hot out there on the rocks, especially since the best visibility in the water is when the sun is directly overhead, but it's worth it to leave the comfort of your rental villa to check out these amazing wonders of nature.
HOW TO FIND IT:
In Malpais, they can be found by turning towards the beach at the sign that says "Mar Azul" and when you get to the end of the road, turn left. You'll feel like you're in someone's driveway, but keep going and the road will empty onto a large grassy area where you can park and explore dozens of incredible tidepools and beaches. There are places where you can sit in nearly perfectly circular tidepools, like miniature jacuzzis, lined with beautiful colors, with the waves crashing nearby and a view down the coast.
WARNING, this area is incredibly beautiful and it will spoil the surprise to some extent if you look at all these photos. You may want to just go there and find these amazing places for yourself rather than seeing all the best spots through my lens first.