March House

March House is a private 5 bedroom luxury beach front home in a secluded area on the splendid  southern side of Malpais. 
Situated only 75 meters from the beach, March House is probably the most roomy and most comfortable accommodations in Malpais.  Its beautiful and secluded location makes it perfect for those who would want to enjoy a relaxing stay without the watchful eyes of the public. It is for this reason that March House is a popular choice of many celebrities. 
An invitation to dinner or a party at the March House is always an unforgettable experience that anyone will treasure with fondness. March House is a luxurious beach house with five bedrooms each with classy fixtures, ceiling fans to comfortably cool the rooms, huge closets and private bathrooms.  Each room has hard wood louvered doors that open to the landscaped grounds where one can bask in the sun and enjoy the relaxing sight of tropical flora in the area.  
Open Design
March House's wonderful open design allows the cool breeze to flow freely throughout the entire house. March House's minimalist design creates a relaxing and peaceful atmosphere to match its peaceful surroundings. It is an ideal getaway from the noise and hustle and bustle of city life.  It is a quiet and tranquil getaway amidst expansive and beautifully landscaped grounds.  It has no distracting décor, clutter, and irritating interruptions or noise that will disturb the peacefulness and calmness in the house.
Romance and Privacy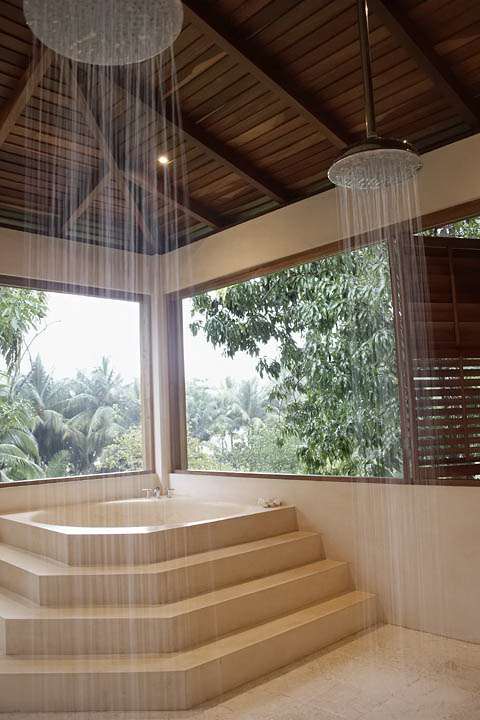 March House is ideal for those who value their privacy.  No one would know you are here not unless you would want them to know. It is a perfect place for quiet rest and relaxation.  You can be lulled to sleep by the hum of the waves and be awakened from your sleep by the cheerful chirping of birds.  You can enjoy reading a good book on the couch outside the room, soak in a bathtub while watching the sun set in the horizon, or invite friends over for dinner underneath the stars. House Details March House has a large open lay-out where the living room, seating area, dining room and kitchen all seamlessly lead onto the patio which directly faces the beach which is just 75 meters away. A fountain and water channel runs along the house's eastern side.  In the grounds are several fully matured mango, orange, banana and coconut trees and an abundance of fragrant  native blooms. In the living room area one can find an over-sized sofa, a large daybed, a center table with mood lights and lots of free space. 
In the living room's south wall are louvered doors that open to the patio.  In the dining area is a large table for ten.  For those who love the outdoors the patio is one ideal place to hang around in. In it are two oversized reclining cushioned deck chairs where one can lie around while having a good view of palm and mango trees as well as the beach.
Gourmet Kitchen
The kitchen is fully operational with large stainless steel fridge/freezer (American) oven and microwave, a dishwasher, juicer, blender, coffee maker, ceramic hob, food processor as well as full dinner set and crockery for 12 people. 
Beachfront Luxury
Music lovers will delight in the fact that there is a stereo with connection for iPod in the area. Each of March House's five rooms have fitted bathrooms with two of them having custom baths.  All five rooms have ceiling fans and an integral cooling airflow made possible by its remarkable design.
The Master bedroom which is on the second floor has a king sized bed.  In the bathroom is an double shower, double outsized bathtub with a good view of the beach, 2 customized sinks, a lavatory and cupboards.
In guest room 2 one can find a king size bed, custom-made bathtub with the amazing sunset view, shower, double sinks, lavatory and cupboards. The room opens to a private patio with a daybed.
Each of  bedrooms 3 and 4 have king size beds.  These two rooms share a large bathroom which has a double shower, a double sink, a lavatory and 2 walk-in closets.  Both rooms have private patios with daybeds.
Bedroom 5 has a queen size bed, shower, a sink and built in cupboards. Seventy-five meters from the patio is a partly private cove with white sand and which is just a short walk to good swimming and surfing spots.
If you want a private chef to cook up delicious meals for you during your stay at March House, a private chef can be of help to you.