Nautilus Hotel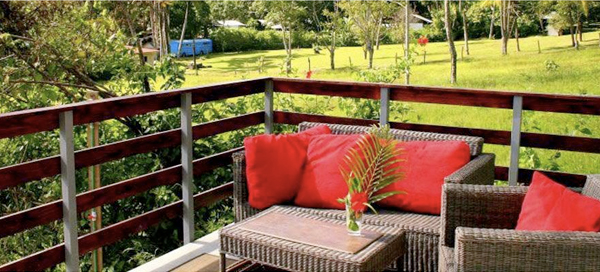 Nautilus is a modern tropical vacation property, that epitomizes elegance and a Zen inspired simplicity. It has 6 one bedroom suites each featuring most amenities needed for a restful stay, and a two bedroom and two bath villa. Nautilus is designed to be utilized as a single home perfect for family vacations or vacations with friends or private retreats. Guests also have the option of renting out a single suite or villa. Each of the suites is well ventilated and equipped with ceiling fans and A/C. The king size beds have top of the line mattresses and luxuriously designed private bathrooms tiled with Spanish marble. Its spacious hot water showers have rain shower heads and a window where one can bathe under the star lit night sky.
The bed arrangement in the suites can be personalized to accommodate honeymooning couples, young families or a small group of friends. All suite windows have screening nets to insects away. And for the guests' peace of mind the rooms have digital safes that can easily fit in cameras, laptops and other valuable personal belongings. Communicating with friends and family online is easy with the villa's complimentary internet service.
Nautilus is located right at the center of the famous surf break in Costa Rica–Santa Teresa. It is perfectly located far enough from the beach for guests to enjoy seclusion yet close enough to restaurants and everything else you might need during your stay. Nautilus is just a few meters away from the famed gold husked beaches that have hosted some of the best surfs and from where one can witness the beautiful scenic sunsets of Costa Rica.
Packages
Detox Cleanse – 6 days Retreat of Juice fasting, special cleansing smoothies including super food like noni, maca, spirulina, raw cacao, herbal pills and best quality powders.
Surf Package – Nautilus' Surf Package includes accommodations in a luxurious one bedroom villa with one king or two single beds, daily surf instruction by one of their experienced, supportive instructors, daily yoga sessions, daily wellness breakfast at Olam, their in-house restaurant. They offer a single massage session per person and a complimentary healthy refreshing smoothie per person.

Yoga Vacation Rental – Nautilus' in-house restaurant includes accommodations in a luxurious one bedroom villa with one king or two single beds, daily detox shake of greens and cacao, daily wellness breakfast at Olam, one massage session per person, one complimentary healthy power shake per person and a daily yoga instruction by one of our experienced instructors.

Eco Adventure Package – When guests plan their Nautilus Hotel Costa Rica adventure package, they will experience some of the best Costa Rica has to offer in an action packed environment. Visitors can go hiking through the reserve, fly through the forest canopy on a zip line, explore the coast on horseback and surf on hundreds of perfect breaks along the coastline. At the end of the day, guests will relax, get treated to the best the region has to offer, unwind and enjoy their vacation from their little, luxurious jungle nest at Nautilus Boutique Hotel.
Attractions and Activities Nearby
Zipline Tours – Visitors can fly through the canopy of the rainforest trees as the tropical jungle floor zips by below. The verdant forests are rich with diverse wildlife and guests will enjoy witnessing Costa Rica's natural wonders first hand.
Surfing – Mal Pais, Playa Carmen and Santa Teresa feature a huge variety of unusual breaks that make it the perfect location for everyone. And just 3 minutes walking distance from Nautilus hotel are some of the best surf breaks in town.
Contact Nautilus Hotel
Website: http://hotelnautiluscostarica.com/
E-mail: [email protected]
Phone: (506) 2640-0991 – (506) 8320-3437
Facebook Fanpage: https://www.facebook.com/pages/Hotel-Nautilus-Santa-Teresa-Costa-Rica/138427342849929
Nautilus Hotel Video