Ono Cuisine – Santa Teresa Catering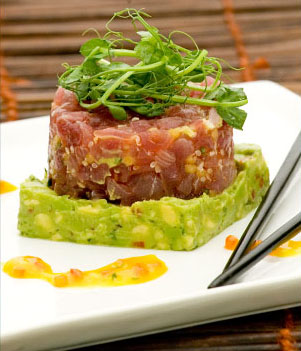 THE TABLE MAKES A TRIBUTE TO MOTHER EARTH
The Caribbean is an emotional state in which the senses perceive the exuberance, joy and intensity of each element. Each plant, animal or mountain coexists in a balanced way through a chain of virtuous reciprocity. This generous and appreciated land, supplies us with high quality foods of great complexity. This is one of the most interesting challenges I encounter being a chef in Costa Rica. After visiting this area for long periods I decided to move from my native Hamburg to the Costa Rica. Not only in the tropics, but also in South America, did I discover bold fruit flavors, varieties of potatoes to die for, strange forms of vegetables, melon colored creamy pejiballe, incessant smells in my garden … This is the joy that is transmitted by the nature … If all these feelings translate into a person, this would be
a strong, bold, sensual and deepminded one.
So 5 years ago I created my own private chef and special event catering service company based in Mal Pais – Santa Teresa, one of the famous Blue Zones on this planet. In this famous area I am meeting all kinds of customers from families, wedding couples, surfers, executives, models, famous actors and singers who decide to spend a holiday and request my services. And each of them is so important to me because it gives me the opportunity to serve what this blessed planet Earth is offering us and what I am honoring with every dish that I make.
My services include private chef service in the privacy of your home or vacation rental, wedding and special event catering and planning services, beverages service, waitstaff service, event planning and assistance with equipment rental, consulting and cooking classes.
All fish and seafood we are using is locally caught. Meat, meat products and poultry and eggs are from Costa Rican, free-range farmed animals, where possible. Dairy products we use are local and all the vegetables and fruit are locally grown and organic where possible. In doing this, we are trying to reach the ethical goal of 'Ono Cuisine working as sustainable as possible.
—
Torsten Radtke
Executive Chef and Ower
'Ono Cuisine
www.onocuisine.com
Mal Pais & Santa Teresa / Costa Rica
Tel. (506) 8718 66 34