Pranamar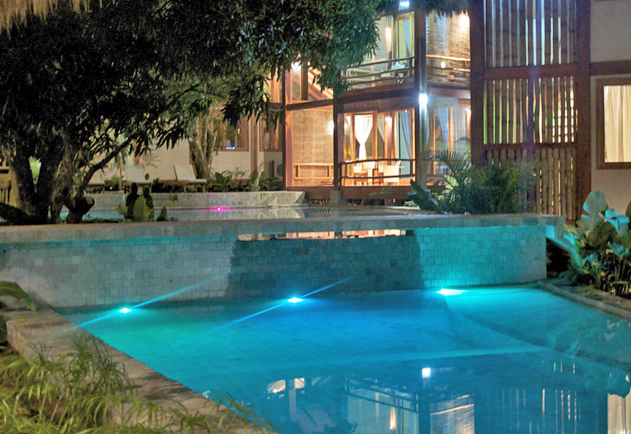 This spectacular resort and unsual yoga retreat in Santa Teresa is the result of a two decade of experience that their owners Greg, Susan and Stefano carry with them. They have been actively involved in every aspect of the hotel right from the inception stages. After they opened their first breakfast joint, Greg and Susan decided to set up the very successful Flor Blanca Hotel. Over a period of time they felt the need for a more intimate, wellness boutique style place that emphasized on the diversity and well-being towards life based on yoga. On the other hand Stefano, co- owner of the hotel has been extensively taking lessons in Martial Arts, Dojo, Pilates and Yoga as a certified instructor.
In Pranamar even in the minutest detail in the hotel emphasizes the spirit of gratitude and well-being with which it is created, including the usage of fine wood, bamboo, wide spaces and windows to feel a commune with nature. The property believes giving back economically and morally to the community as a way of gratitude. Here you will experience Santa Teresa in style, while never letting go of the fundamental philosophies of life and living. Pranamar beautifully combines nature, spirituality and elegance that will have you coming back for more each time.
Accommodation and Amenities
 The stylishly designed villas, built with Costa Rican hardwoods, bamboo and plenty of windows and doors, invite guests to enjoy nature and ocean views in a private and naturally romantic setting. Each two-story villa features two air-conditioned bedrooms, two bathrooms, a living room and plenty of decks and terraces.
Luxurious granite stone tubs surrounded by tropical gardens give an unusual exotic touch to their open-air bathrooms. Done up with imported, hand-crafted Indonesian furniture and floating around a free-form pool, the villas create a relaxed, romantic atmosphere complemented by their breathtaking natural surroundings. All four poolside Villas include a  personal pool entrance, 2 air-conditioned bedrooms, fans, screens, small bar fridge, garden bathroom with granite stone tub, laptop-size security safes, Wi-Fi, and 2 king beds or 1 king and 2 twins (depending on the guests preference). The two oceanfront luxury villas are nestled directly opposite the beach, offering sweeping sunset views. They also include a full kitchen, oversized verandas and extra spacious rooms.
Yoga and Wellness Services
Pranamar's yoga studio is spacious and open on three sides to allow in the sea breeze and ocean song. Created with aesthetic looking teak floors, high bamboo ceilings and antique Javanese doors, this sacred space is ideal for indulging in a serene spiritual practice. They offer daily morning yoga classes and then during the high season Pranamar includes afternoon classes as well. All classes are taught by their highly experienced Yoga director/teacher, Nancy Goodfellow, or her trained and approved instructors. Most of their classes are channelized towards a mixed level making them open for beginners and intermediate practitioners. They also offer advanced level sessions for the more seasoned practitioner. In addition to Yoga, Pranamar also offers Pilates Mat classes and Strength and Flexibility for Surfer's classes (group or private).
At Pranamar Villas and Yoga Retreat, they offer a string of wellness treatments to benefit your body, mind and spirit and keeps your health soaring. From 60 to 90 minute massages using various different techniques to more intense 90-minute focused treatments on a specific body area, customized bodywork sessions or special "back to health" packages of several treatments, they are a full service wellness retreat. Staying true to their commitment to your health, all of Pranamar's oils and lotions are 100% organic and made in Costa Rica.
Restaurant
Pranamar's in house restaurant Buddha Eyes epitomizes its philosophy of gratitude, natural and wellness fittingly. Guests can savor a lovingly prepared meal under an elegant looking elevated bamboo ceiling with the backdrop of an idyllic lagoon. The focus here is not just on creating tasty fare but also food that nourishes the body and inspires the senses. You will experience resourceful vegetarian cooking or a lip smacking fresh catch of the day dish or a menu made out of locally grown fresh fruits and vegetables. There is something to make every traveler feel at home. They are also open to taking care of special dietary needs of guests and can prepare these meals on prior request. The food here is simple yet delectable and the focus is on utilizing as much organic and locally grown produce as possible. Their Costa Rican chef tries to retain the natural properties of each ingredient while minimizing the number of cooking procedures that can take away from the natural essence of the produce. Their style combines Pacific Rim cuisine with Asian and native influences. Breakfast, lunch and dinner are served seven days a week and the restaurant is open to the public. Dinner reservations are recommended.
Contact
Website: www.pranamarvillas.com
Phone: +506 2640-0852
Fan Page: Pranamar on Facebook
Pranamar Official Video