Punta Coco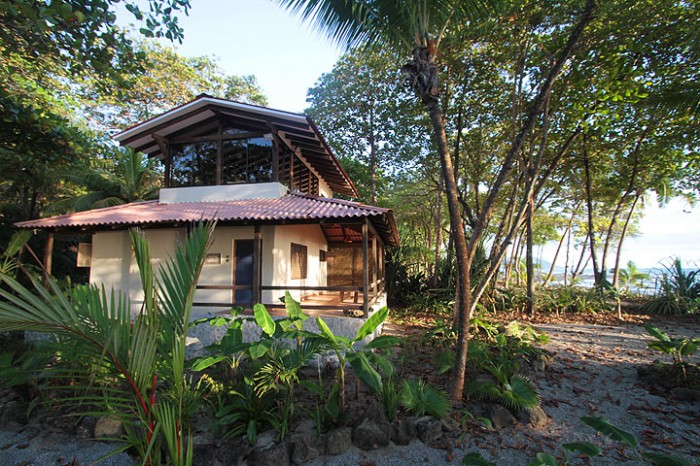 Taking a trip to Punta Coco is like visiting the Santa Teresa's during its golden days. This was build originally by a lawyer from San Jose as a private getaway beach house for his family. Its now open for rental after it has gone through a full renovation and made more modern with a swimming pool. Punta Coco is perfect for family reunions or if you are vacationing with a big group. If you are looking for an affordable yet lovely vacation house, Punta Coco is worth considering.
There are 3 cabinas with 5 rooms. 2-3 families or 12 people can be accommodated here. The dinning area is huge and it is also ideal if you just want to chill with family and friends. The house is bordered by coconut trees therefore it was named "Punta Coco" Right in front of the house are sand borders and rocks where you can see the waves break. Since this spot it is not conducive for swimming, other guests and tourists in the area don't hang around in front of the house. This gives you ultimate privacy and you can enjoy your own private view.
Swimming beach spots are just 1-2 minute walk from the house. You can still enjoy swimming and the comfort of having a beachfront house. Santa Teresa is known for its amazing surfing spots which are also a short walk from this tropical house. Aside from the 150 ft beachfront, the property also has acres of tropical natural forest. A variety of tropical animals are an attraction.  Cheerful monkeys and squirrels are just around playing. Walk on the warm white sand while enjoying beautiful sunsets with a sight of seagulls and pelicans soaring high.  Listen to the waves at night while taking a rest on the hammock. These are the simple yet priceless times you can spend in this paradise. Other activities: Surfing Snorkeling Fishing Scuba diving Horse back riding Hiking (Cabo Blanco National Park).
Sea and Surf
No vehicle is needed for you to move around the area. Right outside your door are some of the region's best beaches and surf breaks. Guests can go swimming, surfing, deep sea diving, sport fishing and more. If that action packed activities are not on your list, relax with a breezy beach read or walk along the cost to enjoy the slow paced magnificence of Santa Teresa. It's also a good idea for the more intrepid travelers to go hiking into the tropical jungles or nature parks. Bird watching and night safari are some other more sought after activities in the region.
This property is located near Playa Santa Teresa which is 2km stretch of some of the most continuous beach breaks in Costa Rica. The beach's Southeast/Northwest placement keeps it at ideal swell angles. The unusual unique bottom configuration of sand over rock reef gives shape to the continuously breaking peaks for which Santa Teresa is extremely well-known.
Punta Coco is also in the vicinity of Roca Mar/Suck Rock. It is a relatively tough right hand reef break located at the West end of Playa Santa Teresa. It came to be known as "Suck Rock," owing to the waves that jack out of deep water.
This property is located near Mar Azul, which is a famous left hand point break that also possesses a right with the ideal swell direction. The breaks south swells with an outgoing tide make for perfect surfing waves. There is also a relaxed inner peak that can work well and offer long (200 meters) rides. Mar Azul is comparatively erratic and inconsistent (it may not break all the time), but when it decides to, it is one of the most superlative surf spots in the area.
Photo Gallery for Punta Coco