Ranchos Itauna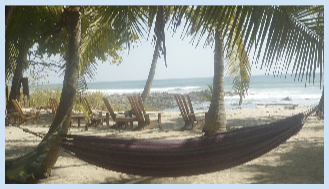 Ranchos Itauna lays happily juxtaposed between Carmen Beach and Santa Teresa Beach. Featuring Brazilian style architecture with 4 private rooms for 2-4 people, this property offers everything from a serene location to an in-house restaurant and comfortable amenities. Apart from other things, comfortable accommodation for couples and groups with breakfast or self-catering with a restaurant and bar on the premises. In short, everything guests need for a great beach holiday. Guests have the option of booking a single room or a couple of rooms with kitchen. All the rooms here come with a/c, fan, bathrooms, hot water, refrigerator, safes and a Wi-Fi connection. The restaurant offers a fusion of Indonesian and Brazilian cuisine. They have a barbeque and Thursdays.
Ranchos Itaúna is also famous for Full Moon and New Year's Parties on the beach when international DJs spice our tropical paradise with ambience and good vibes.
Attractions and Activities
The hotel can organize the following activities for guests including canopy tours, fishing tours, horse tours, surf lessons and tours, kite surfing, yoga or massage and Spanish lessons.
Santa Teresa features some of the best surf breaks in Costa Rica. Ranchos Itauna is situated bang in the middle of the best surf spots: Playa Carmen and Playa Santa Teresa. They offer surf board rentals, surf lessons, and offer guests expert advice for catching the best surf waves. Guests can also join them on a speed boat trip and explore the most action packed surf spots of the southern Nicoya Peninsula.
Rancho Itauna Hotel is located on the beach, right in the middle of the best surf spots – Playa Carmen and Playa Santa Teresa and about 5 minutes from local restaurants and a supermarket.
Contact Rancho Itauna
Website: http://www.ranchos-itauna.com/
Telephone: (506) 2640-0095
Facebook Fanpage: https://www.facebook.com/ranchositauna