Rock Climbing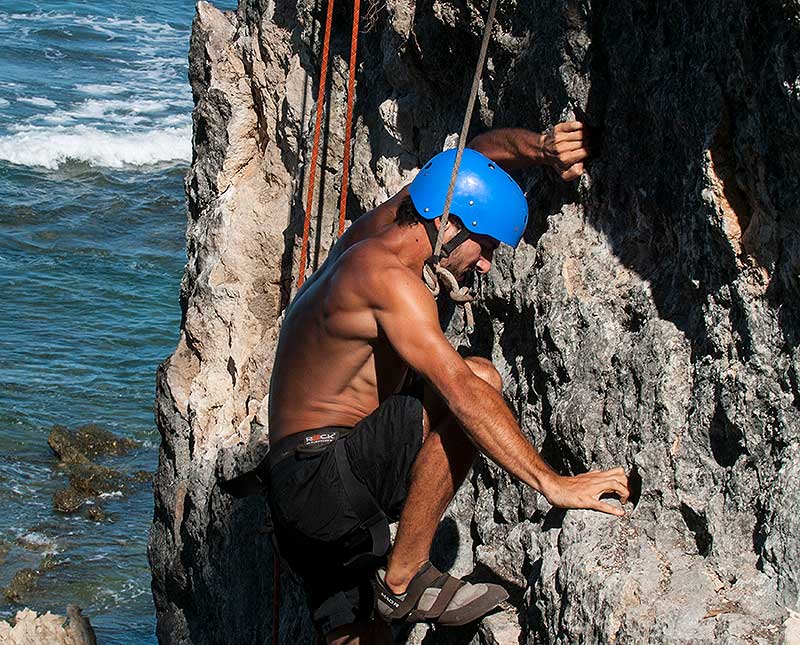 Now you can scale epic cliffs in Mal Pais and Montezuma
The owner of Rock Climbing Costa Rica, Jordan Rice, has a great business leading rock climbing tours in the area.
You might wonder, where are the rocks and cliffs in the area that are safe for climbing? Isn't everything covered with jungle?
Jordan has scoped out all the cliff faces in the area and has found two absolutely stunning spots that are great for adventurous tourists to try this sport. Whether by good luck, good planning, or both, the locations just happen to be at two of the very best spots to visit in the area. So, you'll be able to get a guided tour of these beautiful places at the same time.
Tour Types
Guided rocking climbing tours are of two types:
1-2 People: Private Tour
3-4 People: Semi-Private Tour
Rock Climbing Locations
Malpais

Playa Los Suecos: Afternoon Tour. At of the most beautiful beaches in the southern nicoya peninsula, and part of Cueva Murcielagos Wildlife Refuge, is a huge rock also known as Punta Murcielago. Here is series of bare cliffs that are idea for climbing.

This climbing tour lasts approximately 4 hours, and includes a $20 fee to Cabo Blanco National Reserve. It includes all equipment and snacks/refreshments. Total Price: $90

Montezuma

Montezuma Falls: Morning Tour. Imagine climbing next to a huge waterfall, straight up a sheer cliff! Well, that's what you'll be doing in Montezuma with Costa Rica Rock Climbing!

In addition to the easier routes for beginners and first-timers, Jordan has scouted out six intermediate to advance routes, from 5.7 through 5.11 on the difficulty scale. Each route is around 60 feet long.

Snacks and drinks are include. Total Price: $70
What is Rock Climbing?
Basically the way this works is that you'll start at the bottom of a cliff and you'll start climbing up. The rope will be attached to your harness, and will go to the top of the rock you're trying to scale. The rope goes through a bolt or safety device of some type, and then leads to the person "belaying" you. He will be keeping the slack out of the rope, and yelling encouragement and instructions to help you. Often, the "belayer" will be standing right next to you when you start the climb, as the rope will take a 180 degree turn right back to the bottom. Once you reach the top, he may just lower you down, and it's fun to lean back and just "walk" backwards down the cliff, as if defying gravity.
The thing about rock climbing is that it's really fairly easy in many spots, once you take the mental leap of feeling secure and trusting the person belaying you. We all have a very strong climbing instinct, and it's super fun to climb right up a vertical face. The adrenaline rush that comes from a normal healthy fear of heights that we all have, is phenomenal. On rare occasions, a new climber will discover that he or she has a severe fear of heights, making it very difficult at first. But with practice and patience, anyone can get over this fear after a while.
Rock climbing is an addicting sport. It taps into something primitive inside us, giving us an endorphin europoria, and has an endless set of achievement levels that challenge anyone.
Climbing Equipment
Ropes: The first thing you should know is that you'll be on a rope all time. So if you fall, you won't go more than a few feet. The ropes used in rock climbing are strong enough to lift up a car so they will definitely hold you even if you fell the full length of it.

Harness: You'll be wearing a harness with leg loops, basically the same type they use for the canopy tours, and special shoes. The rope will be tied onto it with a special knot that will never come apart accidentally.

Shoes: The shoes have a special kind of extra-sticky rubber that allows you to stick to small edges and rough spots on the rock that you'd normally slide off with ordinary footwear.

Helmet: You'll be wearing a helmet, which is mainly in case a climber above you dislodges small rocks that falls down on you. This doesn't happen frequently, because good rock-climbing spots are chose specifically because they don't have a lot of loose gravel, sand, and other debris that's likely to fall.

Other Hardware: Carabiners, Belay Devices, Slings, etc… there's a lot of technical equipment with funny names that a beginner doesn't need to worry about. Jordan will show you how to use these things, and anyway you're going to be the one doing the climbing, while Jordan and his team will be handling the equipment and keeping you safe.
Reservations and Contact
Phone: (506) 7009-6567
Skype: rockclimbingcostarica
Email: [email protected]
Facebook: Fanpage
Website: rockclimbingcostarica.com