Sandy Lane Estate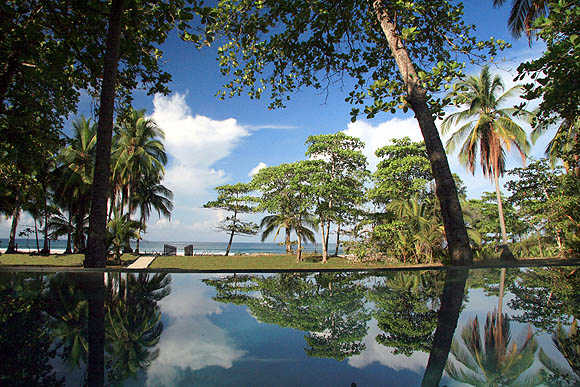 As soon as you enter Sandy Lane's 3 acre sanctuary, you will experience having your very own tropical paradise. Delight yourself to luxurious treatment with the finest accommodations and amenities. Having a location like no other, directly in front of one of Costa Rica's luxury white sand beaches.
"Las Palmas" which surfers know as Santa Teresa's best surf peak is only a stone's throw away. This beach home is very comfortable with modern architectural designs. The layout of the house is very open and welcomes natural lighting. All around are the views of the blossoming garden and the vast ocean. Sandy Lane promises to give you resort living treatment with its infinity pool right in front of the beach. The kitchen is completely functional with stainless cooking equipment. Unique bathrooms with fixtures by Hansgrohe and fixed ceiling rain showers.
Ceiling fans are installed all around the house for a natural feel. But if it becomes too hot, all the bedrooms have their own air conditioning. Walking distance from Sandy Lane is also another deluxe resort, the Flor Blanca resort. Nearby are also the village's good restaurants and specialty shops. As part of Sandy Lane's lavish complimentary service, the concierge and manger are available and will be pleased to serve you. They can arrange daily activities for you.
Daily cleaning will be provided by our staff.
Arrangement for a private chef can be made upon your request. Child care can be prearranged. Our guests can avail of our private charter plane. Fly with our very own pilot from anywhere with in Costa Rica.
A clean architectural design, contemporary ambiance and inspiring views of the area, Sandy Lane is all this and much more. It offers a modern, comfortable stay and sweeping views of the adjoining ocean. It's no wonder then that this has become one of the most sought after accommodation options for discerning travelers looking for the best of the Malpais and Santa Teresa region.
Some of the highlights here include, four light filled guestrooms and three and one-half baths, individually controlled A/C and multi-speed ceiling fans in every guestroom, a three-sided infinity pool overlooking the beach, a fully equipped chef's kitchen, private beach gate and beach access, Wi-Fi internet, full daily house cleaning and private concierge services, 24 hour security and private chef services upon request.
The Beach Estates also organize a plethora of activities in the area including surfing lessons (the best spot is in fact located right opposite the estate houses), canopy zipline and waterfall adventures, horseback riding along the beach and through the jungle trails, sport fishing trips, snorkeling, deep sea diving, tropical land excursion day trips, ATV rides and in house yoga, massage and other wellness services. If you are the more laidback sort, you'd be happy reading a bestseller by the pool or sunbathing by the infinity pool or simply watching the kids swim while you soak up the tropical positivity of the place. Tours can be organized by booking in advance so they have sufficient notice to plan your day efficiently.
Santa Teresa offers some of the best year round surf breaks in the world. It is perfect for beginners looking to 'test the waters' as well as veteran surfers keen on sharpening their skills. And the surf breaks are all located at a distance of a few minutes from the property. The knowledgeable and experienced surf instructors here all hail from Australia and New Zealand. All surfing gear and boards are provided to you so you don't have to worry about anything except getting your technique and maneuver right. Santa Teresa's balmy tropical water and sand bottom surf zones are known to offer a safe and uncomplicated surfing experience especially for young kids. Catching a single wave here can offer a huge high. Beyond Sandy Lane Estate's gate it's all about adventure and water sports action and inside it's all about enjoying some quiet time with yourself in the heart of natural beauty and well-appointed comforts.