Santa Teresa Surf Camp and Hammock Hotel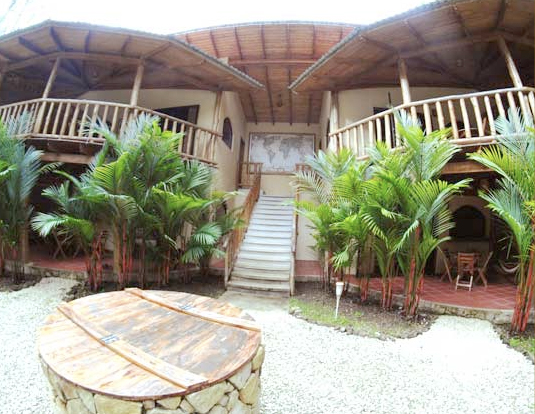 Nestled in the beautiful tropical paradise of Santa Teresa this simple yet elegant property lies next to Pacific Surf School and in the midst of Costa Rica's natural magnificence. In his birthplace Italy, Simon the hotel owner, was a real semi-pro motocross rider who by life circumstances had to leave his passion to devote his time to something that would give more productive financial returns. Nevertheless while he was studying law, he started to surf and this precise moment he realized what he wanted for his life. Then found Costa Rica, the Santa Teresa and Malpais beaches, where it's possible be in constantly contact with the nature, live in the outdoors and go surfing (which is more a lifestyle here than anything else) could provide economic compensation. Since then Santa Teresa Surf Camp and Hammock Hotel is a great experience where Simon shares his knowledge and dream with whoever wants to not only look for surf lessons but also to live the surf philosophy in the lap of Santa Teresa, a stunning tropical paradise.
Amenities
Pacific Surf Studios offers 8 spaces that includes large private terrace, king size bed, sleeper sofa, ample closet space, air conditioning, wireless internet and a fully equipped kitchen. At Pacific Surf School there are Instructors who are members of the Coast Rican National competition circuit who offer you multilingual instructors, beginner, intermediate and advanced level class, 2 hours in gentle waves, warm up/stretching techniques, surfing safety plus etiquette, standing up, board positioning, small waves riding, ocean knowledge, duck dives/angle drop-ins, front side turns, back side turns, 2 hours in the line-up, for surfers who desire to increase their skill level they teach some of the wave difficult techniques, group discount and excursions and surf tours in local beaches.
Contact Info
Website: Santateresasurfcamp.com
Telephone: (+506) 8836-5064