Santa Teresa Surf House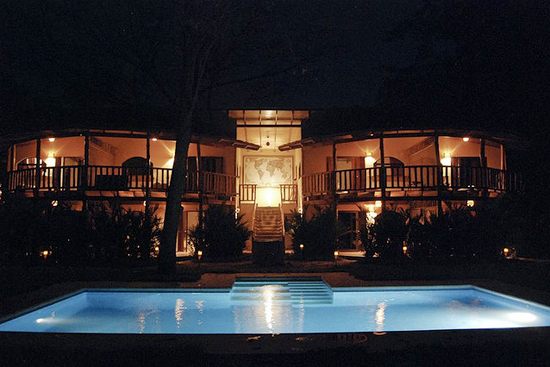 This hotel and school born for the truly passion of surfing.  Stablished in one of the most spoiled and constatly rush of waves at the pacific ocean, playa Santa teresa is the best place to learn from the beginners to the advanced surfers.
The project is runs by Mario, a 10 years experienced surfer and with 6 years been a surf instructor. With Surf Coach level 1and 2 from British Surfing Assotiation and  also an international patent from RLSS Beach Lifeguard and Life Saving.
With all this manage of knowledge the determination of this school is giving the best ways to teach following the unique expression of each new and advanced student with major maneuvers, tricks and advanced maneuvers.
So you can have the tranquility to attent to one of the most professional and safety surf school from the area.
Santa Teresa Surf Hotel is on the tropical forest, where you fall in love of the nature and surfing. The area where is the hotel is in a luxury residence with pool, solarium, bar, spacious parking area, including cleaning and security guardian. All this just all a few steps from the beach.
The hotel is grateful to prepare all your needed for your complete vacations with safety, fun and relax.
In Santa Teresa Suf Hotel you can have packages for all king of tastes: rooms, suite, studios, bungalows, apartments and houses.
Amenities
Two, Single or King-size Bed
Fully equipped kitchen
Private bathroom
Tv and dvd
Safety Box
WIFI
Swimming Pool
Solarium
Bar
Private Terrace
Closet
Air Conditioning or Ceiling fan
Hot water
Mosquito net
Speacker ipod (Suite)
Outdoor Jacuzzi (Suite)
Room Service Breakfast (suite)
Towels and linens
Cleaning and Security Services
Parking area
This holiday property and surfing school was born out of a passion for surfing and caters to those truly fascinated by the prospect of surfing on some of the most unspoiled and perfect waves in the Santa Teresa area. Run by Mario, a qualified surfer with more than a decade's experience, Santa Teresa Surf House is known for their unique teaching techniques that include major maneuvers and tricks for both beginners and seasoned surfers.Surf School Package
The Santa Teresa Surf House offers a popular Surf School package. This package is for those who are keen on taking to the surfboard but have never surfed before, or for those who already surfing the "green waves" (wall wave) but wants to enhance their technique. New and seasoned surfers will be guided step by step by their team of professionals to begin,  boost and grow their surfing with the smartest and safest techniques. Depending on your level they will pick the optimal conditions of waves and wind that will complement your unique skills to optimize your results. In addition of courses for beginners, Santa Teresa Surf House surf school also specializes in intermediate and advanced courses, bringing each day where the waves break more efficiently, teaching surfers novel surf skills, navigations and special techniques with qualified and knowledgeable instructors. This is always done under the supervision of video analysis.
Accommodation
Studios – The 8 Studio accommodations are nestled in the heart of Playa Santa Teresa, circled by a tropical forest. Located a few steps from the beach is the haven for nature and surfing lovers. The studios are located in a well-appointed private residence with swimming pool, solarium, bar, spacious parking area and reception. Each unit features a large private terrace, king-size bed, sofa, closet, air conditioning, internet wireless, fully equipped kitchen, private bathroom, hot water.
Surf Bungalows – These are bungalow for 2 to 3 people with all comforts including a private bathroom, hot shower, air conditioning, wi-fi, coffee machine, kitchen, refrigerator, fan and hammock. The bungalows are nestled in absolute privacy, surrounded by the pristine natural resources of Costa Rica, a couple of minutes walk from the beach. Cleaning and security services with the guardian included.
Luxury Bungalows – This residence is inspired by a combination of the Caribbean and the Mediterranean style atmosphere. It offers guests a private parking area, a restaurant, a swimming pool with a Jacuzzi, an area for sunbathing, and eight wonderful private bungalows (one of them especially designed for the disabled). Each bungalow is appointed with an air conditioner, a safe box-big enough to store lap tops, Cable TV, free internet service, a mini fridge, a fan, warm water, a rest room with two sofas and table, queen size beds, and a small bed. Every bungalow features a spacious bathroom and a large terrace where guests can admire the tropical vegetation, humming birds, squirrels, congo monkeys, butterflies and other indigenous wildlife in the area.  The bungalows are big enough for a family of three or four people and breakfast is included in the price.
White Bungalow – At a mere 100 meters from a picturesque sandy beach and from the best surf spot of the area they offer their guests four apartments each comprising a large open space with a double bed and sofa bed, fully appointed kitchen, bathroom, safety box, cable tv, air conditioning, internet wi-fi, cleaning service, mosquito net and an independent, secluded and comfortable terrace circled by the area's breathtaking natural wonders.
Ocean View Rooms – Located high up in the beautiful Hills of Mal Pais these rooms offer you a perfectly private ocean view. You are completely absorbed by the lush jungle surroundings, yet are only minutes away from all the conveniences at the "El Cruce" Mall. You will find banks, stores, pharmacy, medical services, restaurants, and all other necessities  in the vicinity. A 10-minute picturesque walk or a 5-minute drive will bring you to the spotless beaches and popular surf spots of Malpais and Santa Teresa. All four rooms on the second floor feature sweeping oceanic vistas from the terrace. Elegantly furnished with queens beds, fans, screened windows and doors opening into a spacious terrace, the rooms also have private bathrooms with hot water and safety deposit boxes. The two central rooms have fully equipped kitchenettes. The terraces can be inter-connected to create a single or a couple of apartments that can accommodate a large group of up to 8 people.
Contact Info
Facebook: https://www.facebook.com/santateresasurfhouse/about