Sea Kayaking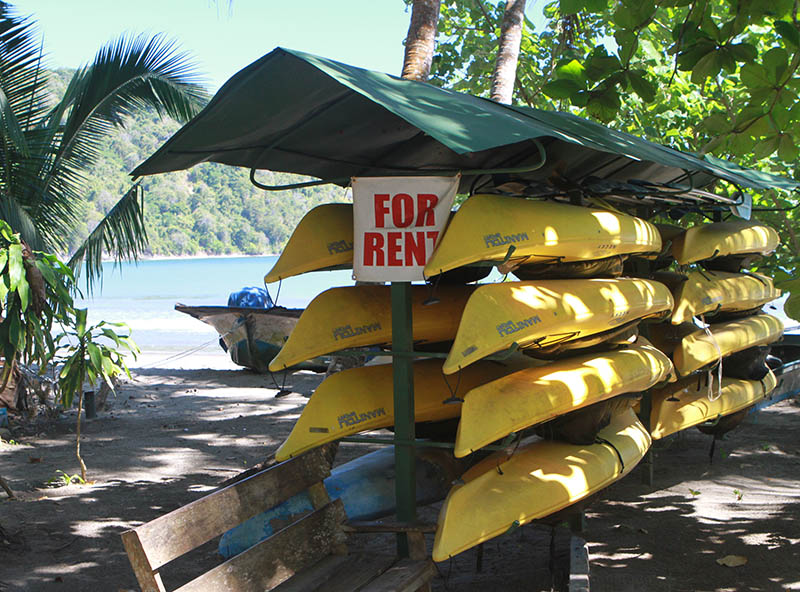 Sea Kayaking Basics- Your Guide to Kayaking Adventures in Costa Rica
The white sandy beaches of Malpais are certainly a remarkable sight for those who take a trip to this popular tourist spot in Costa Rica. More importantly, however, there are many things you can do on or underwater while relishing the amazing paradise that is Costa Rica. Kayaking is one of the choice water activities that attract many tourists, especially since it makes for a great family affair on any given day. Before tackling this activity, it is important to understand sea kayaking basics, specifically the conditions of the waters in your chosen area as well as where to get the appropriate gear.
Listed below are guidelines on Kayaking in Malpais, Santa Teresa, and other coastal tourist towns in Costa Rica.
Waves, Water Temperature, and Tides
Kayaking, much like surfing and jet skiing is an activity that is largely influenced by the prevailing behavior of the sea, specifically the waves and tides. One of the most important things to accomplish prior to braving the open seas is charting the waves based on the local weather. The beaches have this information on hand, not to mention you can always check travel websites to see which times of the day are best for kayaking.
Water temperatures are also charted on a monthly basis so tourists can factor this in when planning their great Costa Rica getaway.
What You Need for Kayaking
Sea Kayak – There are several Kayaking spots in the area to rent out sea kayaks to tourists on a daily or package basis (2-3 day kayaking adventures). Renting a kayak from a reputable shop is imperative since it is your primary mode of transport once you and your crew get on the water.
PFD – Personal Floatation Devices are a requirement for any kayaking expedition. More importantly, the PFDs must be certified by the CG (i.e. highly visible, free of any defects and/or damage). Tourists are not allowed to go off without floatation devices, especially when venturing out into remote kayaking spots.
Compass – Another essential that tourists should not forget to pack, for longer kayak journeys, is a working compass (and a backup compass in case one is thrown/dropped overboard). This ensures that you do not get lost at sea.
Food and Clean Drinking Water – A 3-day kayaking adventure is certainly fun but it can also be exhausting. Packing nourishment is a requirement, especially if you are going with several people. However, be sure not to pack too much food and beverages since it can compromise the structural integrity of the kayak. Overloading is a big no-no.
Whistle and Other Safety Implements – In the event of capsizing or any type of emergency that requires rescue, it is important to have a whistle on hand to call for help. It is also good to bring flashlight, spare batteries, and glow sticks.
Sunscreen and Dry Clothing- Kayaking in the sun is fun, but it can also be hazardous to one's health so it is best to carry sunscreen with SPF45 (at least). In addition, dry clothes must also be packed (in plastic before being placed in the bag) to ensure that you have something to change into when you get wet.
Kayaking is something that families should not miss out on when visiting any one of the pristine coastal towns in Costa Rica. It is an experience that people do not forget, and one of the many reasons why many tourists keep coming back each year.
Where to go for Sea Kayaking here
Malpais: Pescatica offers sea kayaking, launching from Fishermen's Beach (Playa Mal Pais)
Cabuya: Contact Solo Bueno Tours
Curu: A great option. Start from a calm, white sand beach and head over to Tortuga Island by Kayak, or up the coast towards the mangroves of Playa Organos.
Montezuma: Downtown you can find a place that rents them from the bay. It's difficult to get out through the waves when they're large, however.
Paquera: Bahia Rica is the only place I know offering 3-Day sea kayaking excursions
More info
Sea Kayaking Santa Teresa Video with PescaTica